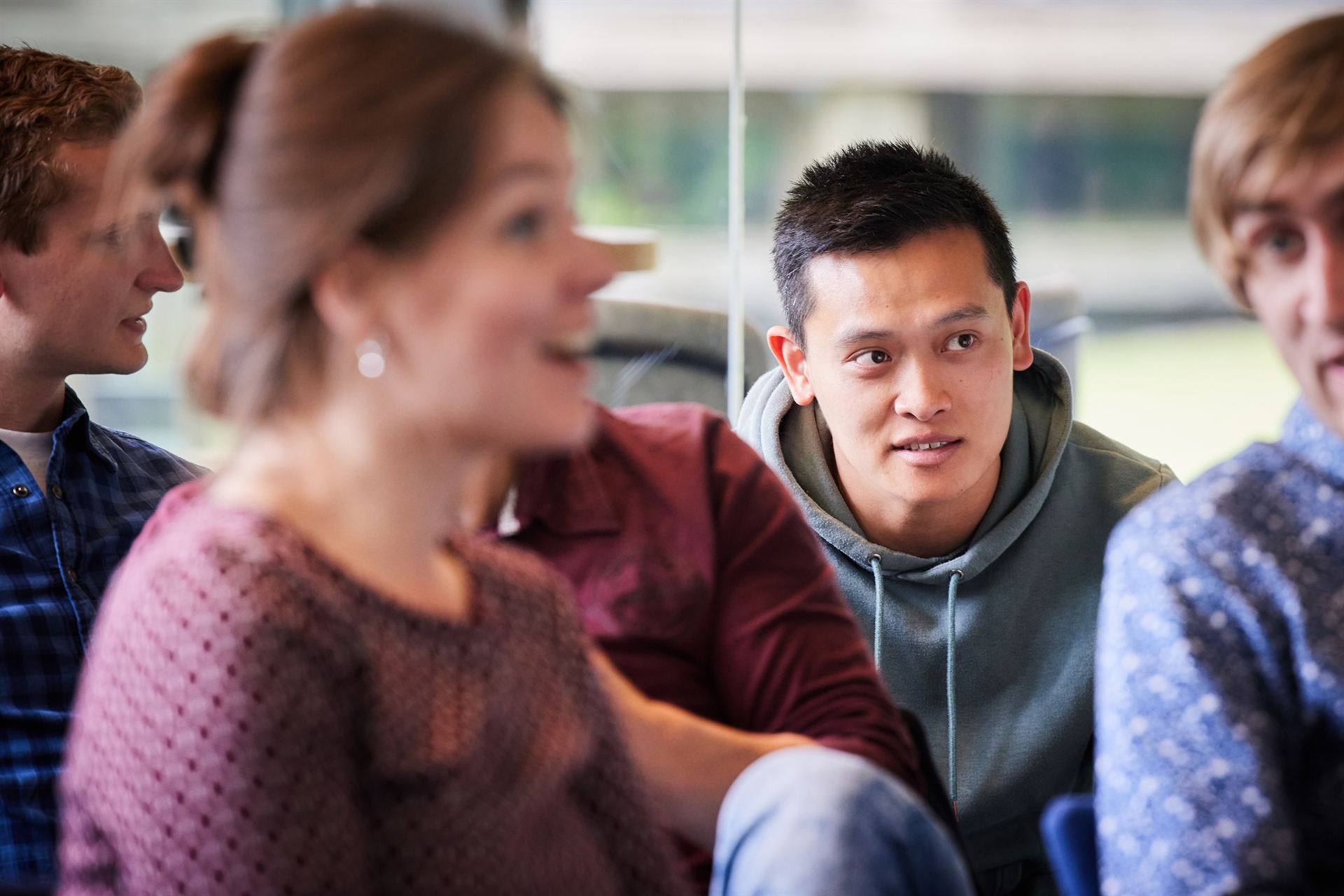 Internship | Open source development of social VR/XR communication systems for the metaverse
Social XR is about communication between people over distance as if you are in the same location. At TNO we are making Social XR as (photo) realistic as possible and seek for people to get involved and stretch the current boundaries of technology.
About this position
Social XR is about communication between people over distance as if you are in the same location. At TNO we are making Social XR as (photo) realistic as possible and seek for people to get involved and stretch the current boundaries of technology.
What will be your role?
At TNO, we create innovative media technologies aimed at providing people with new and rich media experiences, which they can enjoy wherever, whenever and with whomever they want. In the TNO MediaLab, we mainly develop streaming solutions on end-to-end communications, working from the capture side to the rendering side, such as coding, transport, synchronization, orchestration, digital rights management, and service delivery.

We are currently innovating and developing technical solutions to allow photo-realistic communication in eXtended Reality (XR) with the potential of transforming the everyday communication of people, especially in the context of the metaverse. We work on new forms of communication in virtual worlds that are currently not possible. Moreover, we design our systems to allow better communication across any distance in space, which has a direct impact on the life of tomorrow, and thereby create a more sustainable future. We take diversity and equity into our design considerations, such as the inclusion of the elderly and people with disabilities, allowing people to travel less and offer better access to knowledge and expertise. Thanks to our innovation, we break communication barriers.

If you want to know more, check out some recent videos about our work:

https://www.youtube.com/watch?v=ZNQK97d6ZB8

https://www.youtube.com/watch?v=PcEmoM3d-dg

https://www.youtube.com/watch?v=jGnyQBb4JXc

And check out our TNO MediaLab website, where many references, demonstrations and publications can be found:

https://tnomedialab.github.io/#immersive-media

We are actively looking for students to contribute to evaluating and improving our current technical development of an open source XR application with a focus on streaming and user experience.
This assignment is a combination of research and engineering. This assignment can also be turned into an HBO assignment.

Your work will include at least a few of these points:
The software you write will be open source so that the societal impact can be maximized
The demo that showcases your work will be publiclyaccessible
You can work on both the frontend user experience and backend technical implementation
You will work with state-of-the-art telecommunications technologies that current web-based applications like Zoom, Teams and Google Hangouts are based on (e.g. WebRTC)
The focus of your software developments will be:
Designing your software according to common methodologies like UML

Producing high quality software in a distributed systems environment

Prioritizing the user experience

Working agile and collaborating with team members
The focus of your research efforts can include at least (but is not limited to):
Benchmarking different state-of-the-art telecommunication systems to identify opportunities and improve our XR system designs

Comparing the performance of existing systems on the market with our Social XR communication system

Publish a scientific paper of this survey to a high-impact conference, such as ACM MM or ITW
The technologies that you may be working with are:
WebXR(/WebVR)

WebRTC

WebAssembly

Unity

Media streaming and orchestration

WebGL shaders

(Application-level) Javascript, Python

Open source methodologies and ci/cd pipelines
The expected duration of an internship project is 6-9 months including the possibility of writing your thesis and/or taking part in a scientific paper writing. Furthermore, for this work it is expected to work from our TNO location New Babylon at The Hague Central station at least a few days a week.
What we expect from you
Top students are invited to apply. We are looking for students with a technical background and relevant programming experience. Experience with media technology or virtual reality is a bonus. We expect a pro-active attitude, enthusiasm, curiosity and an eagerness to learn and explore.
You should be familiar with Javascript/Typescript, Python, or otherwise have a formal programming education or experience with fundamentals of programming.

Typical expected student background:
Computer science;

Software engineering;

Telematics;

Electrical engineering;

Media and communication.
What you'll get in return
You want to work on the precursor of your career; a work placement gives you an opportunity to take a good look at your prospective future employer. TNO goes a step further. It's not just looking that interests us; you and your knowledge are essential to our innovation. That's why we attach a great deal of value to your personal and professional development. You will, of course, be properly supervised during your work placement and be given the scope for you to get the best out of yourself. Naturally, we provide suitable work placement compensation.
TNO as an employer
At TNO, we innovate for a healthier, safer and more sustainable life. And for a strong economy. Since 1932, we have been making knowledge and technology available for the common good. We find each other in wonder and ingenuity. We are driven to push boundaries. There is all the space and support for your talent and ambition. You work with people who will challenge you: who inspire you and want to learn from you. Our state-of-the-art facilities are there to realize your vision. What you do at TNO matters: impact makes the difference. Because with every innovation you contribute to tomorrow's world. Read more about TNO as an employer.

At TNO we encourage an inclusive work environment, where you can be yourself. Whatever your story and whatever unique qualities you bring to the table. It is by combining our unique strengths and perspectives that we are able to develop innovations that make a real difference in society. Want to know more? Read what steps we are taking in the area of diversity and inclusion.
The selection process
After the first CV selection, the application process will be conducted by the concerning department. TNO will provide a suitable internship agreement. If you have any questions about this vacancy, you can contact the contact person mentioned below.
More information about this vacancy?