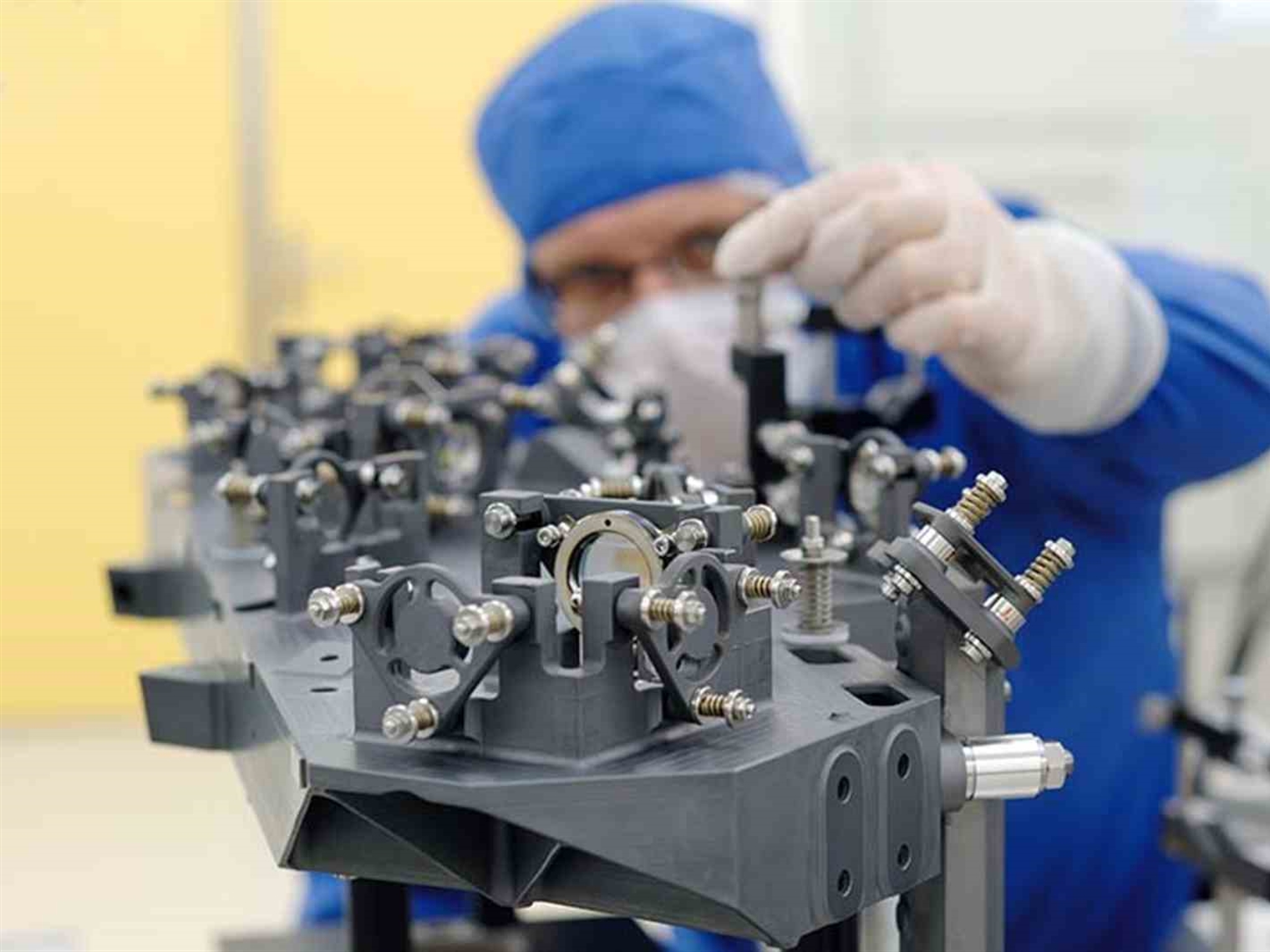 Systems Engineer Optics | Delft
Contributing to optical solutions for a healthier, safer, more sustainable and digital world. Envision it. Become a Systems Engineer at TNO in Delft!
About this position
High-quality optical systems are designed and fabricated at TNO for space-based atmospheric monitoring, optical satellite communication, medical devices, quantum technologies, structural health monitoring and instrumentation for the semiconductor industry. This work is for customers including Airbus, NASA and ESA, and for projects such as the Sentinel 5 global air quality monitoring satellite and ITER. With a background in applied physics or engineering, you will be a Systems Engineer within the Optics department. This department consists of a team of 60 colleagues, with whom you will work closely. You will also be in regular contact with optical manufacturing, thermal and mechanical engineers, and calibration and integration specialists from the Opto-mechatronics, Nano-instrumentation, Quantum Technology and Space Systems Engineering departments.
What will be your role?
As a Systems Engineer in the Optics department you will guide the development and realisation of optical systems. These systems range in size from very large telescopes to tiny photonic integrated circuits (PICs) on a microchip. The successful creation of high-quality optical systems requires technical leadership and insight into the elements of the system as well as the interaction between these elements. These elements are not only products (hardware and/or software and/or firmware) but also processes, people and information. As a Systems Engineer you will be responsible for:
Connecting the disciplines within the project team

The technical project result

Successful delivery of the system

Minimising technical risks

Satisfied customers
What we expect from you
As a Systems Engineer you are both a competent generalist (multi-disciplinary) and a competent specialist (domain knowledge) with strong analytical skills and a solution-focused decisiveness. You have a good eye for the wishes of the client, the context in which the system is to be used and the preconditions within which the project has to be carried out, all of which combine to enable well-considered technical decisions. This requires a high level of sensitivity, communication skills and close cooperation with the customer, external parties, the project manager and the project team. To be able to perform the role well, it is important that you recognize yourself in the following profile:
Have a background in applied physics or engineering at least at Masters level and have at least 3 years of working experience, with specialisation in optics, in line with the tasks described above.

Previous experience in development of (optical) satellite communication systems and/or photonic integrated circuits (PICs) would be an advantage for this position but is not a requirement.

Good at analysing requirements and translating them into systems.

Able to accurately assess technical risks and to make well-founded trade-offs between alternatives.

Good at planning, structuring and documenting work.

Able to motivate and guide a team of technical experts.

Want to continuously improve the quality of your work and share best practices.

Able to communicate fluently in English (you will have many international colleagues).
What you'll get in return
Challenging and varied work with a real impact. And plenty of opportunities as, at TNO, you are in charge of shaping your career. We offer a gross monthly salary between € 3.500,- and € 5.000,- (based on your knowledge and experience), 8% holiday pay, a 13th month bonus of 8.33% and a flex budget (5.58% + € 180). In addition, you will be given every opportunity to develop yourself.

Perhaps you would like to grow your career in the direction of commerce or consultancy? Or would you like to become a project manager? Immerse yourself in sustainable innovations? Or carve out a career as a technical expert?

TNO offers optional employee benefits, enabling you to tailor your benefits package to match your personal situation. You may also expect:
An extremely professional, innovative working environment where colleagues are leading experts in their field.

The opportunity to attend courses, workshops and conferences, and to receive training and coaching based on your needs.

33 days annual leave on a full-time basis.

An employer that values and encourages diverse talent, with initiatives like the Female Leadership Program, our Rainbow Community and round tables on inclusion topics.

Travel allowance.

Great social events with your team and other TNO colleagues. That's how you will get to know a lot of people really quickly.

Flexible working hours and the possibility of working from home.

Access to TNO's project managers guild: a network of some three hundred equals. The guild organizes workshops, conferences, intervision sessions and other activities for project managers.

Extensive relocation package for international candidates.

A good pension scheme.
Read more about tailoring your benefits package.
TNO as an employer
At TNO, we innovate for a healthier, safer and more sustainable life. And for a strong economy. Since 1932, we have been making knowledge and technology available for the common good. We find each other in wonder and ingenuity. We are driven to push boundaries. There is all the space and support for your talent and ambition. You work with people who will challenge you: who inspire you and want to learn from you. Our state-of-the-art facilities are there to realize your vision. What you do at TNO matters: impact makes the difference. Because with every innovation you contribute to tomorrow's world. Read more about TNO as an employer.

At TNO we encourage an inclusive work environment, where you can be yourself. Whatever your story and whatever unique qualities you bring to the table. It is by combining our unique strengths and perspectives that we are able to develop innovations that make a real difference in society. Want to know more? Read what steps we are taking in the area of diversity and inclusion.
The selection process
Please apply before 17 October 2022. The selection process comprises two interview rounds. The preliminary interview takes place in weerk 43 and 44. The second interview round has been scheduled for weeks 45 and 46. In a final meeting we will discuss the terms of employment and your tailored benefits package. We aim to finalize the entire process within four weeks.

The selection process may include an online assessment and a reference check.
Has this job opening sparked your interest?
Then we'd like to hear from you! Please contact us for more information about the job or the selection process. To apply, please upload your CV and covering letter using the 'apply now' button.
More information about this vacancy?
"People who have technology in their DNA and like to see their concepts and designs realised in an instrument or application". Paul Verschoor is a TNO recruiter for the Industry unit, recruiting a wide range of technologists – from physicists to instrument makers. He tries to fit them all into multidisciplinary teams working on exciting new applications, especially for industry.