Paradise Foods: 3D printing of plant-based meat substitutes
In cooperation with
Wageningen University & Research (WUR)
There are ever more meat substitutes available. But it hasn't yet been possible to make products that optimally combine texture and succulence. Together with Wageningen University & Research (WUR), we're convinced that this can be done using a 3D food printer for plant-based meat substitutes.
3D food printers
Years ago, we achieved a world first with a 3D food printer, in collaboration with Italian pasta manufacturer Barilla. And in 2019, one of the world's largest snack companies, Mondelēz International of the US, launched a 3D chocolate printer on the market. And we helped with the development. The company is known for the Milka, Cadbury and Côte d'Or brands.
This technology is ideally suited to producing high-quality textures in plant-based food. A world leader in technology for making meat substitutes, WUR for example leads the Plant Meat Matters project aimed at upscaling shear cell technology. This can be used to produce large volumes of plant-based meat similar to beef steak.
From meat to plants
The aim of the spin-off that we want to launch together with WUR is ambitious: to move from meat to plants without compromising on sensory quality. The prospects are good, as research shows that consumers find 3D-printed food attractive. However, a breakthrough has not yet materialised because major investments are needed to achieve these developments, and many companies in the meat industry are therefore adopting a wait-and-see approach.
The next world first
Together with WUR, we foresee the next world first in the field of 3D food printing. This is because we combine very different fields of expertise in the area of food and, in particular, proteins, ingredient functionality, formulations, industrial design, equipment development, and production processes. This in-depth knowledge and years of experience in this field are unique and offer unprecedented opportunities.
Lower emissions of harmful gases
Figures from the UN Food and Agriculture Organisation (FAO) show how important it is to switch from meat consumption to plant-based foods. Beef production alone creates 5 gigatonnes of CO2 equivalent per year. Replacing beef burgers with plant-based burgers would require 99% less water and 93% less land. It would also reduce greenhouse gas emissions by 90%. Replacing 30% of worldwide beef consumption with plant-based alternatives will greatly reduce harmful gas emissions.
Interested?
Are you in the food industry, mechanical engineering, or ingredient industry? Let us know and get in touch with Eddy Zwier.
Contact us
Eddy Zwier

Functie:

Tech Transfer & Venture Manager

Eddy is responsible for the commercialization of technology through business venturing, creating spin-off / deep-tech startup companies at TNO. Feel free to contact him if you are an early stage investor or entrepreneur with interest in TNO's portfolio of spin-offs.
Get inspired
2 resultaten, getoond 1 t/m 2
UK MasterChef winner Tim Anderson experiments with 3D printed pasta
The winner of MasterChef UK series 7, Tim Anderson, experiments with 3D printed pasta from BluRhapsody, a collaboration between Italian pasta makers Barilla and TNO. The results were satisfactory. Kjeld van Bommel, senior consultant 3D Food and Pharma Printing at TNO, explains how the triple collaboration took shape.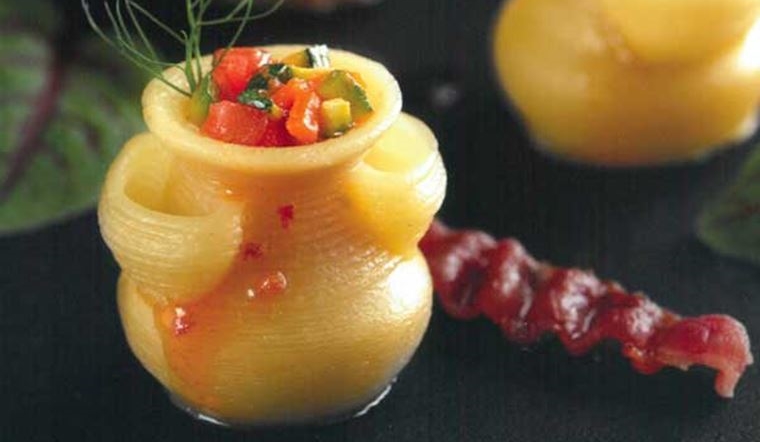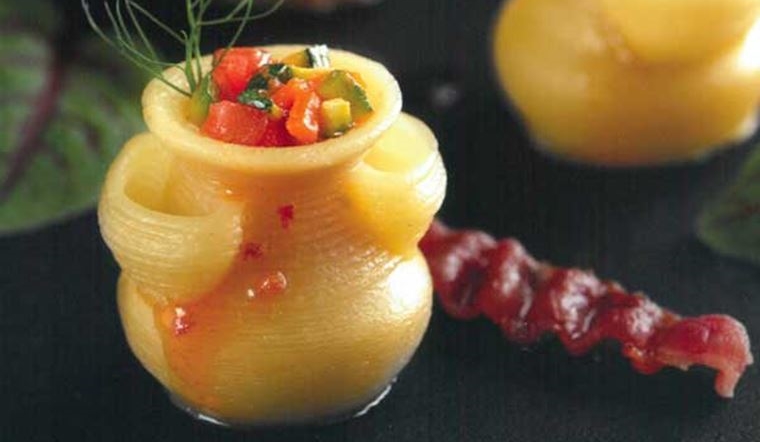 Food pharma printing
In new Additive Manufacturing laboratories, we're engaged in development and experiments to improve 3D printing of food and pharmaceuticals.