Offshore wind farms
The expansion of wind farms in the Dutch sector of the North Sea is moving up a gear. In the spring of 2022, the cabinet designated three new areas for the development of wind farms. The original target of 11.5 gigawatts by 2030 will now be almost doubled to 21 GW.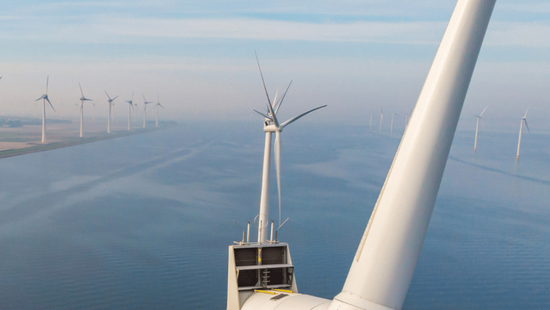 Offshore wind farms move up a gear
To achieve these ambitions, TNO is researching and developing innovative technologies and methodologies for the new generations of wind turbines and wind farms.
Our latest developments
6 resultaten, getoond 1 t/m 5
Designing sustainable wind turbines for the circular economy
At the end of their life wind turbine blades end up as landfill. TNO is working on the design of turbine blades that can be recycled.


Offshore wind conditions
For the development of wind farms at sea, developers need knowledge of the wind conditions. TNO knows the wind conditions through wind measurements.


Efficient operation and maintenance of offshore wind turbines
Maintenance of offshore wind turbines accounts for a quarter of the total costs. TNO has been researching ways to maximise maintenance efficiency.


Innovations for the large wind turbines of the future
New generations of wind turbines are following one another in rapid succession. Together with partners, we are working on design of new generations of wind turbines.


How large offshore wind farms produce optimal energy
Optimising the performance of wind turbines in offshore wind farms is becoming complex. TNO is working on optimal wind farm design.