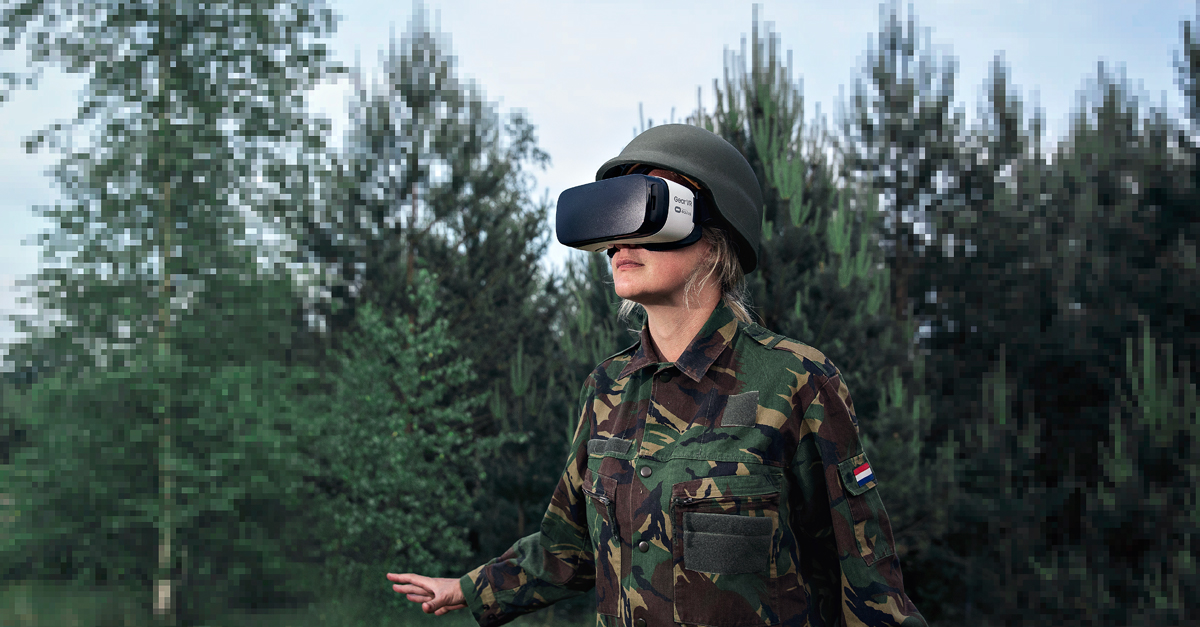 Internship | Development and Evaluation of SOCIAL VR/XR Communication systems
Social XR is about communication between people over distance as if you are in the same location. At TNO we are making Social XR as (photo) realistic as possible and seek for people to get involved and stretch the current boundaries of technology.
What will be your role?
In the TNO MediaLab, we create innovative media technologies aimed at providing people with new and rich media experiences, which they can enjoy wherever, whenever and with whomever they want. To enable this, we mainly develop video streaming solutions, working from the capture side to the rendering side, looking at many of the aspects involved: coding, transport, synchronization, orchestration, digital rights management, service delivery, etc.. In many cases, we do this work directly for customers such as broadcasters and content distributors.

As part of this, we are currently innovating and developing technical solutions to allow communication in photo-realistic Extended Reality (XR) with the potential of transforming the everyday communication of people. This is on the one hand to allow new forms of communication in Digital Worlds that are currently not possible and on the other hand to allow better communication of people across any distance in space. This will have a direct impact on the life of tomorrow and a more sustainable future (to name a few: inclusion of the elderly, inclusion of people with disabilities, allowing people to travel less, breaking communication barriers, creating more awareness for diversity/climate change/populism, better teaching by bringing people to the real place of events).

If you want to know more:

Check out this talk about our latest developments:
Check out our website with many reading references:

We are actively looking for students to contribute to evaluating, analysing and improving our current technical development and innovation work. This is the technical development of our Social VR communication platform (i.e. prototyping), e.g. WebXR programming, working on spatial audio, 3D video, spatial orchestration, multi-media synchronization, network QoS evaluation, Video Evaluation (PSNR/SSIM), and many more.

Some examples of assignments could involve:
QoS / QoE in VR/XR communication systems (SocialVR/XR)

System optimizations on volumetric video over WebRTC and WebXR

6DOF for 360-degree SocialVR/XR communication systems

WebVR / WebXR / WebGL shaders for enhanced real-time photo-realistic volumetric video
The expected duration of an internship project is 6-9 months including the possibility of writing your thesis and/or taking part in a paper writing. Further, for this work it is expected to be at least 4 days a week in our TNO location New Babylon at The Hague Central station.
What we expect from you
Top students are invited to apply. We are looking for students with a technical background and relevant programming experience. Experience with media technology or virtual reality is a bonus. We expect a pro-active attitude, enthusiasm, curiosity and an eagerness to learn and explore. Further you should be familiar with one or more of the following technologies:
JavaScript (in particular: React, node.js, WebVR, WebXR, Three.js, Aframe or WebGL shaders)

GStreamer

Janus

Computer-mediated Communication Systems

System Factors (QoS and QoE)
Keywords here are: VR, XR, Web development, Distributed Systems, QoS, QoE.

Typical expected student background:
Computer science;

Software engineering;

Telematics;

Electrical engineering;

Media and communication.
What you'll get in return
You want to work on the precursor of your career; an internship gives you an opportunity to take a good look at your prospective future employer. TNO goes a step further. It's not just looking that interests us; you and your knowledge are essential to our innovation. That's why we attach a great deal of value to your personal and professional development. You will, of course, be properly supervised during your work placement and be given the scope for you to get the best out of yourself. Naturally, we provide suitable internship compensation.

At TNO you have the chance to work with top scientists from within our organization as well as from other international institutes and companies. We have excellent lab facilities where tests can be performed. We also encourage contributing the results to one or more renowned conferences such as IEEE and ACM.
TNO fosters ground-breaking research in a very wide range of domains such as energy, smart cities, optics, space, mobility, and telecommunications. We continuously seek to challenge ourselves with new research questions, from the market and academia, to remain at the forefront of technology breakthrough.

TNO as an employer
TNO is an independent research organisation whose expertise and research make an important contribution to the competitiveness of companies and organisations, to the economy and to the quality of society as a whole. Innovation with purpose is what TNO stands for. With over 3500 people we develop knowledge not for its own sake but for practical application. To create new products that make life more pleasant and valuable and help companies innovate. To find creative answers to the questions posed by society. We work for a variety of customers: governments, the SME sector, large companies, service providers and non-governmental organisations. Working together on new knowledge, better products and clear recommendations for policy and processes. In everything we do, impact is the key. Our product and process innovations and recommendations are only worth something if our customers can use them to boost their competitiveness.
Has this job opening sparked your interest?
Then please feel free to apply on this vacancy! For further questions don't hesitate to contact us.

Due to Covid-19 and the consequent uncertainties and restrictions, students who are not residing in the Netherlands may currently not be able to start an internship or graduation project at TNO.
More information about this vacancy?