Effective human robot cooperation and AR support
In cooperation with
EU-project Horse, Thomas Regout International
Flexible and efficient production is crucial if manufacturing companies in the Netherlands are to remain competitive. New technologies, such as robots and augmented reality (AR), support employees in working quickly and faultlessly. An effective division of tasks and cooperation between the human operator and robot is crucial in this respect. We have software, knowledge and tools to provide assistance to operators.
Within the EU-project Horse TNO has developed new knowledge and software tools (the TNO step scheduler) for effective cooperation between people, robots and digital support on the production floor.
If you are interested in a demonstration, the Horse TNO competence centre "Guided Manufacturing Lab" in the Fieldlab RoboHouse can show you the following:
Assembly workstations where operators, cobots and augmented reality, systems, quality control systems work together to assemble various demo products.

A software framework containing for smart manufacturing that:

Connects different human and automated actors with an industrial Internet of Things (IoT) platform

Facilitates the distribution of tasks among the actors, while considering task specific requirements such as the skills or tools needed to execute a task and the task execution order

Tracks and logs of the work progress using data streams from the different actors.
Put to the test by TRI
The TNO AR demonstrator and the Framework have been tested and evaluated at Thomas Regout International in Maastricht. TRI develops and produces high-quality telescopic slides and linear guides. Several years ago, TRI made a conscious choice to keep their production in the Netherlands and is currently in full transition to a flexible factory of the future. Various robot applications have been introduced for handling of semi-finished products. Augmented reality as instructional support has been tested in the assembly of complex tools for the production machines. (photo 1).
Due to the large variety of products, many tool configurations are needed. It now takes months to train new operators. And inexperienced employees are more likely to misorient parts. In the test, inexperienced employees were instructed step-by-step by means of projected work instructions (text, annotations and images) on the workstation, the product itself and on the bins with parts. The evaluation showed that inexperienced employees were able to put together the tooling without additional explanation, and without errors in the end-product. TRI expects that with this system the learning time will be shortened from months to a matter of weeks.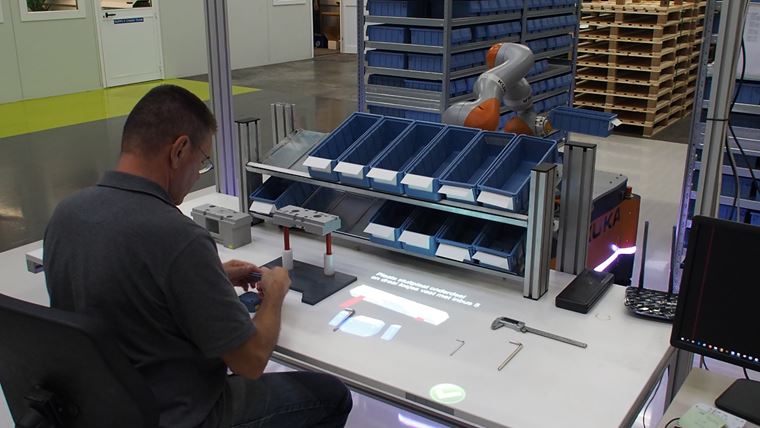 What TNO can do for your processes
Would you like to know more about what these technologies can do for your process? The following is possible:
A demonstration of the TNO workplace set-ups (photo 2) and control software within the TNO Guided Manufacturing Lab in RoboHouse.

A workshop in RoboHouse with representatives from your company. Together we will explore the possibilities for robotisation and AR operator support based on your goals, a sample product and process from your company.

A feasibility study in the demo setup with a sample product from your company, including an estimate of the costs and benefits.

Advice on the IT architecture needed to enable implementation within your company.
Get inspired
9 resultaten, getoond 1 t/m 5
Data Value Center Smart Industry
Smart Industry's (DVC-SI) goal is to help companies create added value and become more competitive with data.
Smart response: measuring the impact of innovations
Dutch industry needs digital plugs to increase productivity


Smart industry: digitisation of the manufacturing industry
Digital Twinning