Collaborative business models facilitate scaling at low-income groups
Inclusive collaborative business models are a solution to overcome obstacles for scaling innovations targeting low-income groups in developing countries. In these new types of business models, social impact is aligned with core business goals. And there is transparency between public and private parties about their incentive and role of the envision innovation and what they expect from each other to make this collaboration a success.
Challenges in scaling innovations at the Base-of-Pyramid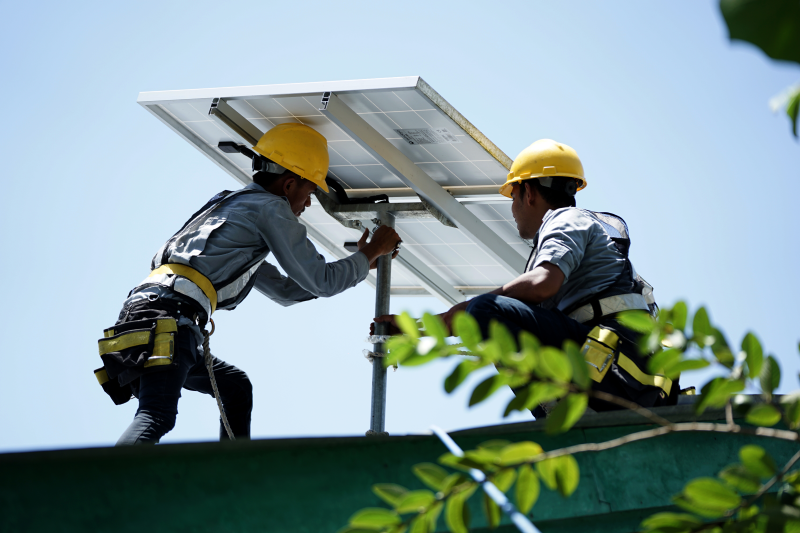 The needs of the world's poor in the areas of healthcare, water, energy, sanitation and food are often not sufficiently met. Meeting these needs of 4,5 billion people will require large scale system transitions. Innovations in these areas start as pilot/demonstration projects carried out by a consortium involving partnerships between governments, NGOs, knowledge institutes and private parties, and are (partly) funded with subsidies.
However, successful pilots often encounter difficulties in scaling. Because there is no proper insight in the key drivers for low-income people to get involved or market intelligence is lacking. Other obstacles are building proper distribution networks in regions with poor infrastructure are creating access to investment capital to inclusive businesses that have a high risk profile and long pay-back time. Collaborative business models can play an important role here to tackle the obstacles in scaling.
What is an inclusive collaborative business model?
An inclusive and collaborative business model:
Aligns societal impact with core business goals by creating commercially viable business models. They engage the poor as producers, distributors, suppliers or consumers to create and capture mutual value. They ensure that Base-of-Pyramid (BoP) communities can address their basic needs in economically, socially and environmentally sustainable ways;

Combines the competences of different actors to address the complexity of sustainability issues and mixes different types of finance to sustain solutions. There is transparency between public and private parties about their incentive and role of the envision innovation.
6-step approach
Currently, there is no straightforward framework or method to assist inclusive businesses focusing on the BoP in scaling their collaborative business model. Therefore, TNO, together with University of Twente, Nyenrode Business School, BoP Inc and the Next Organization, has developed a comprehensive but easy framework.
The framework guides inclusive businesses and their partners to develop a scalable collaborative business model. The framework consists of six steps, where the first four steps aim to develop new collaborative scaling opportunities.
The first step (green) sharpens the social impact ambition.

In the second step (red) a thoroughly analysis of the current business model and local situation is performed, followed by

Step three (blue) in which new upscaling strategies are developed.

Step four (yellow) then focusses on what partnerships with organizations and communities are necessary to operationalize the strategies that align with the social impact goals.

The last two steps lead to a step by step roadmap on how to embody the developed collective upscaling strategies into a collaborative business model spanning the whole value network.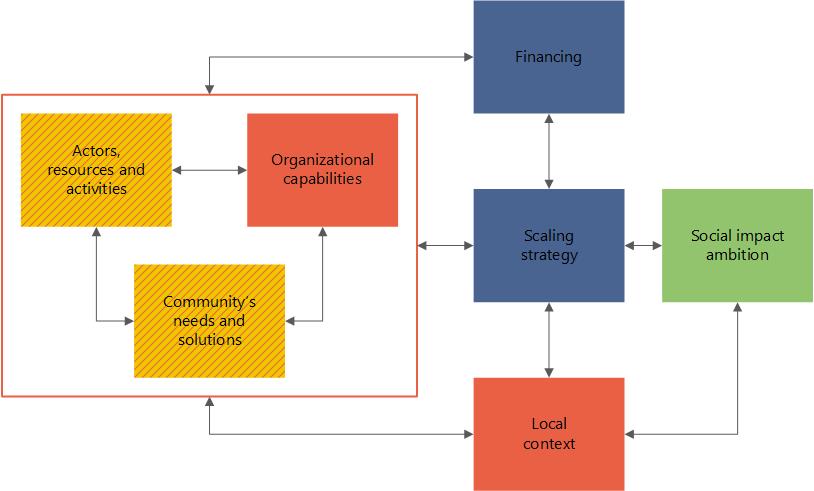 Example: RESCO - Indonesia
RESCO is an Indonesian inclusive business founded in 2016 with the goal to achieve access to electricity for all households on the Sumba Island in Indonesia. RESCO provides reliable, safe and affordable clean renewable energy solutions to remote villages, business owners, residents and public facilities where no (stable) central electricity grid connection exists.
RESCO collaborates closely with their main partner Hivos (a Dutch NGO), and governments, technology providers and communities. This collaboration is manifested in a collaborative sustainable business model in which costs and risks of energy innovations are shared between public and private parties. RESCO is currently accelerating their innovations but perceive challenges in scaling.
Our team has been assisting RESCO over the past 1,5 years with developing their collaborative inclusive business model through interviews and workshops, with a special focus to better align communities preferences (wants) with what is needed in terms of education and health (needs).
Contact us
Frank Berkers

Functie:

Senior scientist at TNO and Professor at Rotterdam University of Applied Sciences on business for societal transition

My expertise is on design approaches for business models and decision-making for business models and innovations involving multiple organizations. This time of major changes, especially in business, requires good and reliable support for collaboration, e.g., Value Case Methodology and Collaborative Business Modelling and Orchestrating Innovation.