Appointment of Baptiest Coopmans as member of the Supervisory Board of TNO
The Council of Ministers has approved the nomination of ir. J.B.P. (Baptiest) Coopmans as member of the Supervisory Board of TNO with effect from 1 February 2021. He succeeds Ingrid Vanden Berghe, who is leaving the Supervisory Board due to the expiry of her second term of office.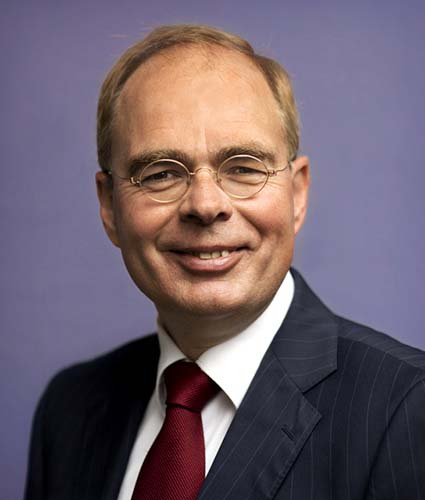 After graduating in Industrial Engineering and Management at Eindhoven University of Technology, Baptiest Coopmans held various management positions in the fields of technology, media, telecommunications and consumer products.
Baptiest is currently Senior Vice President at Liberty Global. Previously, he was Interim CEO at UPC Switzerland, CEO at Ziggo in the Netherlands during the merger with UPC, member of the Board of Directors of KPN and held management positions at Unilever. He also fulfills various supervisory roles. Until recently, he was chairman of the Supervisory Board of Eindhoven University of Technology.
The TNO Supervisory Board is looking forward to the collaboration with Mr Coopmans and his contribution to the Board.
Get inspired
12 resultaten, getoond 1 t/m 5
ESI symposium 2022
The symposium will feature internationally renowned academic and industrial keynote speakers, a series of presentation tracks, demonstrations, and ample opportunities for discussions and networking.
Startdatum

:

Locatie

:

Theatre De Schalm, Veldhoven (NL) and online
Webinar: Industry CO2 neutral and circular in 2050
The necessary sustainability of the industry poses many challenges. Climate targets are being tightened up and have gained momentum in recent years. Decision makers want to know: how do I continue to make a profit in that new context? In this webinar on 28 September we discuss this with partners and come up with tailor-made solutions.
Appl.AI SPLASH event 2022
Interested in the possibilities of AI for your business? Take part in the Appl.AI SPLASH Event 2022. High-level keynote speakers will share their experiences.
Startdatum

:

Locatie

:

Supernova, Jaarbeurs (Utrecht)
Biorizon bio-aromatics networking event
Come to this networking event for the latest developments in bio-aromatics and to accelerate biobased business together.
Webinar: Materials Scarcity for Hydrogen Production
Join VoltaChem's open webinar on the 27th October 2022 on the topic of Materials Scarcity for Hydrogen Production.