NWA route Circular Economy (CE) coordinates three new case studies for sustainable circular impact
A collaboration of TNO, LEI, RU, TUD, M2i and other partners will, through three case studies, take crucial steps to understand the supply chain of a product and to quantify the environmental and economic impact of different choices within the chain.
The research aims to identify robust interventions that will speed up the transition towards circular supply chains. The level of circularity will be studied for the following specific value chains:
tin production and utilisation

lithium ion batteries

timber construction.
The projects aim at increasing the scientific and societal impact of their NWA route by creating new connections between organisations and research fields. We will analyse the working mechanism of the entire value chains and identify triggers that will speed up the transition to a fully circular value chain.
TNO is leader of the case study on lithium ion batteries
In addition, TNO's Circular Economy & Environment unit is leading the case study on a lithium-ion battery sub-project entitled "Circ-Li-on" (see image below). We will investigate circular opportunities for lithium-ion batteries as used in e-bikes, which have varying and often limited lifespans.
This collaborative project will start in the first half of 2021 and will run for approximately one year. We are also looking at options for organising large consortia on relevant research topics at a later stage.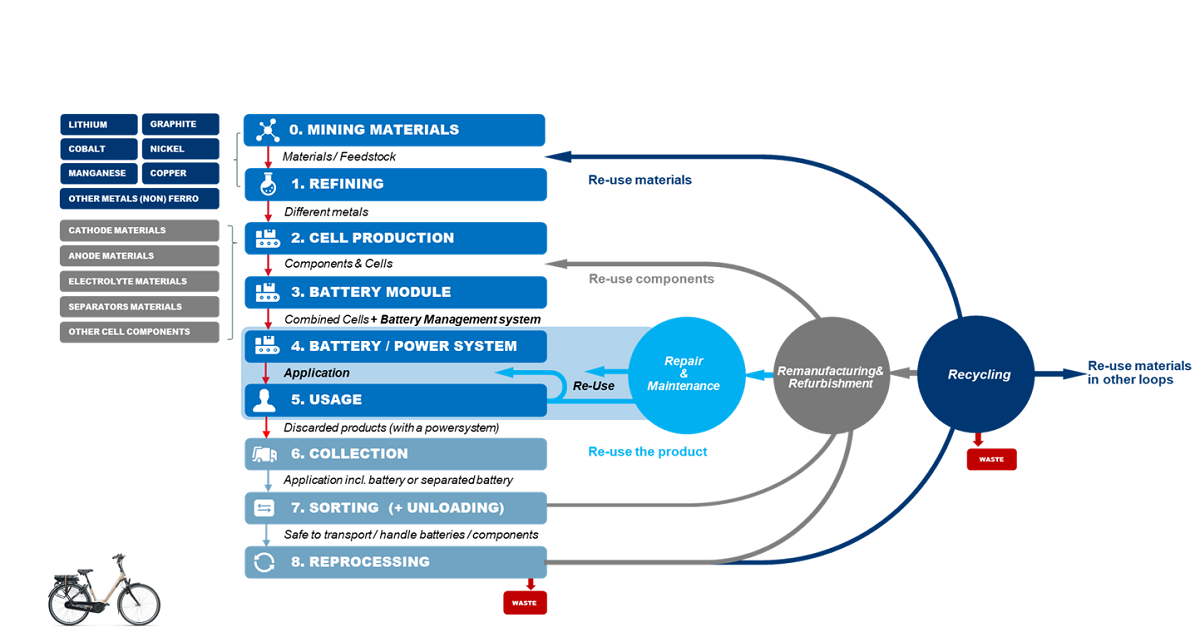 Get inspired
4 resultaten, getoond 1 t/m 4
Launch of the HotSpotScan (HSS) for substance emissions
Estimating the emissions of and exposure to hazardous substances over the life cycle of a product can be a tedious and difficult task. The HotSpotScan greatly eases this process and provides the user with data in REACH.
TNO developed Waste treatment Tool for plastics in rivers
Rivers are polluted with plastic waste. The Ocean Cleanup is determined to remove these plastics from rivers. For the environment and for value creation, the river plastics should be properly treated. However, waste treatment, infrastructure and costs for plastics are globally diverse and complex. TNO has developed the Waste Treatment Tool to determine best treatment options from river plastic waste.
TNO participates in two proposals for European Green deal
On Thursday, May 27th 2021, the European Commission released the evaluations and funding decisions for the Green Deal call "European Research Infrastructures capacities and services to address European Green Deal challenges". TNO participates in two successful proposals.
Towards a circular e-waste infrastructure for Kenya
Towards a Circular Economy in Kenya by developing an action plan for a circular e-waste infrastructure in Kenya.