How 'smart thermochromic glass' saves energy in homes
Scientists and others at the Brightlands Materials Center (a partnership involving TNO and the Province of Limburg) are developing smart thermochromic coatings for windows. These coatings are able to switch between blocking heat and allowing it to pass. And that could significantly reduce CO2 emissions. Six questions for TNO's Eugene Veerkamp.
What heat-regulating window coatings already exist?
"There are coatings that are used mostly for blocking heat. In very hot climates, they prevent the heat from the sun from getting inside. In colder climates, they make sure that the heat from radiators stays indoors. These coatings are therefore not very effective in temperate climates, such as those in Europe or America. That's because they keep the heat from the sun out in winter, which of course you'd prefer to have inside.
At the Brightlands Materials Center in Geleen, we have developed a smart coating for use in climates with hot summers and cold winters. The coating responds to the outdoor temperature. If it rises above a certain level, let's say 21 degrees, then the coating blocks the heat radiation from the sun. But whenever the temperature of the glass is lower, as in the winter, then it allows the heat from the sun to pass through."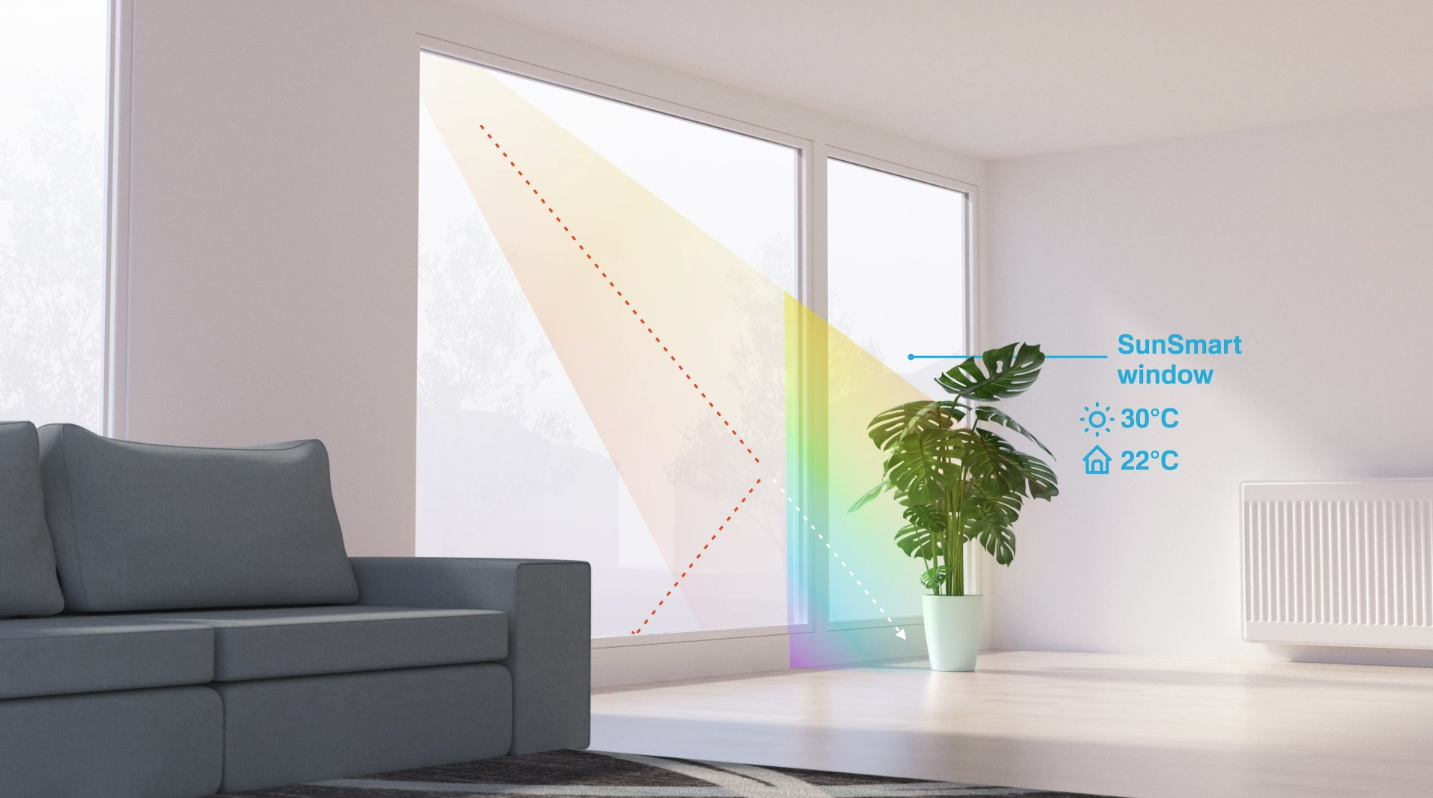 How does the technology work?
"Normally, the process of coating glass involves sputtering a thin layer of metal oxide onto it. This is a special mechanical technique. We also apply a thin coating, but we don't use the existing sputtering technique. To produce the coating on glass we apply a liquid coating layer, which dries and subsequently gets a heat treatment of 400-500ºC. This is a simple production process which is less costly and more energy efficient than sputtering. As a result of this process the crystal structure of this coating is able to respond to the outdoor temperature.
When the temperature is high, the crystal structure blocks the heat from the sun. As soon as the coating falls below a certain temperature, the crystal structure changes – the coating 'switches ', you could say – and the heat is transmitted. In both cases, the glass remains transparent, so visible light can pass all the time, making it suitable for use in residential buildings. We call this thermochromic glass."
"Our production process is simple, less costly, and more energy efficient than existing technologies"
What is it about this technique that's innovative?
"First of all, we have succeeded in massively reducing the temperature at which the crystal structure changes (the switching temperature). We can set it at, say 20 degrees. But it could just as easily be set at 15 or 25 degrees, depending on the climate zone where the glass is to be used. The second innovation is that we have made the layer transparent using a neutral colour so that the shifting process is not visible with the naked eye."
What kind of savings does this glass deliver?
"It enables you to heat your home less in winter and cool it less in summer, which means that houses with this smart glass consume less energy. That means less CO2 emissions too. We have calculated that the users of detached houses in the Netherlands can save 638 euros a year on their energy bills by combining our coating on double glazing with an existing low-E coating. Some 20% of these cost savings can be attributed to the thermochromic coating.
The glass is slightly more expensive than standard insulation glass with just a low-E coating, however, the payback time for our thermochromic smart window is just seven years. Our new production method makes this glass also very attractive for the glass industry. A traditional 'sputter line' is five to ten times more expensive than our coating process involving liquids."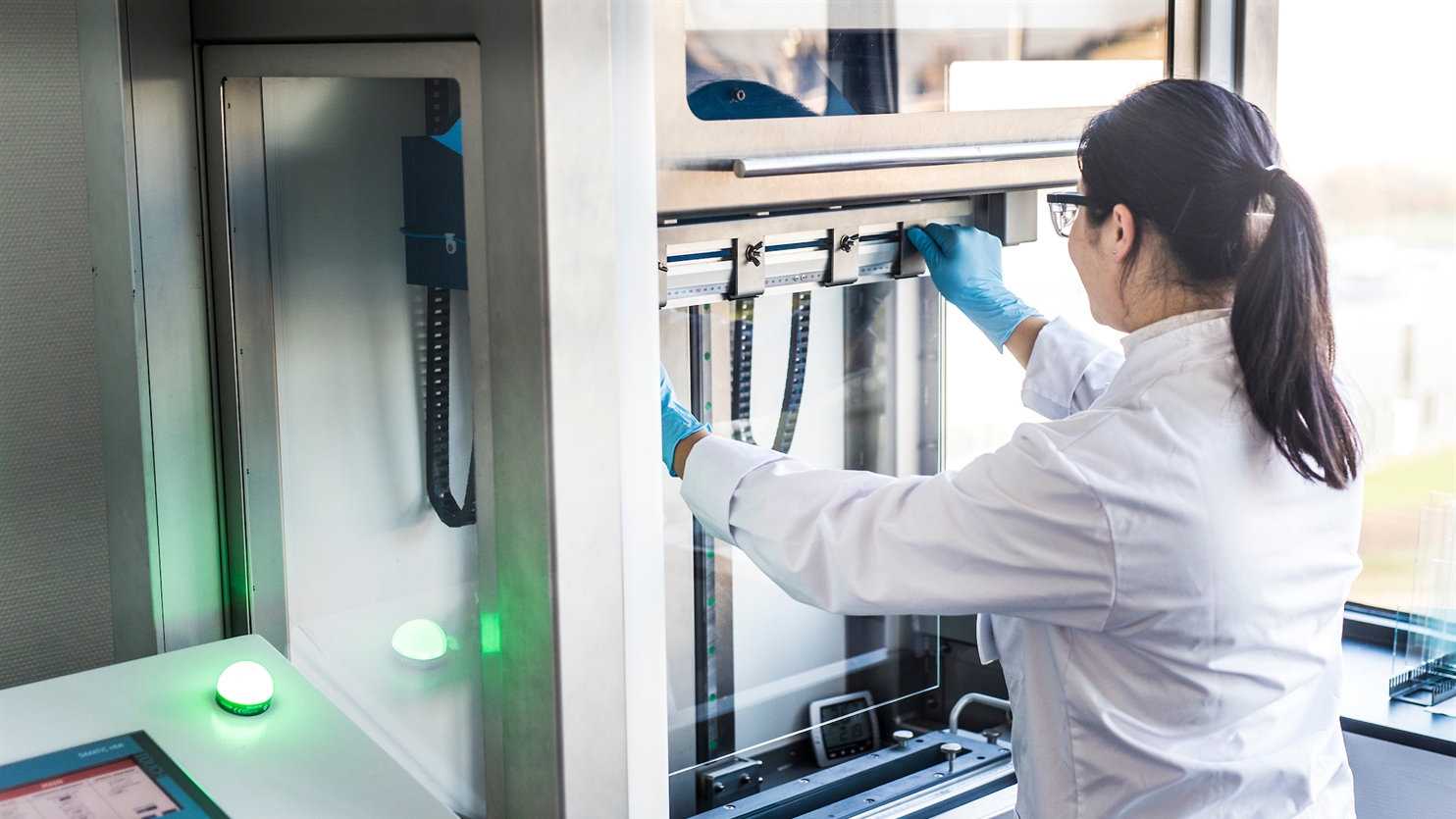 Where is thermochromic glass being developed?
"Brightlands Materials Center (BMC) is a joint innovation centre, established by TNO and the Province of Limburg. It is located on the Brightlands Chemelot Campus in Geleen. The decision to locate the center this campus was based in part on the large-scale presence of polymers and coatings businesses and expertise. Scientists at the research center conduct research into new sustainable and energy-saving polymers and coatings.
There are four different programmes in which the research is carried out – Circular Packaging, Lightweight Automotive, Additive Manufacturing (3D printing), and Sustainable Buildings. Besides the smart thermochromic windows mentioned previously, the Sustainable Buildings programme involves work on functional polymer films (this includes films with the same thermochromic properties), on retrofit solutions for energy-saving windows, yield-increasing films for solar panels, coloured solar panels, and heat regulation for solar panels. Reducing the operating temperature of solar panels results in a higher electricity output and a longer lifespan."
The technology works in the lab. So, what's next?
"We have been working on the technology for the past two or three years. The coating works well on windows measuring ten by ten centimetres. Last year, we successfully scaled this up to fifty by fifty centimetres, and from that size, you can make first demo windows. In joint projects involving various companies, we are now working on scaling it up even further, to 1 by 1.5 metres. We are working on validating the performance of our smart windows in test buildings. We expect this technology to be commercially viable within the next three years."
Learn more about the tech behind thermochromic glass and contact Eugene Veerkamp.
Contact us
Eugene Veerkamp

Functie:

Business developer

Eugène can rely on an impressive career in international business as a chemical & materials engineer that spans 25 years. He understands that the commercial and financial aspects are essential for new sustainable solutions to become successful. Cooperating closely with the industry and launching new innovation onto the market are two key drivers in Eugène's daily work, along with sharing his own business development experience within an enthusiastic team of specialists.
Get inspired
7 resultaten, getoond 1 t/m 5
Pioneering sustainable concrete
Meet MIMO: our new approach to sustainable concrete with (re)use of secondary raw materials. Read what this means for the concrete sector.


Natural stone
Making homes sustainable: knowledge breakthroughs and new opportunities thanks to AI


Boosting affordable housing with cementless blocks
License agreement on innovative cool bricks in Malawi