Liveable city: How do you assign the optimal space to each urban ambition?
The housing crisis, tough climate ambitions, further ageing of the population, and urbanisation are placing mobility in our cities under more pressure than ever. How do you make the best possible use of already scarce space? TNO helps policymakers by giving them clear insights, so they can make the right choices today for the liveable city of tomorrow.
Want to know more?
Do you want to know how you can work towards creating a liveable city? Receive the paper 'Liveable city: Forward together with TNO – top 3 challenges for Dutch cities'
Our cities are becoming ever more crowded. Different urban functions – residential, working, manufacturing, and recreation – are in competition for the limited space. The great challenges facing cities require far-reaching measures, political courage and vision. The climate crisis demands a sharp reduction in CO2 emissions, greener city centres, and electric transport with the associated charging infrastructure. The over-stretched housing market requires tens of thousands of homes to be built. Cities are still far from ready for the phenomenally fast rise of the platform economy. At the same time there are also great opportunities, for example using shared transport as pre- and post-transport to promote public transport.
How should policymakers deal with all these rapid changes and spatial challenges linked to mobility to ensure cities remain liveable?
Mobility shift means mind shift
In the first instance, these times call for a new approach to spatial planning, according to Bart Vuijk, Senior Business Developer with TNO. 'Previously you designed a district on the basis of fixed planning values: so many homes, so many parking places, roads, bike paths, and so on. That approach doesn't work any more. If only because from the spatial point of view, cars are particularly inefficient, whether stationary or driving. In TNO's conversations about the housing shortage with the Ministries of Infrastructure and Water Management (I&W) and of the Interior (BZK), we challenge ourselves to look at mobility and accessibility in a different way. For example by using a notion such as 'proximity' as the starting point. How can we organise districts so that the inhabitants have all the important facilities close at hand?'
New districts such as Havenstad in Amsterdam and Merwede in Utrecht have been developed on an almost car-free basis with very limited parking. This requires a different way of living and working and a new architectural approach and system. And also clear communication to inhabitants so that they too can adapt their behaviour. This mobility shift therefore starts with a mind shift. For this reason TNO also takes account of behavioural changes in its simulations and modelling.
Urban Strategy in Amsterdam
TNO helps authorities to formulate clear goals. Supported by knowledge and tools, we then provide insights into the dependencies within their city and the consequences that policies will have. The data and simulations of the Urban Strategy platform provide important digital and visual support for complex decision-making.
Bart Vuijk: 'We have a long-standing collaboration with the City of Amsterdam in which we look at the interdependency of a number of policy areas: accessibility, noise pollution, air quality, and the impact on liveability in the city.'
Tijs Roelofs, Head of Innovation with the City of Amsterdam: 'With innovation, the trick is always to let go of your own ideas in order to arrive at new insights together. That's precisely what our collaboration with TNO has brought us in these past few years. Also, the ongoing joint development of Urban Strategy means that you're constantly getting new insights together. The model is not the Holy Grail, but it is one of the perspectives that you always have in mind when reflecting or when conversing with policy colleagues, because it provides direct insight into the consequences of interventions.'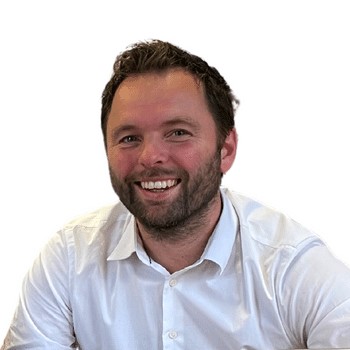 'With innovation, the trick is always to let go of your own ideas.'
Experiment in order to accelerate
Based on these insights, TNO then works with policymakers to see which measures would be appropriate within a particular area. Experimentation plays an important role here. Geiske Bouma: 'Examples might include introducing a small-scale car sharing project to reduce pressure on parking. Then we help municipalities set up pilot schemes, at which stage we also involve the inhabitants. By properly monitoring the results and evaluating them, you can refine the solution further until the desired result is attained. At TNO we now have a wealth of experience of this kind of process.'
Lastly, Geiske Bouma says it is important for cities to keep looking at the bigger mobility picture. 'Not travelling is also an option. Granted, a refined public transport network is of course a good basis for any city, but you also need to take a good look at the alternatives and whether they work for all target groups. What are you offering to people in low income groups that are dependent on their car? How much precious space are you sacrificing to charging stations that are used only by a small group of well-heeled citizens? These are all considerations that TNO can take account of in its simulations and models, enabling city authorities to make carefully thought-through choices that result in a future-proof city.'
Want to know more about the liveable city of tomorrow?
Get inspired
3 resultaten, getoond 1 t/m 3
How do we steer automated driving in the right direction?
Can automatic driving contribute to cleaner, more safe and more efficient mobility? With knowledge and models, we help to make the right choices.


Societal impact for accessibility and liveability
Smarter travel with Mobility as a Service