How CCU can shape the carbon transition
Carbon capture and utilisation, or CCU, is a technology that involves capturing CO2 emitted from (industrial) processes and using it to make new products. It therefore doesn't only reduce CO2 emissions, it creates new market potential. Government and industry alike see the necessity of understanding which CCU value chains are future-proof and economically, environmentally and politically viable. The Province of Zuid-Holland wanted to know what role CCU has in the future for the province.
Why carry out an extensive CCU field study?
The CO2 effectiveness differs considerably between the various CCU products, making a study essential before investing heavily in specific CCU products. Present infrastructure, industry and market potential will also affect the potential of the specific CCU products.
Independent research organisations &flux and TNO were asked by the province to investigate which CCU products offered the greatest economic perspective, how the various CO2 sources and energy sources affect the carbon emission performance, which CCU value chains receive provincial incentives, and how the province can contribute to these value chains in the international policy arena.
What can Zuid-Holland do to accelerate the transition?
After analysing the current provincial CCU landscape, the research teams performed an environmental, technological and economic evaluation on 10 selected CCU product value chains in food, mineralisation, chemicals and fuels. TNO then conducted an environmental life cycle assessment (LCA) of each CCU value chain to calculate and compare the impact of fossil-based and renewable energy sources.
Based on the findings, the province of Zuid-Holland can do the following:
Stimulate CCU value chains that already perform much better than fossil-based production processes in terms of CO2 emissions, e.g. mineralisation of waste materials through CO2 exposure and using captured CO2 in horticulture.

Focus on decarbonising energy sources, i.e. using wind and solar energy, and replacing fossil with renewable carbon feedstock.

Discuss and determine how to compensate for the CCU value chains that will continue to leave a CO2 footprint in the long term, even in a fully renewable scenario. Examples are hard-to-abate fuels and some chemical routes.
The road to sustainable carbon cycles
From the perspective of innovation, the road to fully renewable carbon is still very long. Developing new technology using 'grey' CO2 and energy sources is acceptable for now, but 'green' must always be the long-term goal. The province can shorten the road by anticipating EU and national policies on matters relating to sustainable carbon cycles. By providing the space, CO2 infrastructure and accessibility (finance, regulations, network etc.) to organisations aiming to realise their demo installations, Zuid-Holland will surely be able to develop a mature CCU ecosystem.
This study by &flux and TNO has contributed to positioning CCU value chains in Zuid-Holland and the Netherlands, both from a renewable and fossil-based perspective. The researchers worked closely with a broad stakeholder group consisting of representatives from horticulture, CCU scale-ups, and representatives from the Rotterdam industrial cluster. At TNO, we have the knowledge to keep on contributing to developing low-impact CCU value chains.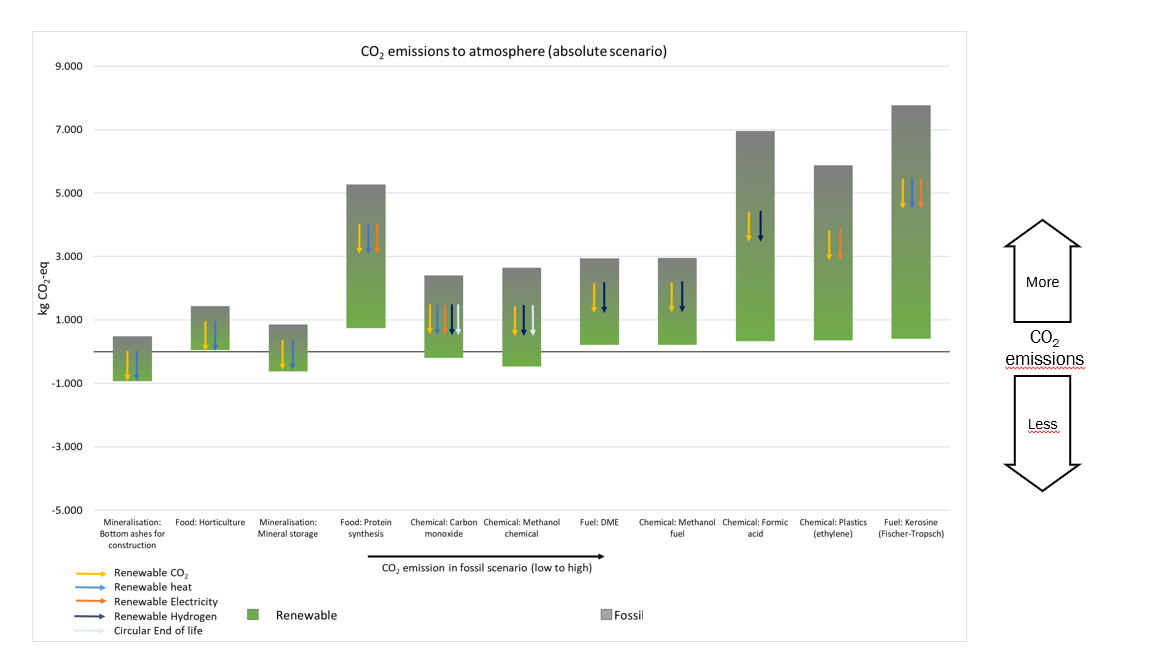 Contact us
Anna Schwarz

Functie:

Medior scientist innovator circular economy for plastics

I am an environmental researcher specialized in circular economy for plastics. In my work, I focus on plastic recycling, plastic and microplastic pollution. Research tools I use are Life cycle assessments and Material Flow analysis.
Get inspired
13 resultaten, getoond 1 t/m 5
Climate change makes carbon sinks more vulnerable
In a new publication by ICOS, new data confirms that natural carbon sinks such as the ocean and forests are not stable.
Climate, air and sustainability
We are working on solutions to climate change, air quality, sustainability, and emission reduction issues for companies and governments.


Environmental modelling, sensing and analysis
With a multidisciplinary approach to measurement and detection, we specialise in researching harmful components in the environment. Read more.
Particulate matter, an elusive problem - but what is particulate matter?
Particulate matter is a catch-all term for everything floating in the air that is smaller than 10 mu. But what makes it so dangerous? Expert Paula explains.
A more effective particulate policy in five steps
The current particulate matter standard will not solve the problem. TNO gives policymakers a five-step plan to help them take action.