TNO develops innovative technology and methods to improve the intelligence position of security providers. Intelligence is analysed information and knowledge that can be acted upon. Earlier, faster, and better insight and overview of complex situations and risky decisions through integration of technology, work processes, and people.
Information and data are considered 'the new gold'. Intelligent sensors, responsible artificial intelligence, and privacy-enhancing technologies are making it possible to make the Netherlands safer. We do this by improving the intelligence position of security providers. Information profiles of persons and behaviour can help to trace fugitives more quickly and identify money laundering activities more effectively. By cleverly combining data from sensors and multiple sources, earlier, faster, and better decisions can be made in emergency situations. In complex situations with a lot of uncertainty, where the risks are high, intelligence supports well-informed decision making.
Mission
TNO's mission is to be the partner of intelligence components of security providers. We help our partners and clients innovate their information and intelligence processes in a visible and impactful way. Security research contributes to answering relevant knowledge, innovation, and transformation questions.
How do we do this?
TNO connects the needs and wishes of security providers to our own knowledge and expertise. We have up-to-date academic and technical knowledge to understand and innovate intelligence processes, methods, and technologies. With knowledge of sensor systems, responsible artificial intelligence, privacy-enhancing technologies, and the human factor, we make innovations pay off for security providers. This is also thanks to knowledge of the intelligence processes of security organisations, such as police and defence. Furthermore, we have a good understanding of the technologies, products, and services in the field.
Real-time risk assessment
Together with the police, several projects and programmes have been launched to improve information and intelligence processes. An example is the Risk Assessment project. In this project, TNO studies whether risk assessment tools have added value in the real-time control room process. Based on available information and knowledge, is there a risk of violence in the case of this person?
Dynamic Strategy
Another example is the Dynamic Strategy. This is an application for Operational Centres and the Large-scale and Special Operations Staff (SGBO). It enables the preparation of risks, scenarios, and measures for events. With crowd and evacuation models, decision-making is also supported in the event of an incident.
Other safety studies
TNO is also working on a generic approach for the automated analysis of potentially fraudulent companies. We're developing tools and phenomenon definitions for this purpose.
Other safety studies include:
video analysis on large amounts of data

intelligence in the fast process

visualisation strategy for decision-making in the golden hour

intervention power through sensing

public participation

intelligence for municipalities

from speech recognition to automatic analysis

new ways of sharing information

AI for justice

AI for surveillance
Contact us
Jeroen Willems

Functie:

Business Developer

Maria Dolores Rodriguez Moreno

Functie:

Senior Scientist at TNO and Professor at University of Alcala on AI
Get inspired
4 resultaten, getoond 1 t/m 4
Handbook to help with detection
Everyone can live a contribution to detection. But how can police and citizen (organisations) work together to ensure our safety and justice? The new TNO handbook 'First Aid for Investigation - Handbook for Citizen Detectives' offers help.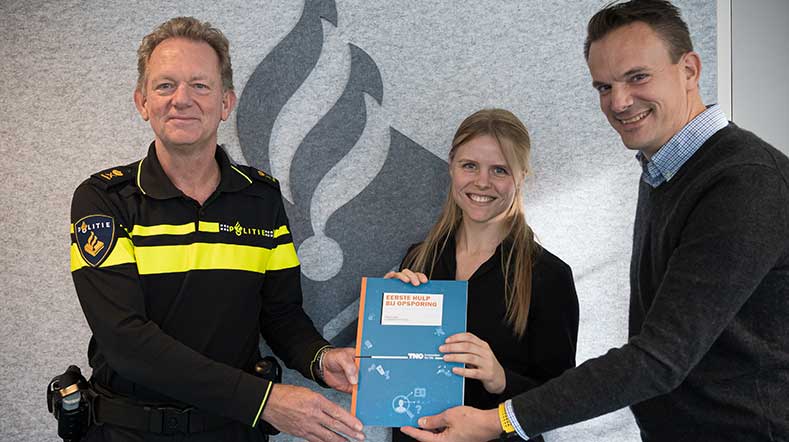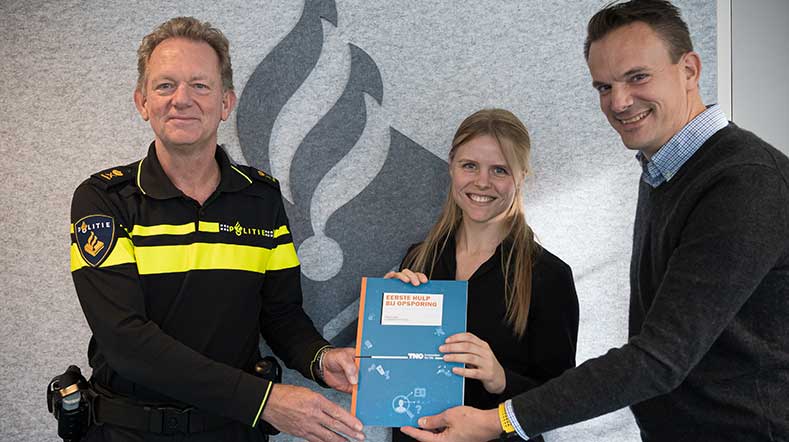 Tech companies and TNO join forces for further development of automated cybersecurity platform
LANCELOT: new collaboration between IKNL and TNO
Consortium targets automatic prevention of cyber attacks