POWERED: Dutch consortium advances efficient CO2 conversion technology for DME
Status project
Present - 2027
In cooperation with
Aramco Europe, Dimeta, Nouryon, Phase to Phase, Shell ETCA, Tata Steel, Technip, Technolution & VDL
In order to attain the climate objectives of achieving climate neutrality and a minimum of 80% circularity by 2050, the industrial sector must adopt renewable fuels and materials. Synthesis of these from CO2 in residual biomass and industrial streams is the ultimate form of carbon recycling.
CO2 conversion to fuels and chemicals
The transformation of CO2 into valuable renewable hydrocarbons through hydrogenation requires substantial amounts of green hydrogen. As such, it is crucial that CO2 conversion processes prioritize high energy efficiency and selectivity towards the desired products. Moreover, these processes should be economic viable for smaller-scale applications and off grid sites. Preferable, they are  adaptable to the intermittent nature of renewable energy supply.
POWERED project to proof technology
Over the next four years, TNO is leading the national MOOI project POWERED (Production Of Wind Energy and other Renewable Energy based DME). In this project, in cooperation with: Aramco Europe; Dimeta; Nouryon; Phase to Phase; Shell ETCA; Tata Steel; Technip; Technolution & VDL, we will advance the innovative sorption-enhanced DME synthesis (SEDMES) technology and prepare for the first commercial demonstration.
Dimethyl Ether (DME) is a friendly commodity chemical, currently mainly used as a propellant in aerosol products like hair spray, but with high potential as replacement of petroleum-based fuels (diesel and LPG) and chemical building block in the future.
Strong consortium, cooperation with industry
The POWERED project brings together an exceptionally strong consortium from the entire value chain to realize the goal of the project and commercial demonstration afterwards. It includes CO2 heavy industries and sites (Tata Steel, Aramco, VDL) and off takers of the DME product that have the desire to use sustainable alternatives (Dimeta, Nouryon) as well as companies that can deliver the technology to industry (Technip, VDL for hardware; Phase to Phase and Technolution for software) and an open innovation pilot location (Shell ETCA).
Flexibel demands
The intermittent character of wind based electricity production inherently result in flexibility demands of the overall (power to X) production process, like electrolysis and DME synthesis. The electricity price cost is also expected to fluctuate according to availability. POWERED will develop an agile energy management system (EMS) allowing for the overall required flexibility and mitigate possible risks of a system failure.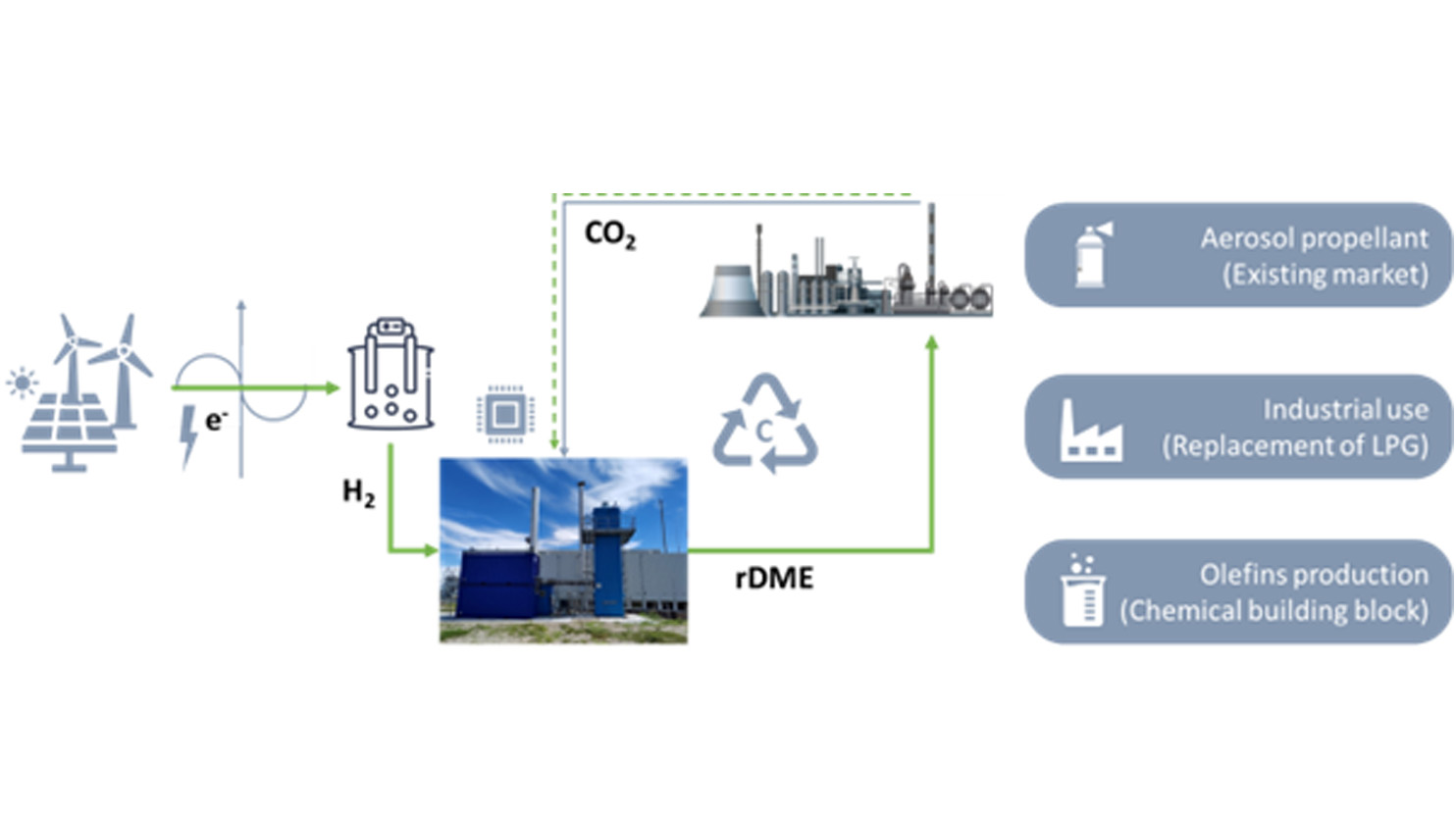 SEDMES proven technology
The SEDMES development at TNO has achieved widely acknowledged success in terms of converting CO2 and CO2-rich feedstock to DME in very high single-pass yields, and with unsurpassed H2 efficiency. As such it not only outperforms conventional synthesis routes but also other recently developed synthesis processes, reducing recycling streams and downstream purification costs.
DME CO2 recycling pilot plant
Several bottlenecks for further rollout of the technology will be tackled within POWERED. We will extend the existing pilot with purification and storage of the produced DME, including a novel process intensification 'stripping-enhanced distillation' that was recently patentedi.
Furthermore, we will validate the full chain SEDMES process in industrially relevant environment at Energy Transition Campus Amsterdam (ETCA). POWERED will improve the economic perspective of SEDMES by developing solutions that address specific urgent challenges in the power and steel sectors as well as for industrial local seasonal storage.
One important solution is the development of the EMS to run the SEDMES process dynamically based on renewable energy fluctuations. Finally, POWERED will produce an optimised scaled-up design of SEDMES reactor and process.
Get inspired
3 resultaten, getoond 1 t/m 3
Producing renewable DME using renewable energy and CO2
The POWERED (Production Of Wind Energy And Other Renewable Energy Based DME) project focuses on the development of Sorption Enhanced DME Synthesis (SEDMES), a technology that produces renewable and recycled carbon DME as an alternative to fossil DME and LPG.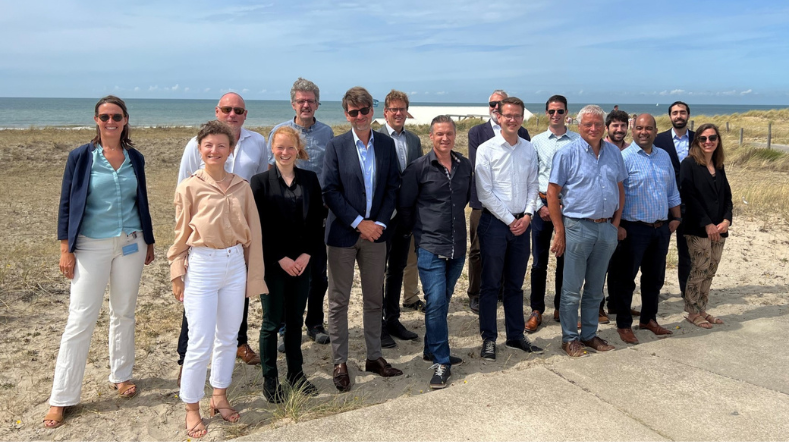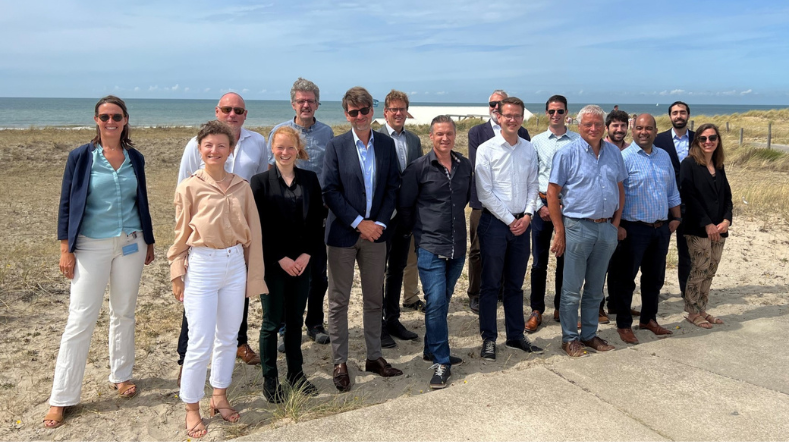 Biomass to fuels and feedstock
Biomass transition sustainability: biobased economy, fuel heat industry, aviation, shipping, heavy road transport, heating space, electricity.


Cost-effective sustainable aviation fuel
The EU funded project HIGFLY aims to produce sustainable aviation fuels from low-cost and abundant biobased feedstocks.