Identifying the future international chain of green hydrogen
If, within one or two decades, we have sufficient sustainably produced hydrogen at our disposal worldwide, this will have far-reaching consequences for our energy system and all parties involved. In the HyChain project, the Institute for Sustainable Process Technology (ISPT), together with TNO and other partners, investigated what the entire chain of production, transport and use will look like globally and what consequences this will have for our ports and industry.
HyChain is part of the ISPT's Hydrohub Innovation Programme, involving a consortium of over thirty parties: TNO, academic and applied science universities; port companies, industrial clusters and companies such as Shell, Nouryon, and Yara; Gasunie, provinces including Groningen and municipalities. The programme consists of three projects: HyChain, MW Test Centre and the GW project.
Making the right choices
The HyChain study identified the future demand for hydrogen and domestic procurement versus import potential. The most suitable routes and in almost 60 relevant technologies were also identified and assessed. This resulted in three summary reports, a cost calculation model and a series of fact sheets. Part of this is the compilation of eight country profiles by TNO, including Morocco, Norway and China, which may intend to export hydrogen in the future. On the basis of this wealth of practical information, both companies and policymakers can develop scenarios in order to make the right choices for the future.
Open innovation centre
The Hydrohub Innovation Programme will start an open innovation centre in 2020 where companies and other parties can test their innovations in the field of hydrogen. The 'MegaWatt Test Centre' will be located on the EnTranCE site of the Hanze University of Applied Sciences in Groningen with state-of-the-art facilities for optimising and scaling up electrolysis. Two 250 kilowatt electrolysers will be installed, ideal for industrial companies and suppliers to test their innovations. On this scale, problems can be detected quickly and the behaviour of the technology can be observed. The test centre is a valuable addition to the Dutch manufacturing industry.
Electrolysis on a gigawatt scale
A third part of the innovation programme is the Gigawatt electrolysis project, which focuses on the concept design of a hydrogen plant with that capacity. Electrolysis on a gigawatt scale is required to link renewable electricity from wind to hydrogen to make industry more sustainable. Wind farms in the North Sea, for example, will produce more than eleven gigawatts of power by 2030. A large number of internationally operating industrial companies, TNO, Utrecht University and Imperial College London are participating in the project. The challenge is to design a factory with about a thousand electrolysers that together as a whole can produce flexibly. This is important because solar and wind generation is highly variable.
The Hydrohub Innovation Programme is intended to use innovation to improve the robustness, flexibility and efficiency of large-scale production of green hydrogen and thereby reduce costs in order to accelerate the energy transition.
Get inspired
5 resultaten, getoond 1 t/m 5
Combining offshore wind and floating solar to reduce costs of green hydrogen
The recently granted innovative research project SENSE-HUB, led by TNO, addresses the integration of various energy system modules for the Dutch North Sea. The synergies between offshore wind, offshore solar and hydrogen production at sea will be considered.
Breakthrough electrolyser development: 200 times less iridium needed
Produced via electrolysis using electricity from the sun and wind, green hydrogen has a crucial role to play in the energy transition. Iridium is a scarce material that is presently essential to electrolysers working with the commonly used Proton Exchange Membrane (PEM) technology.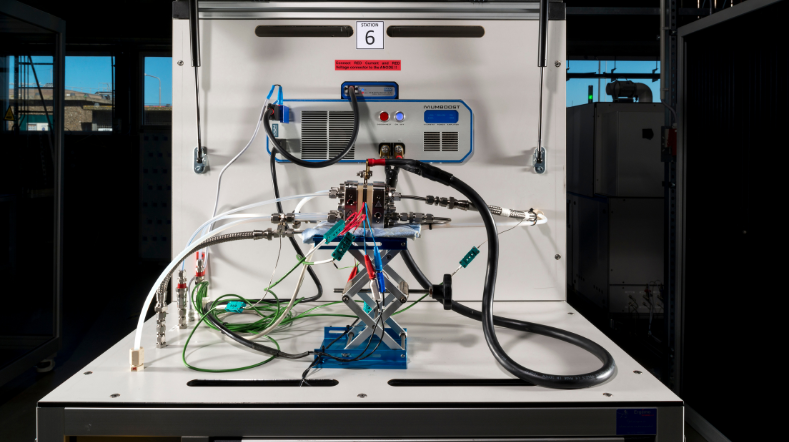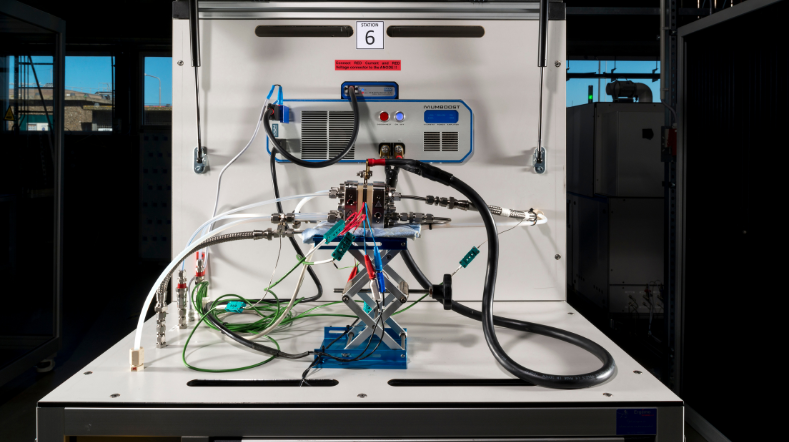 TNO and partners to work together to boost the efficiency of renewable hydrogen production
TNO, Bekaert, Johnson Matthey and Schaeffler are working on a new generation of electrolysers. The goal is energy efficiency and cost reduction.
HY3-project: Towards Dutch-German hydrogen value chains
Forschungzentrum Jülich (Germany), German energy agency - Dena (Germany) and TNO (the Netherlands), have jointly cooperated in the project HY3 to provide the insights into what a transnational hydrogen economy might look like in 2050.
Germany and The Netherlands come up with a bilateral agenda on hydrogen and green electrons for industry
Germany and The Netherlands discussed ideas for a bilateral agenda on hydrogen and green electrons for a future sustainable industry.