Perovskite solar cells are widely seen as the next big thing in solar energy. TNO is working on several fronts to make this young and promising technology ready for production.
What is a perovskite solar cell?
At the heart of a perovskite solar cell is the absorption layer. This consists of a material with a crystal structure that absorbs sunlight and partially converts it into a stream of electrical charges. We call these charges electrons (negatively charged) and holes (positively charged).
The perovskite layer is enveloped at the bottom and the top in layers of transport material that allow only one of the two types of charge to pass through: electrons or holes. This charge transport creates a voltage difference. The layer that accepts electrons becomes negative and the layer that accepts holes becomes positive. To conduct the electric current properly, the transport layers are covered with conductive electrodes.
At least one of these electrodes (the front of the solar cell) is transparent. The stack of layers is about 1 micron – one thousandth of a millimetre – thick. This means that perovskite solar cells can be applied as very thin layers to all kinds of substrates: glass, foil, or another solar cell.
Advantages of perovskite
What makes the use of perovskite in solar cells so promising?
The raw materials for perovskites are not scarce; they're found in many parts of the world.

That also makes them cheap.

It only takes a very thin layer of perovskite (between 0.5 and 1 micrometre) to make a solar cell. This saves raw materials and makes them even cheaper.

The manufacturing process by which perovskite is applied to a substrate is simple and can be done at low temperatures. As a result, it takes less energy to make perovskite solar cells as compared to more conventional solar cells like crystalline silicon solar cells. This further reduces the environmental impact and production costs remain low.
Webinar: The next generation of solar technologies
What are the latest innovations in solar technologies? Join our webinar to delve into cutting-edge developments in photovoltaic (PV) technology, circular solar solutions, flexible modules, and tandem architecture.
From lab to fab
No solar technology has developed as rapidly as perovskite. The efficiency of perovskite solar cells now exceeds that of thin-film technologies, such as CdTe (cadmium telluride) and CIGS (copper indium gallium selenide). And the efficiency of perovskite solar cells is currently only slightly below that of silicon solar cells. This may make them a successor to today's technology standard. When they're combined with silicon solar cells – by stacking them in two layers – the results are even more impressive. The efficiency of these tandems approaches 35%. This is a revolution in solar technology.  However, all these achievements were made in laboratories and with small solar cells. Scaling up to fully commercial perovskite solar panels still faces many challenges, which TNO is tackling head on.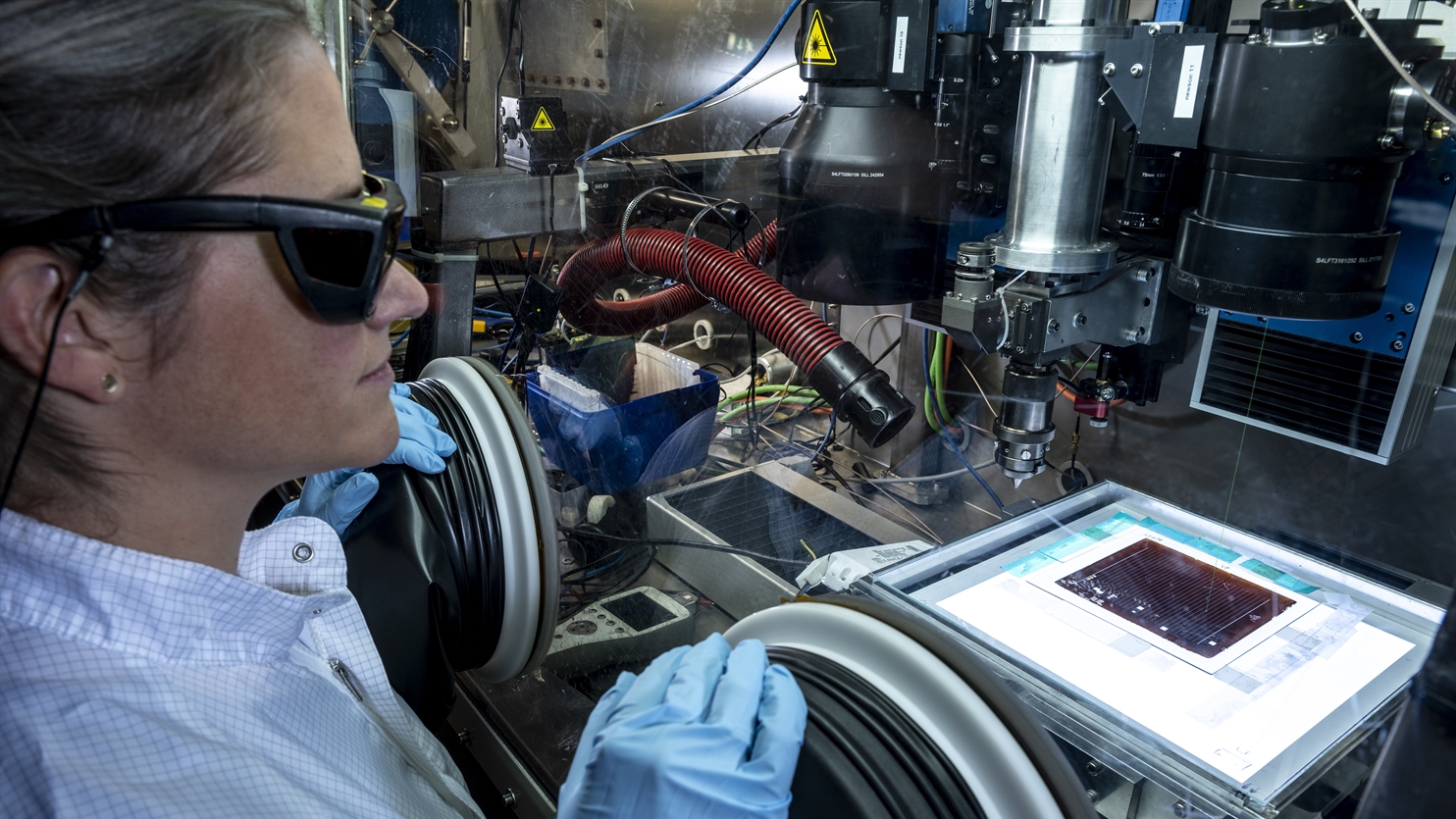 In 1839, German mineralogist Gustav Rose discovered materials with a new crystal structure. He named these 'perovskite' after his colleague, Count Lev Perovksi. In the 1990s, some perovskites were found to be semiconductors. This also makes them suitable for producing solar cells. A Japanese research group did this for the first time in 2009 and since then, development has really taken off.
Efficiency, stability, and sustainability
What will it take to fulfil the promise of perovskite and bring this technology to market as soon as possible?
The record-making solar cells are made in a laboratory. This development has accelerated in recent years, but the industrial manufacturability of perovskite solar cells needs to improve. Processes need to be developed to make larger modules on a large scale while maintaining efficiency.
Another major research topic is service life and stability. Our target is that the output of a perovskite solar panel should not decrease by more than 20% after 20 years. This has not yet been demonstrated in practice, so there are still further gains to be made in this area. For instance, perovskite solar cells are sensitive to water and oxygen. Therefore, maximum protection of PV modules is crucial.
A third challenge concerns sustainability. Current perovskite modules contain about half a gram of lead per square metre. That isn't much, but one wants to prevent it from entering the environment at all times, and preferably eliminate its use altogether. In addition, it's of great importance to be able to recycle raw materials in the best way possible when products reach the end of their life. TNO is adjusting the design of perovskite solar panels to this end.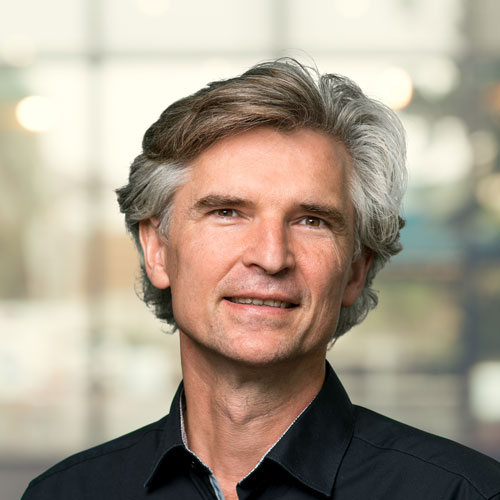 "A global rat race has emerged. Worldwide, thousands of scientists and a many companies are working on making solar panels with perovskite a reality. This involves large investments, which is not surprising because of the huge contribution they can make to our energy transition, and the commercial opportunities. This work is also highly relevant for the Netherlands and Europe. We're working to build our own strong PV industry and circular economy. TNO wants to make a substantial contribution to this goal and this is also driving our R&D in relation to perovskite."
What is TNO doing?
TNO has long been at the international forefront of solar cell and module development. We're also very strong in industrialising those innovations. Many large companies have brought our technology into production. That's why in addition to other solar technologies, we've also been focusing on perovskite solar cells since as far back as 2014. TNO is creating increasingly efficient, stable perovskite solar cells and modules, and high-performance manufacturing processes to mass produce them. Cost efficiency and circular design are key concerns in this respect. Our research has now seen many highlights.
Some milestones
In 2021, the Dutch-Belgian thin-film research cluster Solliance (founded by TNO, among others) created a high near-infrared transparent perovskite solar cell with an efficiency of 18.6%. We combined these with various types of silicon solar cells, which led to efficiencies of 27.7 to 28.7%.

A new world record followed in 2022: a 4-terminal perovskite-silicon tandem solar cell with 30.1% efficiency. We developed these together with Eindhoven University of Technology, imec, and Delft University of Technology.

Optimum enveloping of perovskite modules is crucial in order to minimise degradation. TNO uses Atomic Layer Deposition (ALD) to create a transport layer. This acts as a barrier layer as well as a transport layer, which makes the solar cells more moisture-resistant. In 2020 and 2021, we demonstrated that rigid and flexible perovskite modules pass stress tests that we also use to test commercial modules.

TNO commissioned a roll-to-roll production line for solar laminates in 2022. We developed this together with companies including MAAN and Duflex. In principle, this also enables flexible perovskite modules to be laminated cost-effectively in a continuous production process, in all kinds of shapes and sizes, and in large numbers. These can be used in a wide variety of integrated PV applications, for example in buildings, infrastructure, and vehicles, which also increases society's acceptance of solar panels. And it fits into our vision for the future: 'PV everywhere'.
Together
In addition to autonomous research on perovskite, TNO is looking to collaborate with knowledge institutions and companies to mature this technology. We participate in various regional, national, and international innovation programmes and projects.
We're working with the Province of North Brabant to combine roll-to-roll production of flexible perovskite modules with roll-to-roll processing of the perovskite modules to make flexible PV semi-finished products. These can be integrated into new PV products, such as façade elements, roofs, sound barriers, and vehicle bodywork.
We're also involved in the SolarNL consortium. With support from the National Growth Fund, the consortium is working on large-scale production of solar cells and solar panels in the Netherlands, including flexible perovskite films.
In the SuPerTandem project, TNO and several European partners are taking a major step towards mass production of affordable circular perovskite-perovskite tandem modules.
Another example is VIPERLAB, a research and innovation project that brings together Europe's crème de la crème in perovskite research – i.e. 9 top scientific institutes. Together, we're giving a boost to efforts to achieve market readiness for perovskite solar panels.
Want to know more abour perovskite solar cells?
Watch the webinar 'Innovations in solar energy technologies'.
Contact us
Harald Kerp

Functie:

Senior Business Developer

Sjoerd Veenstra

Functie:

Program coordinator
Our latest developments
Webinar: The next generation of solar technologies
How to make solar energy smarter and greener? Join our webinar to delve into cutting-edge developments in photovoltaic (PV) technology, circular solar solutions, flexible modules, and tandem architecture.