Electricity will power the next generation of transportation technology. Electric cars, buses, trucks, and other vehicles can be made more sustainable with longer ranges and more autonomy with on-board solar power. Solar-powered cars are being introduced to the market with TNO at heart of the technology development and validation.
Benefits of solar-powered cars
It's likely that in 2025 there'll be more than 50 million electric vehicles on the road, powered by renewable electricity sources. We've developed software modelling to demonstrate that solar cells and solar modules on vehicles can enable all kinds of developments:
driving up to 20,000 km per year on solar energy alone in sunny locations

150 to 200 euros of direct savings on electricity costs per year

the possibility of not having to charge the vehicle in summer

reducing carbon emissions by 250 kg per year

23 to 40% fewer plug-ins at charging points, leaving more general-purpose parking space

vehicles as a smart and integrated part of the electricity grid and distribution network
Technology for Solar Mobility
With multiple companies we are working to make the 3D and curved solar panels even more energy-efficient and lighter in weight. TNO technology will enable companies like Lightyear, Sono Motors, TUX Mobility and others to integrate the solar cells more easily and effectively into the production process. When designing the solar roof, the experts take account of:
the technical capabilities of the solar cells

the technical requirements of the car manufacturers

the legal safety requirements

the wishes of consumers
Future design
Our developments are based on both the silicon PV technology that is available today as well as thinking about the solar technology of the future like perovskites and tandems. This will enable a fast development time to ensure the best solar technology is available for solar mobility applications.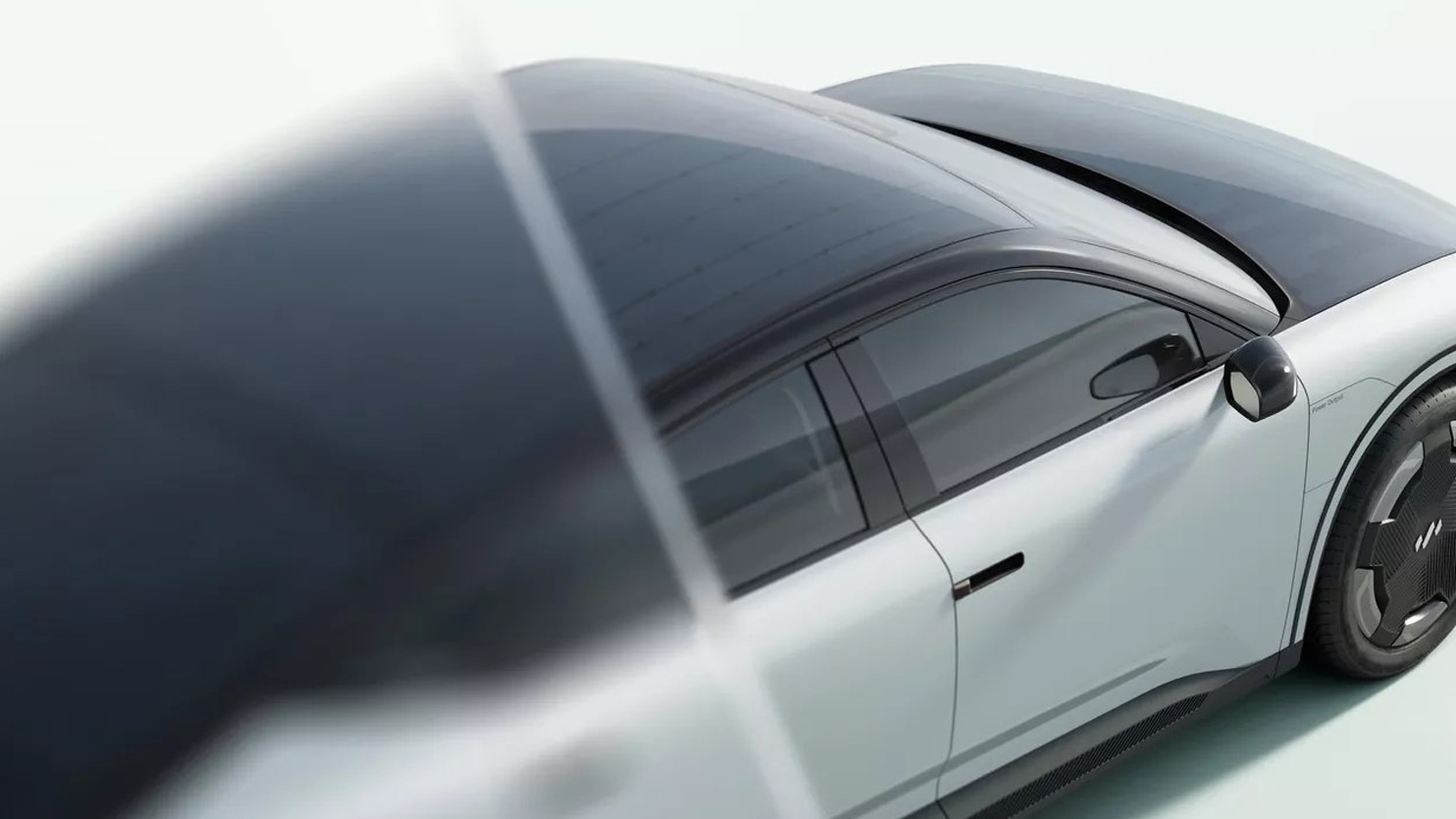 Solar panels on lorries and buses
Solar panels can now be seen on the roofs of lorries and buses. The roof is eminently suitable due to its large surface area and big lorries can fit just as many solar panels as an average house. We're now investigating which materials, construction, and methods for securing the panels are the most suitable. And how we can produce the solar roofs most efficiently. The transport sector and manufacturers have high expectations for this technology, which should result in cost savings and lower emissions of CO2 and hazardous substances like diesel particulate. This will also enable lorries to meet the requirements for environmental zones in city centres.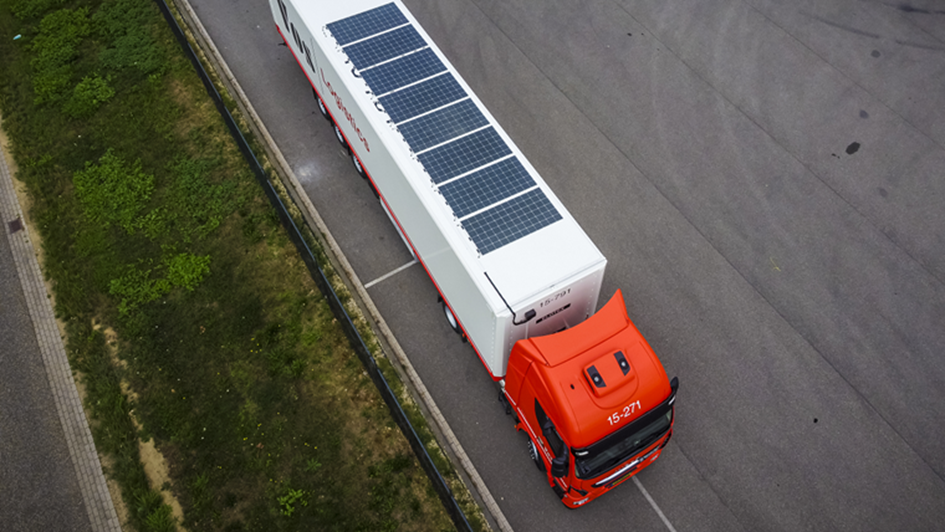 Electric vehicles in the energy system
Electric vehicles will probably be an important part of total energy storage in the energy system of the future. This is because the amount of energy from the batteries of all electric cars together is considerable. It can be used to match supply and demand. We're investigating how the charging structure can be optimally designed for this, with three functions:
Charging the car. This remains necessary, as solar energy alone will never be sufficient.

The sale of cheaply purchased power from private car owners to other parties in the event of scarcity.

Logistics and planning for electric vehicle fleets to make use of day-ahead electricity markets.
We're working on the architecture of energy networks of the future. For example, there should be a good balance between sufficient capacity, flexibility, and costs. In Eindhoven, together with grid manager Enexis and ElaadNL, among others, we've demonstrated how an energy system with electric cars can work in practice. In addition, charging points could also be fitted with solar panels, as in the photo, so that the solar energy thus generated could be fed directly into the charging point.
European project
An international public-private consortium will address how solar-powered vehicles can support the transition to an all-electric transport system in the EU. The group named SolarMoves and, in addition to TNO, includes among others Fraunhofer Institute for Solar Energy Systems, Sono Motors, and IM Efficiency.
This pilot project explores the potential of solar-powered vehicles and its impact on the electrical recharging infrastructure policy and regulations in Europe in the coming years.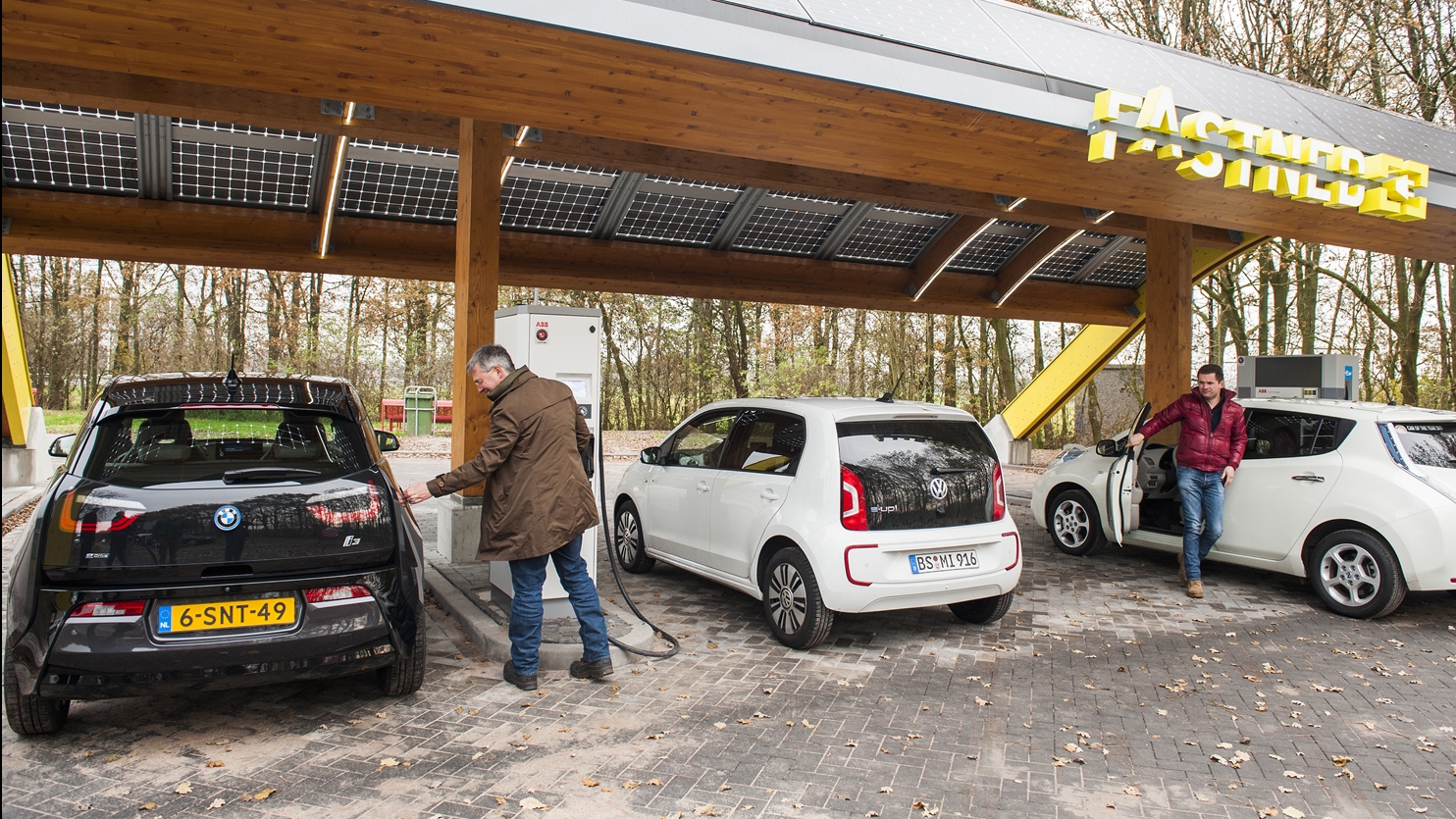 Solar-powered car
One of the first commercially available solar-powered cars is the Lightyear 2. This self-charging solar car, which will be launched on the market in 2025, is made using technologies from TNO. The Lightyear 0, formerly Lightyear One, was also based on this TNO innovation.
The Lightyear 0
The Lightyear 0 has bi-directionally curved solar panels with a surface of five square metres. The panels 'fill up' with sunlight when the car is stationary and when it's in motion. This adds up to an extra 30 km per day to its range.
The technology of the Lightyear is based on silicon technology, which is cost-effective and becoming ever cheaper. These solar cells are used for mass-produced conventional solar panels that are optimised for performance, service life, and safety.
One of the challenges was bending solar panels to fit the car's bodywork. In order to follow the aerodynamic shapes, the panels are bent over 2 different axes, which is unique on the market.
In addition, back-contact foil technology ensures optimum performance of the solar panels under dynamic lighting conditions.
Curved solar panels for cars
TNO is working on solar cells that can be incorporated into curved parts, such as the roof, the bonnet, and the tailgate. The shape of the Lightyear is an important factor in its aerodynamic design and it has a range of over 725 km. Lightyear has also applied our technology in an after-market sunroof demonstration for the Tesla Model 3 and a prototype has been made for the VW Crafter LCV van.
Contact us
Jan-Willem Sangers

Functie:

Business Development Manager

Lenneke Slooff-Hoek

Functie:

Program coordinator