International data spaces (IDS): safe and easy data exchange
Data sharing is becoming increasingly important. Combining, enriching and analysing data in a safe and efficient manner can be of great benefit to participating parties. However, the emerging data economy also poses challenges. International Data Spaces (IDS) is therefore developing a secure environment for data sharing. TNO is contributing to the creation of this open data sharing infrastructure.
The data economy challenge
We share data en masse within sectors but also between organisations across sectors. This is because data is only really interesting if you combine it with other data sources. Data sharing accelerates innovations in and between sectors and produces new solutions. For an ever-increasing number of companies, this makes data a strategic asset over which they want to maintain control.
At the same time, data sharing is becoming more complex. The data economy – including artificial intelligence (AI), Internet of Things (IoT) and big data – offers all kinds of opportunities but also raises questions. Who does the data belong to? Which analyses can be carried out on the basis of the available data? And how do you make data exchangeable between companies without violating the privacy of citizens?
IDS for organisations
Large-scale data sharing is currently hampered by concerns about trust and the lack of control mechanisms for sharing secure and trusted data.
IDS is a building block to overcome these barriers, such as by utilising the advantages of artificial intelligence (AI) in order to accelerate the sharing of input data or the results of an algorithm. Examples include a more efficient logistics chain and zero-defect production processes using AI, for which clear usage and access policies have been defined.
Need for data sovereignty
Data sovereignty – the assignment of binding legal and technical restrictions on the use of information – is becoming more and more important and is increasingly a condition before parties will be willing to share their (potentially sensitive) data.
This requires secure and trusted data sharing infrastructure based on standards. International Data Spaces (IDS) is an initiative for the development of a European standard for independent and controlled data sharing. After all, there can be no secure data sharing without agreements. IDS is seen as a promising basis for companies to work on AI, IoT and big data.
Contribute to safe data sharing
IDS is managed by the International Data Spaces Association (IDSA), a European non-profit association with a hundred members spread across 18 (mostly European) countries. TNO is a member of IDSA and is active in various working groups.
This fits in well with TNO's research into blockchain, Self-Sovereign Identity (SSI) and secure Multi-Party Computation (MPC), among other things, for which the aim is always to apply them in practice. In this way, we contribute to the development of a secure data sub-infrastructure and make knowledge and experience available to Dutch businesses so that they can use it to realise their own applications.
Get inspired
41 resultaten, getoond 1 t/m 5
Privacy enhancing technologies
At TNO, we work on privacy-enhancing technologies such as multi-party computation (MPC). Find out how to use this for your organisation.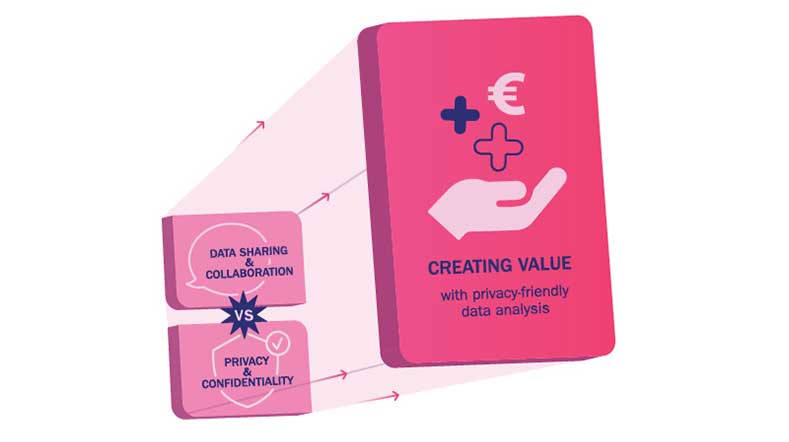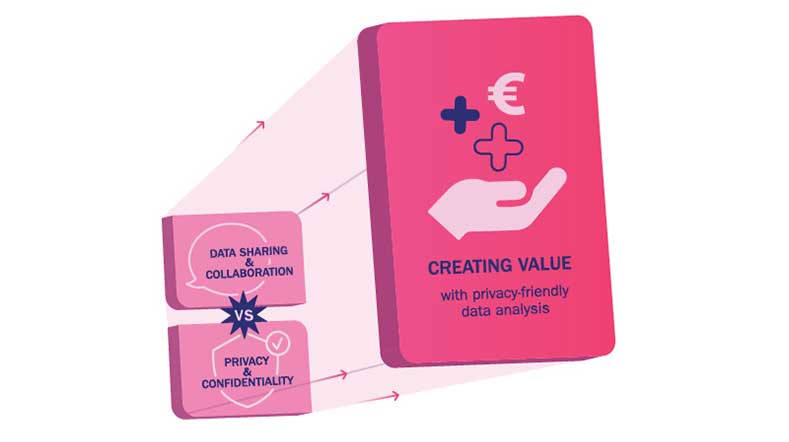 Applied Cryptography & Quantum Algorithms
The Applied Cryptography & Quantum Algorithms expertise group aims for quantum-safe society, secure data sharing and privacy enhancement in the quantum age.
ESI symposium 2022
The symposium will feature internationally renowned academic and industrial keynote speakers, a series of presentation tracks, demonstrations, and ample opportunities for discussions and networking.
Startdatum

:

Locatie

:

Theatre De Schalm, Veldhoven (NL) and online
Data Ecosystems
Data ecosystems are needed to share data in a secure and controlled way. But how do you develop them successfully?
Cyber security and robustness
View our insights into recent developments, initiatives, and successes in cyber security, cyber crime, and cyber resilience.