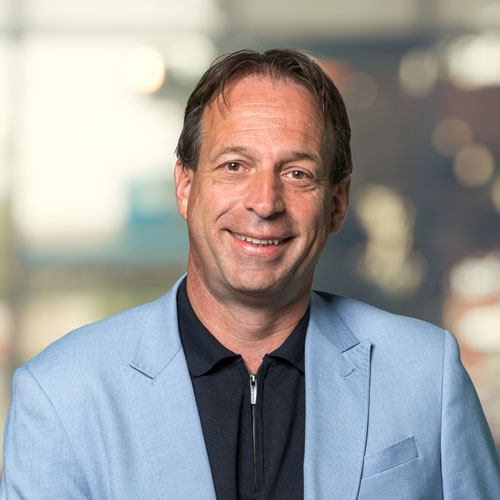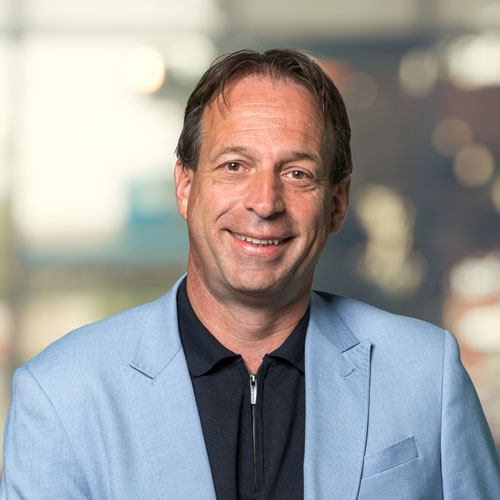 Market director unit ICT, Strategy & Policy, with a passion for major innovation challenges that can be accelerated with digitisation.
'My overriding concern in the ICT unit is to figure out how TNO can match the market's demands more effectively and intelligently so that we can offer the Netherlands an even better quality of products and services. The Ministry of Economic Affairs has identified innovation challenges for the Netherlands, for example in smart industry, smart energy and smart mobility. It's important for our competitiveness and for society that we achieve breakthroughs with social impact in these areas.'
Dial-up modem
'I took my first steps in ICT innovation at KPN Research. That was back in the days of dial-up modems and mobile phones that you could only use to make calls. As a programme manager, I became adept at bringing new products to the market. Then, at KPNQwest, I learned to think more about the market itself: what does the consumer need and what services can we develop to meet that need? I started working here when KPN Research became part of TNO. I feel completely at home at the intersection of knowledge development and the market.
what does the consumer need and what services can we develop to meet that need?
We collaborate with disciplines across the organisation in the search for new product-market combinations. At TNO, innovation and digitisation are inextricably linked. Everything is "smart" nowadays. But if we don't have a tangible application, then the technology we develop here at ICT is of little use to us, regardless of the TNO focus area.'
Opening new doors
'At TNO, you're always on the cusp of something new. It's as if we keep opening new doors leading to new developments, new perspectives. That's what keeps me renewing my subscription every year, so to speak, because I just have to know how that new development will turn out.
One door that recently opened is healthcare digitisation and, in particular, encrypted data-sharing technology. These are cryptographic techniques that shield patient information and other privacy-sensitive data so that it can be analysed by multiple parties without their being able to access one another's datasets. That's interesting if you want to study the effectiveness of lifestyle interventions, for example.
There's so much more happening at TNO ICT right now. For example, we're also working on technology that will allow us to make fair, transparent and trustworthy AI systems. At the moment, those systems often take decisions that are hard to understand. Do we think that's acceptable? To give an example: you don't want a self-driving car to suddenly become a menace on the road after a software update.'
Passionate about technology and society
'If you want to do something that really matters, TNO is the place to be. We have every freedom to do our work here. At the same time, we also carry a lot of responsibility, because this is an organisation where everything is geared towards turning ideas and theories into useful innovations. The TNO professionals I work with are all passionate about technology and society. We don't just innovate because we can – we want our innovations to benefit society. I've not come across this level of intrinsic motivation anywhere else.'
Den Haag - New Babylon
Anna van Buerenplein 1
NL-2595 DA The Hague
Postal address
P.O. Box 96800
NL-2509 JE The Hague