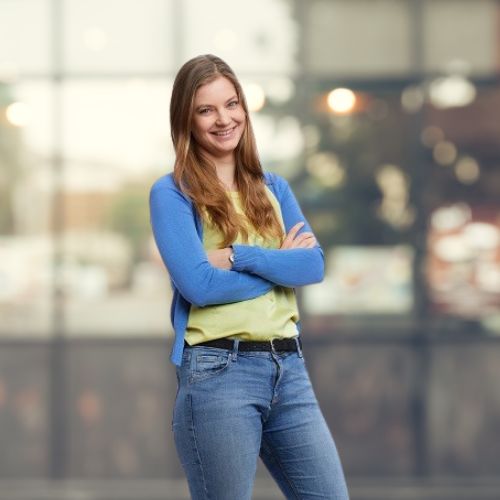 Functie:
Medior Project Manager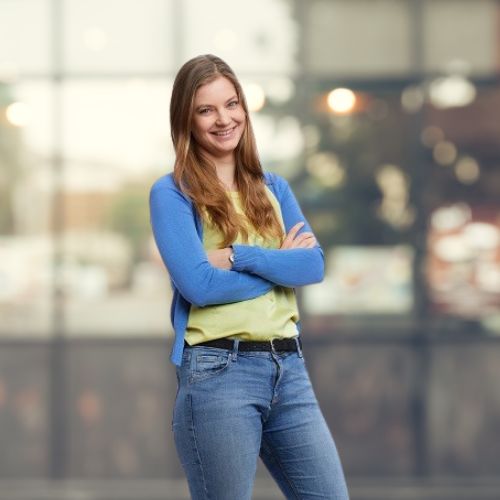 "Done with learning after university? Certainly not at TNO!" Nora Fahrenfort is a system engineer at the Quantum Technology department of TNO. She helps make quantum technology usable for daily applications of the future. At TNO, she is contributing to improve society – which is precisely why she feels at home here.
"Quantum technology is in its infancy, but it's the technology of the future. Our department's task is to bring this technology to a higher level and to make it suitable for use in the business community. In order to achieve this, we do a lot of things together within QuTech, a joint venture of TNO and TU Delft. For example, a team is working with KPN on the creation of a quantum internet between Delft, the Hague, Leiden and Amsterdam.
I myself am a member of the Quantum Inspire team. We're building a demo version of a quantum computer, which means working with technology developed at the university – from the chip to the control equipment. We're bringing these components together to create a real, working quantum computer. I contribute to five sub-projects, one of which I'm the lead system engineer of. In this project, we're developing a super-stable magnet that will allow other researchers to make reliable measurements of quantum mechanical effects."
They really look at who you are
"I studied Applied Physics at TU Delft, with a Master's degree that generated a considerable amount of publicity. The result of my Master's research was the smallest computer memory ever made. This was atomic memory, although we had already used quantum technology for its operation. After all, quantum mechanical effects are also present at an atomic level. After that, I immediately began working at TNO.
I had applied for a traineeship, which allows you to get a very broad orientation on all of the possibilities within TNO. But after the first selection round, they saw how enthusiastic I became when I started to talk about technology. You would do better in one of our departments, they said, and they were right about that. At TNO, they really look at who you are. That's what the whole application procedure is about: paying attention to what makes you happy."
Societal value
"Why did I definitely want to work here? Come on, TNO is great, isn't it? I see it every time I read something in the paper that makes me think: hey, someone should figure that out. But then a few lines later it says that TNO has researched it. If I were to do my job purely to make money, I wouldn't derive much enthusiasm from it.
TNO wants to make society better and help small and medium-sized enterprises in the Netherlands move forward. And although the practical usefulness of quantum technology is still far off in the future, developing the societal value of the technology is the main approach of my work here."
Someone always has the answer
"TNO is a knowledge institute which appreciates and stimulates their employees to acquire more knowledge. You can develop yourself in any given direction and you'll get a lot of help with that. For the first two years, they plan personal development courses for you – and there really is a wide range of useful courses. Whenever I've wanted to learn more about technology, I've never been refused a single course.
Some people say: after university, you're done with learning. That's certainly not the case at TNO! All projects are set up in such a way that you learn something from them. It's also very easy to change departments. You still do something in the same line of expertise, but on a completely different theme. That's another way to learn. It's what makes TNO so strong: there is so much expertise in so many areas. If there's a question, there's always someone who has the answer."
The problem is also the solution
"My day is going well, when I've connected people with one another so that an even better answer emerges than anyone could have thought of on their own. That's why I see myself continuing to work at TNO in the coming years. I would like to specialise in quantum security: setting up secure communication via quantum mechanical means, so that traffic of messages cannot be bugged.
They sometimes say that quantum technology will create a problem because quantum computers will soon be able to crack today's heaviest available encryption within a few minutes. But quantum technology will also provide the solution to this problem. I want to become an expert in that."
Delft - Stieltjesweg
Stieltjesweg 1
NL-2628 CK Delft
Postal address
P.O. Box 155
NL-2600 AD Delft