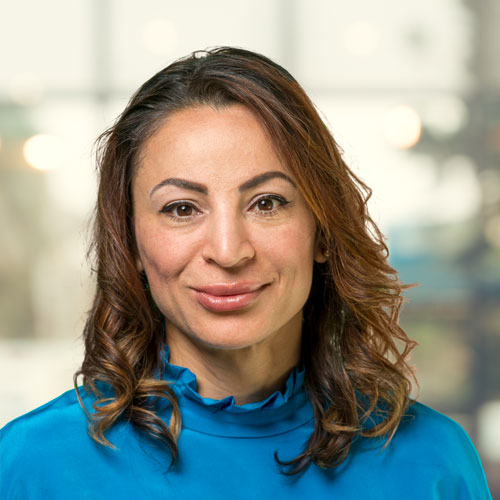 Functie:
Ecosystem lead Consortium for Automated Security Operations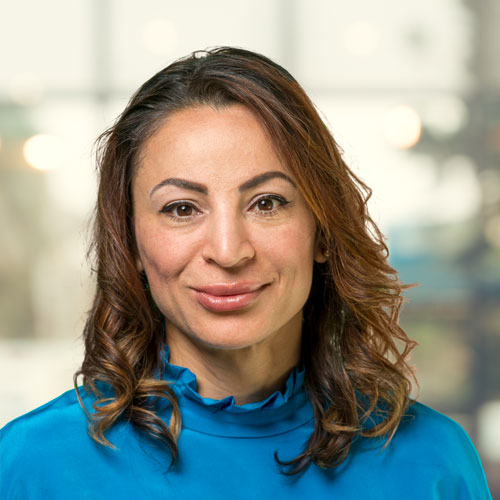 "TNO is a wonderful playground for socially relevant initiatives". - Noura El Ouajdi is an ecosystem lead for the Consortium for Automated Security Operations (ASOP), which combats sophisticated cyberattacks and other complex security threats.
"Digital technology is developing at lightning speed and that means that security risks are  growing, both in size and complexity. One recent example is the cyberattack on an American oil pipeline company, which disrupted the fuel infrastructure on the US East Coast. Automated cyberattacks on critical infrastructure are certainly not unthinkable in the Netherlands either. That's why Dutch cybersecurity companies, public organisations and TNO are working together on an automated security platform that will enable early and automated detection of and response to cyberattacks."
Connecting people and knowledge
"When I joined TNO as a senior business developer, I felt it was urgent to build an ecosystem of stakeholders willing to invest in cybersecurity. TNO has now taken the lead in the resulting consortium for Automated Security Operations (ASOP). It's a role that suits TNO. After all, we connect people and knowledge to create innovations that boost the sustainable competitiveness of industry and the wellbeing of society."
Lobbying
"Before joining TNO, I worked at the Dutch Standardisation Institute (NEN). I supported Dutch delegations in their advocacy work across the border. I gained a lot of experience working with political-governance processes and lobbying and in thinking in terms of social objectives. And I also learned how strategic alliances can contribute to all that. My background enabled me to contribute to TNO's ambition to orchestrate long term innovation communities and support stakeholders make an impact on cybersecurity."
Pulling strings
"Where public, private and research intersect, you have to constantly choose your position. You might be a strategist one minute and a networker or an organisational developer the next. You have to know when to intervene and which strings to pull. I'm someone who likes to interact with people and figure out what motivates them, so this role suits me down to the ground.
It energises me to be solving social problems as part of a multidisciplinary team of relevant stakeholders. At ASOP, we share knowledge effectively and transparently to achieve the common goal of developing high-end cyber-technology to address societal challenges in different industries like healthcare, infrastructure and government.
Personal development
"At TNO, you can chart your own course. Nothing is set in stone. As a Senior Business Developer, for example, I've been able to define my role in ASOP. TNO supports and encourages personal development because it allows both staff and the organisation to continue improving over the longer term. If you can grow in the direction you've envisaged for yourself, then TNO is a wonderful playground for socially relevant initiatives, especially if you can be yourself and work from your strengths. That's when you get the best results."
Den Haag - New Babylon
Anna van Buerenplein 1
NL-2595 DA The Hague
Postal address
P.O. Box 96800
NL-2509 JE The Hague