Collaborative inclusive business models boost scaling of small companies
Entrepreneurship is the solution for youth unemployment and humanitarian innovations in low and middle income countries. But small businesses have difficulties to survive or even scale, because their business model has to compensate for a lack of infrastructure. And here the network approach jumps in. We developed a 5-step-to-scale approach, to support companies to overcome these challenges and realize sustainable business with huge social impact.
Inclusive businesses aspire to engage vulnerable groups in the value chain, either as producer or consumer. Inclusive businesses must scale to meet the needs of the millions of people that are at the Base-of-the-Pyramid, which refers to the poorest two-thirds of the economic human pyramid, a group of more than four billion people living in poverty mostly in low-and middle income countries.
At the same time, these inclusive businesses must stay financially self-sustaining. However, the majority of inclusive businesses remain small, failing to deliver and capture the value they intended to create.
Collaborative scaling
Inclusive businesses usually intensively collaborate with actors in the wider ecosystem to overcome market gaps in the BoP contexts, such as limited knowledge and skills, ineffective regulatory environment and inadequately physical infrastructure.
Such collaboration is needed to support scaling. On the other hand, the diversity of actors' perspectives, capabilities, and goals requires alignment which can slow down and hinder the flow of the inclusive business' scaling.
Therefore, it is crucial that inclusive businesses develop scaling strategies that align and strengthen their entire ecosystem. This entails developing strategies and associated business model adaptations that critical ecosystem actors are willing and able to implement.
To achieve this, it is important that inclusive businesses actively engage the key actors in their ecosystem in the scaling process.
5-step-to-scale approach
In order to deal with the challenges of scaling inclusive businesses we developed a 5-step-to-scale approach. The 5 steps are intended to support inclusive businesses in multiple industries to scale in collaboration with their key partners, such as customers, suppliers, NGOs, government, research institutes and investors.
To develop impactful strategies to scale inclusive business models, the development process should be a collaborative effort. Much more dynamic compared to a CANVAS business model. Therefore, the inclusive businesses should not build the 5 steps alone but together with their key partners.
As can be seen in figure 1, the framework consists of five consecutive steps:
ambition,

discovery,

strategy,

adaption,

evaluation.
In joint workshops we execute the 5 steps by using various tools and methods, and identify the success factors and hurdles for scaling your inclusive business.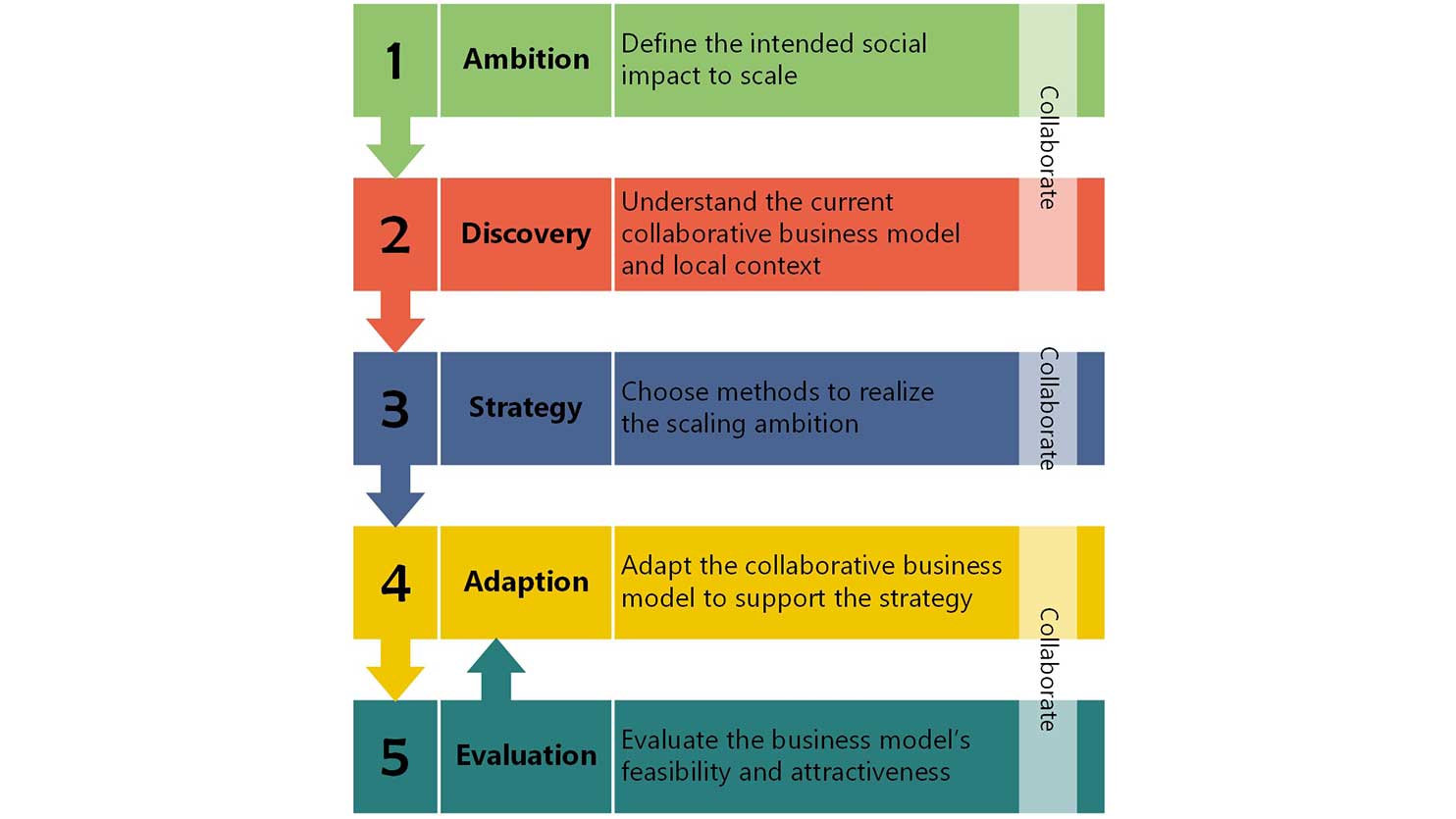 Interactive platform
Besides the 5-steps-to-scale framework we also developed an interactive platform to learn and share experiences on inclusive, collaborative business modelling.
Find here a checklist to figure out whether you are an inclusive business or not, interviews with the founders where they explain how this 5-step-to-scale approach can support your business, multiple inspiring examples, read more about the scientific basis of this framework and become member of our interactive community!
This practical tool and platform is developed by a partnership consisting of University of Twente, TNO, Nyenrode Business School, 2Scale and The Next Organization, and financially supported by the Dutch Research Council.
Contact us
Mathilde Miedema

Functie:

Programme Director

With TNO Innovation for Development (I4D), Mathilde Miedema launches innovative solutions for societal problems in low and middle-income countries. In this way, TNO helps to create greater equality in the world.
Get inspired
5 resultaten, getoond 1 t/m 5
Sustainable streaming: how can we save energy while watching?
Energy use by ICT services such as streaming consumes quite a bit of energy. TNO is looking for ways to bring down the energy required for streamed content.
Citizen participation in the energy transition
Citizen participation is necessary for public support of the energy transition. See what municipalities can do to shape citizen participation.
Preventing energy poverty
Energy poverty affects the energy transition. How much energy poverty is there in the Netherlands? Read our research and see the TNO energy poverty map.


Tackling energy poverty together
Nearly one million households suffer from energy poverty, which is hampering the energy transition. TNO analyses this issue. Read the white paper.


Cementless, 100% locally made blocks for energy efficient housing
TNO, Oskam and LEVS developed Cementless Compressed Earth Blocks – a groundbreaking technology to make strong bricks without cement nor firing, using only local resources.