UK MasterChef winner Tim Anderson experiments with 3D printed pasta
The winner of MasterChef UK series 7, Tim Anderson, experiments with 3D printed pasta from BluRhapsody, a collaboration between Italian pasta makers Barilla and TNO. The results were satisfactory. Kjeld van Bommel, senior consultant 3D Food and Pharma Printing at TNO, explains how the triple collaboration took shape.
Kjeld initiated the group's 3D printed food programme. "Printing pasta started off as a crazy Friday afternoon experiment. We threw some chocolate powder in the printing machine and out came the pasta! The team then approached several manufacturers and Barilla was enthusiastic to experiment with 3D food printing."
Printing pasta started off as a crazy Friday afternoon experiment. We threw some chocolate powder in the printing machine and out came the pasta!
Impossible pasta shapes
Barilla was interested in impossible pasta shapes. 3D printing appeared to be the solution. And the results were remarkable. Some of the shapes that came out were lobster tails, little urns and butterflies. Others were more abstract and difficult to subscribe. All this 3D printing resulted in the biggest publicity ever for Barilla.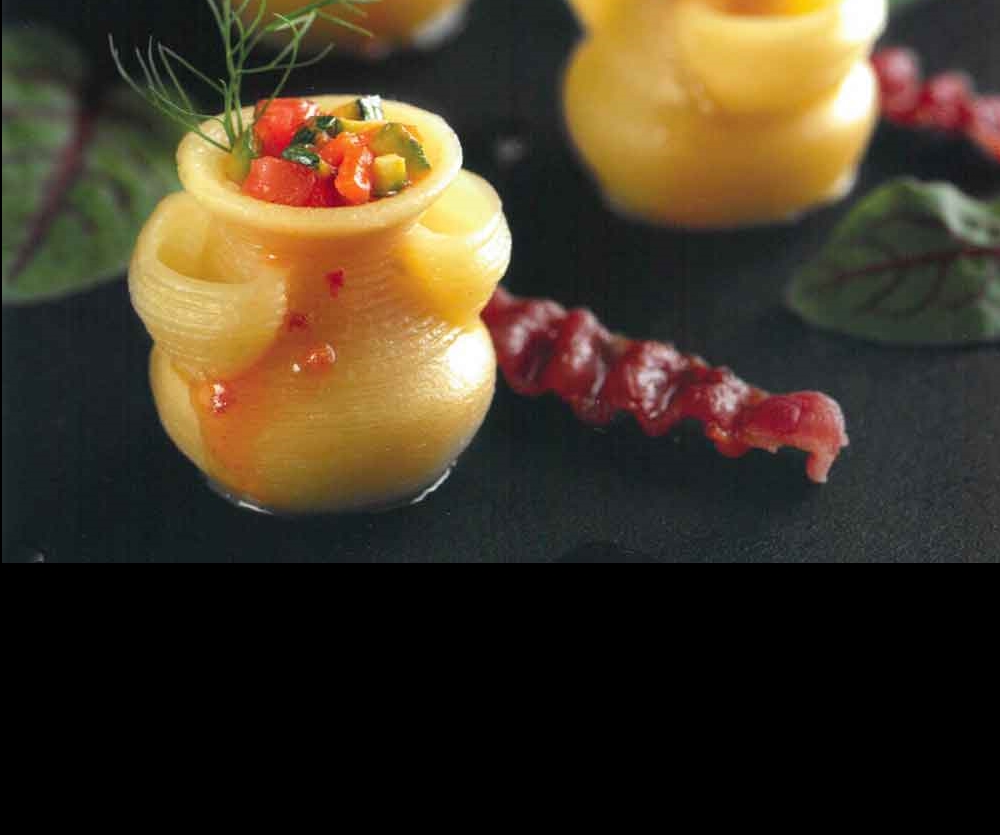 Cook with 3D printed pasta
Not only Barilla was enthusiastic about the 3D printed pasta shapes. MasterChef UK winner Tim Anderson decided to cook with them. Kjeld arranged some samples for him to work on at home. Tim tried to make a dish with the Vortipa (sort of pinecone of stars), lobster tails made with carrots and sea urchins with supermarket-brand crab paste. Some shapes worked out perfectly and others needed a bit more experimenting. As Tim explains on his blog: "3D printed food doesn't have to change the world to justify itself. Food should nourish people, and ideally, the methods we use to produce and consume should also nourish the earth. But of course, another absolutely essential function of food is to bring people joy – and there is a lot of joy to be found in trippy pasta shapes."
Do you want to see and read how Tim made his dishes? Read his blog article.
TNO and 3D Food Printing
The food industry is showing a dramatic shift from 'good for all' food products to 'good for you' personalisation. At the same time, resource scarcity and climate change demand an exploration of new processing routes using alternative, plant-based proteins. Food producers need solutions to address these challenges and help maintain their competitive edge. TNO and DFPI (Digital Food Processing Initiative) are at the forefront of exploring how 3D Food Printing may be the answer.
Contact us
Kjeld van Bommel

Function not known

Pieter Debrauwer

Functie:

Research manager
Get inspired
15 resultaten, getoond 6 t/m 10
Clear Air: Dutch satellite innovations
The Clear Air consortium, consisting of Netherlands based research and technology organizations TNO, KNMI, SRON, and Delft University, organizes this side event. On-site speakers:
Startdatum

:

Locatie

:

BENELUX-EIB Pavilion at COP27, Sharm El-Sheikh or livestream
International Centering-Based Group Care Conference
The Centering Netherlands Foundation organizes an Experience Event on Centering-Based Group Care worldwide, in cooperation with TNO, Group Care Global, and the GC_1000 Consortium. Don't miss this exciting interactive maternal & child health care event where (scientific) knowledge, innovations and experiences of Group Care start up, implementation and development will be shared.
Startdatum

:

-

Locatie

:

Apenheul – Apeldoorn, the Netherlands
Webinar: Offshore wind under pressure
Offshore wind energy is growing enormously, but this growth comes with challenges. To maximise the value of large volumes of wind energy in the future energy system, we need to ensure feasible business cases for developers.
Immersive Tech Week 2022
Attend Europe's leading festival on virtual, augmented and extended reality. Our team from TNO will also be present. We will tell you more about Social XR and metaverse.
Startdatum

:

-

Locatie

:

De Doelen in Rotterdam, The Netherlands
European Industry & Energy Summit 2022
Join TNO and industrial and energy leaders at the European Industry & Energy Summit 2022 on November 29th and 30th 2022 at Brightlands Chemelot Campus
Startdatum

:

-

Locatie

:

Brightlands Chemelot Campus - Geleen