Vote on ENVISION for the European Sustainable Energy Awards!
The ENVISION project, an H2020 project, coordinated by TNO, is one of three nominated projects for the prestigious European Sustainable Energy award from the European Commission. Of course we would like to win this award and you can help us to achieve this!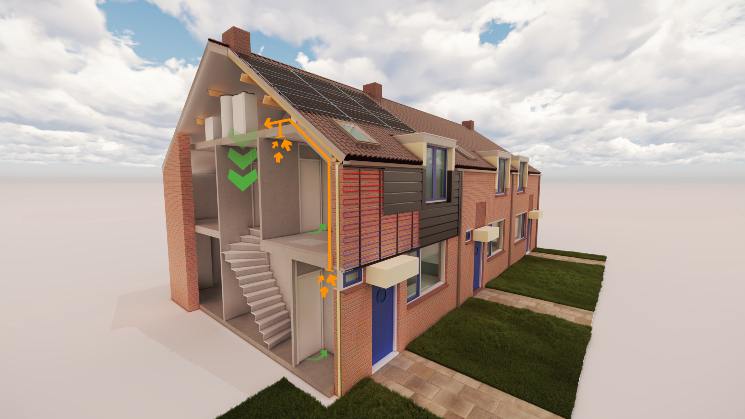 Various solutions have been developed in the framework of the ENVISION project to recover solar energy and heat from the entire surface of buildings; the walls, the roofs and even the windows. These solutions enable energy-positive buildings; buildings that produce more energy and/or heat than they consume. The general public can choose which project will be awarded as the winner during the ceremony on September 26, 2022 in Brussels, so the online voting booth is open! Will you vote for us and make us the winner?
ENVISION contributes to a sustainable future
There is 60 billion m2 of unused facade surfaces in the European Union. And an equally large amount of roof surface is available where the generation of solar energy can be further expanded. That offers opportunities. The ENVISION project focuses on a full renovation concept in which innovative solutions for recovering heat and electricity from solar radiation have been developed. The maximum is achieved in terms of yield, while preserving the aesthetics and function of the facade. Development within ENVISION took place in four phases:
The development of aesthetic facade elements that absorb solar heat and PV solutions for installation in glass.

The development of a flexible, modular facade concept with a click-on mounting system

The integration and interaction between the heat and energy systems with existing networks and heat systems at both building and network level.

A demonstration of full-scale ENVISION technologies in houses in Helmond and Eindhoven; office buildings in Enschede and Bischofshofen (Austria), linked to a heat network in Genova (Italy).
The practical demonstrations show how widely applicable ENVISION technologies are. From houses, to apartments to office buildings and in different climate scenarios. The innovations developed within ENVISION make the most of heat and energy, are cost competitive, easy to install and maintain and do not affect the design of a building.
Energiepositive buildings are within reach, thanks to the innovations and developments within the ENVISION project. Another step closer to a sustainable future with renewable energy!
Get inspired
13 resultaten, getoond 1 t/m 5
Foundation problems throughout the Netherlands
What are the causes and consequences of the increasing foundation problems in the Netherlands? Find out now to see what TNO can do for you.


Pioneering sustainable concrete
Meet MIMO: our new approach to sustainable concrete with (re)use of secondary raw materials. Read what this means for the concrete sector.


Talking Buildings: a pleasing partnership between people and buildings
By adding AI to existing climate control systems, you can reduce energy waste by 10% without extra investments. Learn more about the project "Talking Buildings".


Building a safe and efficient care building
Choices made when designing and furnishing a building in which care must be provided have major and long-lasting consequences.
Bio-based building materials market in development
Read more about current knowledge development and innovations regarding timber building and other bio-based building materials.