Using acoustic waves to generate heat and cold (and help speed up the energy transition)
Using a special system based on helium, it is possible to generate heat or cold with acoustic waves. There are many reasons why this is a good alternative to regular vapour-compression heat pumps. This makes the Blue Heart thermo-acoustic heat pump a device with enormous potential when it comes to speeding up the energy transition.
Of all the energy that is consumed every year in the Netherlands, about half is used to generate heat; and of that, half is consumed within the built environment. That is a significant amount, especially at a time when gas prices are sky high. So it is no surprise that heat pumps are becoming increasingly popular. The current models work best in well-insulated homes, with a low-temperature release system. And they are very effective too, easily surpassing gas-fired central heating boilers in terms of sustainability.
A key role to play in the energy transition
Heat pumps have a key role to play in speeding up the energy transition and significantly reducing our collective carbon emissions. So it is important that as many people as possible opt for a heat pump. To make the option of a heat pump even more attractive, TNO and spin-off Blue Heart Energy have now developed a thermo-acoustic heat pump, which works using acoustic waves. This has several advantages: it can achieve higher temperatures than existing heat pumps, for example, and no harmful refrigerants are needed. It is also extremely quiet, which makes it very easy to live with.
The thermo-acoustic principle in a nutshell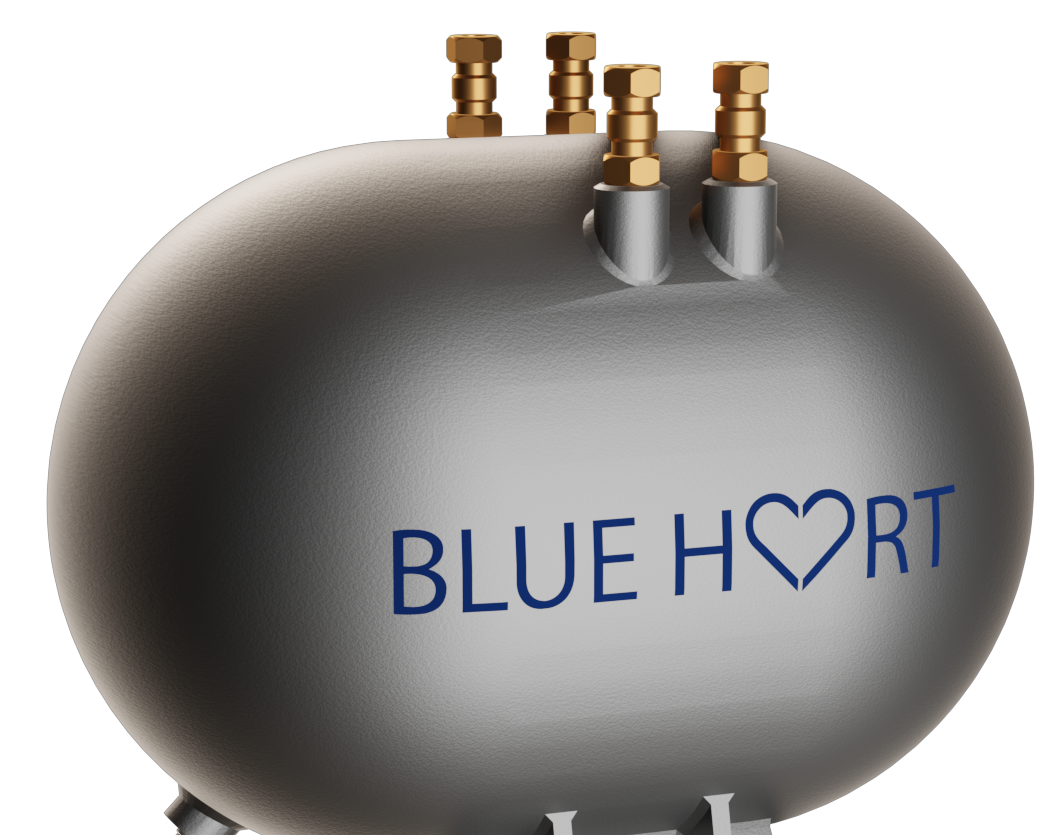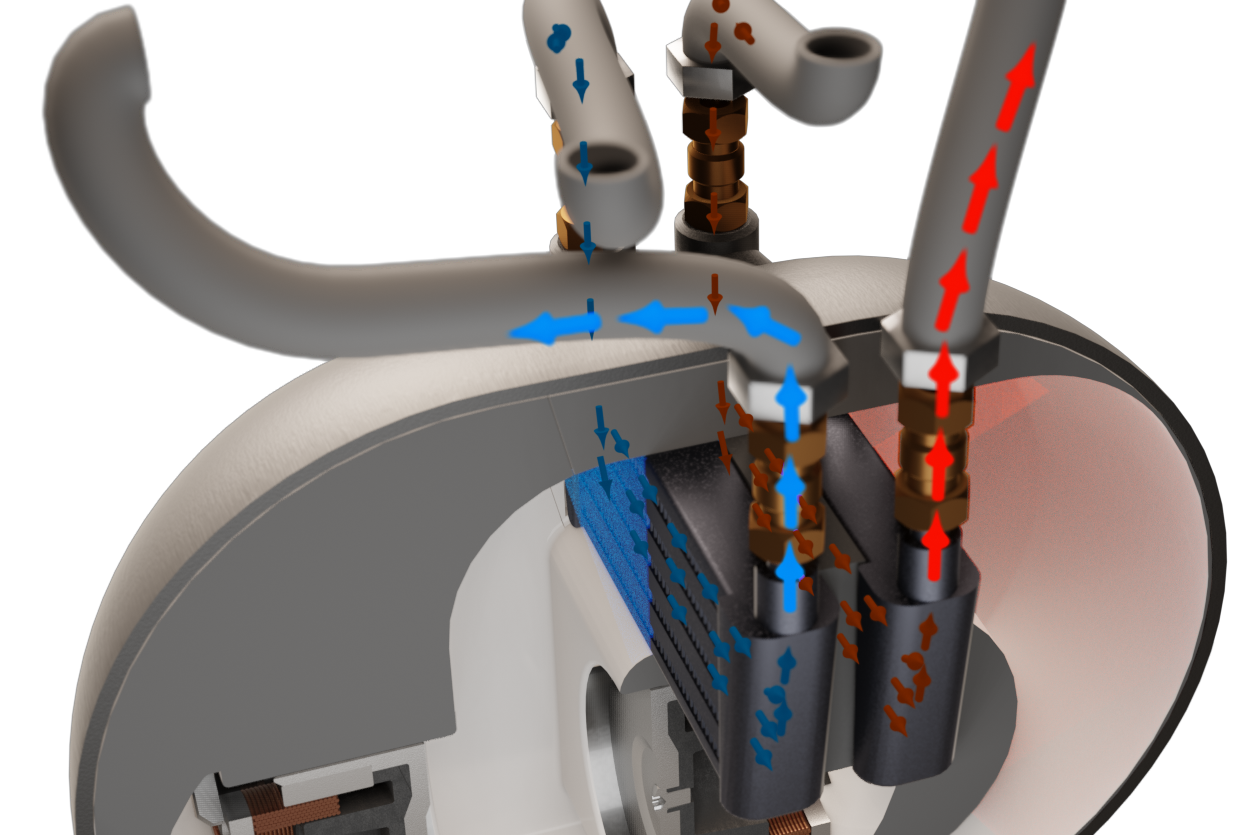 A thermo-acoustic heat pump works using a very powerful acoustic wave inside a closed pressure vessel (filled with 50 bar helium). This acoustic wave is created by two pistons that oscillate at a frequency of 100 Hz (incidentally, these powerful sound waves are completely inaudible outside the device, and it is remarkably quiet). The acoustic wave displaces heat from a lower to a higher temperature. This occurs in four phases: expansion, displacement, compression, and return displacement. During the expansion phase, the temperature of the gas drops, and the gas in the cold heat exchanger absorbs heat. The gas then moves through the regenerator to the warm heat exchanger. Here, the gas is compressed, the temperature rises, and the heat previously absorbed is released into the warm heat exchanger. Finally, the gas moves back, and the cycle is complete.
How it all began
The fact that it is possible to generate heat using acoustic waves is not a new discovery. Thermoacoustic principles have been known about since the nineteenth century. 'A lot of research was done into this physical phenomenon in the twentieth century, particularly in the US. But that was mainly high-level academic research. About twenty years ago, we decided to investigate whether acoustic waves could be used to supply heat for industry,' explains Jan-Aiso Lycklama à Nijeholt.
He has been involved in exploring the practical application of thermo-acoustics since 2010 as a researcher and project manager at the Energy Research Centre of the Netherlands (ECN, part of TNO since 2018). 'We certainly gained a lot of knowledge and experience during that period, but we never achieved any concrete applications for that knowledge.'
Entrepreneur wanted
Fast forward to 2015. Michiel Hartman, the owner of a factory producing electric bicycles, first heard about the plans to apply the principles of thermo-acoustics in heat pumps for homes in an ECN newsletter. 'I made some inquiries, and I soon discovered that they were looking for an entrepreneur who would develop and market a compact and user-friendly device with some support from TNO. After a few months of studying how thermo-acoustics work, I became convinced that this technology really could lead to a breakthrough. I wanted to be that entrepreneur!'
Getting started
2016 was the year things really started to happen. In exchange for shares and licenses, Hartman was granted all necessary rights and patents from TNO. He set up his company, Blue Heart Energy, in the city of Alkmaar. He and his team of technicians got to work and had almost daily contact with the specialists at TNO. Step by step, Blue Heart was created, and today, there is a working prototype.
Thorough testing in an advanced climate chamber
Now, in 2022, it is all about optimising the system. The new Building Innovation Lab at TNO in Delft is playing an important role in this. 'We have a very advanced climate chamber in which we can test the Blue Heart under different and dynamic conditions,' says Joachim Koot, who conducts research into building physics at TNO and has therefore built up a lot of expertise in the field of installation technology.
'The climate chamber enables us to mimic reality very closely, so performance in the laboratory can give us a good idea of how the device will perform in people's homes in the future. Not only under the static conditions that relate to the standards, but also under dynamic conditions with changing temperatures which come much closer to real-life conditions. In the climate chamber, we can simulate a cold winter's day, for example, or we can recreate all four seasons in quick succession.'
'The data that we generate in this way mainly serves to help Michiel and his team to optimise their device,' continues Joachim. 'But manufacturers and technicians will also need this data to be able to adjust the device properly and make optimum use of the unique properties of the thermo-acoustic heat pump. That's crucial, because the better the Blue Heart is calibrated, the more energy we can save and the lower the carbon emissions.'
Coming soon to homes in the Netherlands
The first Blue Heart devices will be installed in Dutch homes in 2023. The initial focus will be on validating the test results. Do the devices achieve the same performance in practice as they did in the TNO climate chamber? And what is the feedback from residents, so that we can improve the device? After that, production will be increased. That will probably take us into 2024.
Going international
Blue Heart will soon be one of Europe's heat pump manufacturers, active across Europe and making this new technology available to an international market. That means there is enormous growth potential. And that is not only good news for Blue Heart Energy and TNO, but also for anybody who is concerned about our climate and wants to be part of speeding up the energy transition.
The benefits of Blue Heart
The Blue Heart has been created and developed in phases, and today, we have a working prototype.
The Blue Heart is:
Compact. It has a volume of 55 x 55 x 55 cm

Quiet: It has two oscillators which are synchronised to move in opposite directions. The oscillators generate the acoustic waves required to generate heat, but hardly any sound is audible. The two oscillators work together as a noise-cancelling system. As a result, the noise level is below 30 decibels – which is comparable to the sound of a refrigerator.

100% clean: The system works using helium gas, and no other refrigerants are required.

Robust: There are no moving parts other than the two oscillators, and the device has a service life of more than 15 years.

Efficient: The Blue Heart achieves a 6kW output with remarkably low energy consumption. The modules are also simple to combine, making higher outputs easy to achieve.

Easy to install: Heat pump manufacturers can easily add the device to their system.

Suitable for cooling too: If the water flow in the device is reversed, the Blue Heart can also be used for air-conditioning.
Learn more about the development of heat pumps or the climate chambers at the Building Innovation Lab. Contact Joachim Koot: [email protected].
Learn more about the opportunities of thermo-acoustics. Contact Jan-Aiso Lycklama à Nijeholt: [email protected].
Get inspired
3 resultaten, getoond 1 t/m 3
Symposium: NextGenHeat
We invite you to join our NextGenHeat symposium, a national symposium to address all heat-related challenges within the process industry.
Making industry more sustainable
Industry generates high carbon emissions and can be made much more sustainable and efficient in its use of energy and raw materials.


Heat pumps for decarbonising the industry
Together with seven research institutes we have prepared a whitepaper outlining the current status and steps needed to realise the decarbonisation potential of heat pump technology.