A more effective particulate policy in five steps
Meeting the current particulate matter standard will not solve the particulate matter problem. TNO offers policy makers a five-step plan for a particulate policy that will enable us to achieve increased health benefits.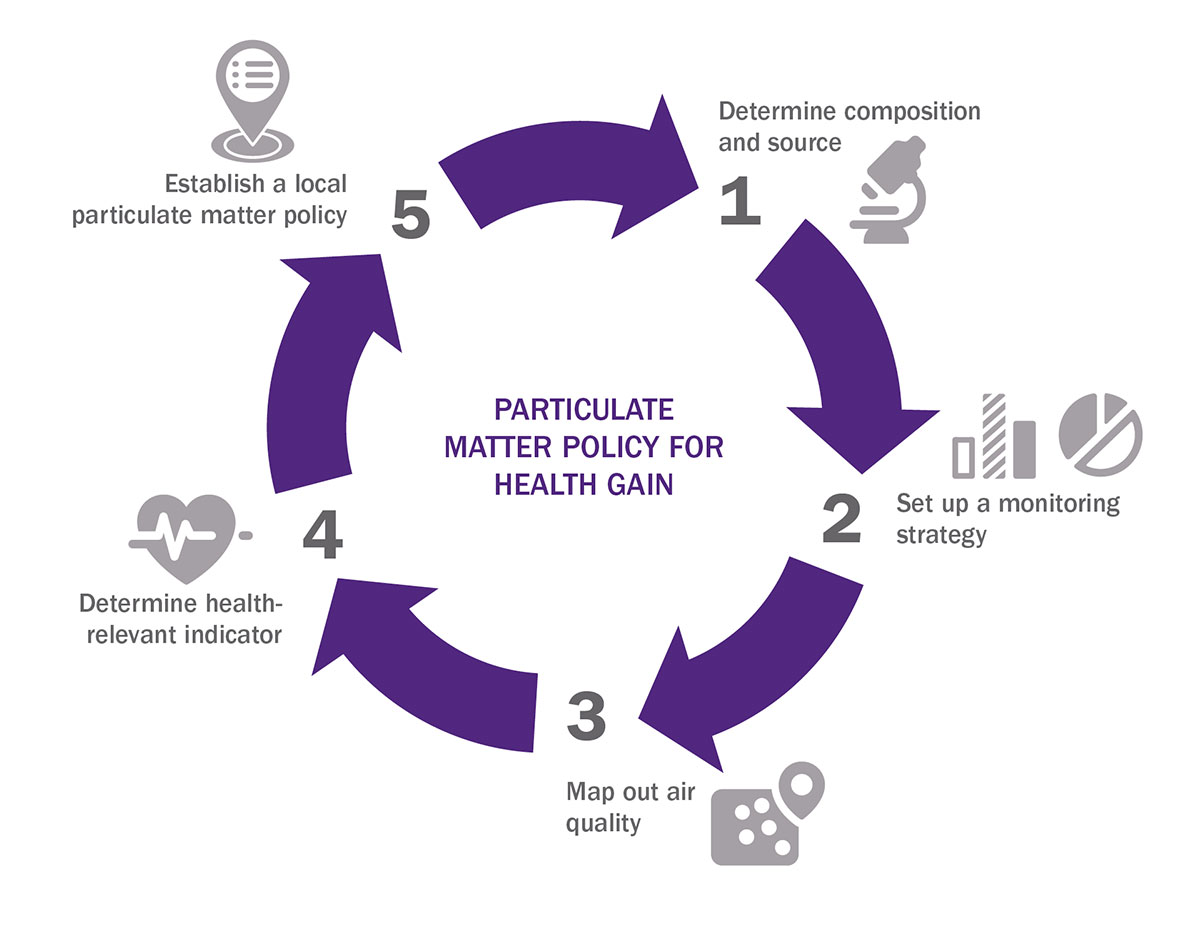 Step 1: Determining composition and source
"The good news is that we don't need to start from scratch", says Fred Hartendorf, business developer at Circular Economy and Environment. "We already know a lot about particulate matter and previous inventories have already shown what the main sources of particulate matter in the Netherlands are, and how much they emit proportionally. So we already know roughly where to take source-based measurements. What is new is that we are going to take this further by specifying the composition of particulate matter."
Step 2: Setting up a monitoring strategy
Once we have a useful picture of the variation of the sources within the Netherlands, we can work out which measurements are needed to generate a national picture. For this, we can rely on the existing infrastructure and cooperation with the partners with whom we have come so far over the past 20 years.
Also important is the use of sensor networks to complete the local picture. Finally, we need to develop a common metric that will allow us to compare and control the health impact in different locations.
Step 3: Mapping air quality
"With everything we measure now, we can use mathematical models that map out the air quality for the whole of the Netherlands", Hartendorf continues. "In combination with knowledge of the source and meteorological data, we can also calculate the distribution and make predictions.
Because we include the source in the models, we can determine not only the concentration and composition of particulate matter, but also its origin. We were already doing this in part, but now we are doing it to a higher resolution, and we also include new components, such as ultrafine particles (UFP): particles smaller than 0.1 micrometre per cm3.
To this we also add population dynamics; the biggest health risks occur in densely populated locations. These locations call for acute measures."
Step 4: Determining the health-relevancy indicator
Ultimately, we want to develop a health-relevancy indicator* that provides direct insight into the health impact of the particulate mixture. This requires further research.
But we propose to already now include ultrafine particles (UFP) and oxidative potential** (OP) (link to Hugo's article) in the calculations. This is an important step towards developing the health-relevancy indicator. And what's more: reduction of UFP is expected to have an immediate positive effect on health.
Step 5: Establishing a local particulate policy
When all the information comes together, we can form effective local policies. This is where it comes down to cooperation between policy makers and other stakeholders to implement the right measures to improve the situation and make it manageable.
Hartendorf: "Each source with its own policy instead of a generic policy for the whole of the Netherlands: that is crucial in the particulate approach we propose. Once the system is in place, we can monitor the impact of policies, review results and make adjustments where necessary."
We must start now
This new particulate approach calls for a different working method and new forms of cooperation. If we start now, it will be possible to develop the necessary nationwide measuring instruments within two years.
The new insights this provides can be taken into account by the government when tightening particle policy from 2025 onwards. It will enable a more targeted approach to this problem, bringing the 2030 target within reach.
A few definitions:
A health indicator says something about your health, the *health-relevancy indicator (referred to here) is a value that indicates how much influence a particulate mixture may have on your health. **oxidative potential is a way of measuring some of these chemical reactions.
Read the full 5-step plan
Download the paper with our vision for a new particulate matter approach
Contact us
Fred Hartendorf

Functie:

Business developer Circular economy and environment

Fred is a driven, enthusiastic and open-minded business developer with a proven track record in both industry and government. The goal of his work is to create a healthier living environment by improving the air quality around us.