North Sea countries unite forces to accelerate offshore hydrogen production
On our way towards a carbon-neutral energy system in 2050, the countries around the North Sea have expressed their firm ambition for the large-scale offshore production of hydrogen from wind energy. As the chair of the North Seas Energy Cooperation (NSEC) partnership, the Netherlands wants to offer its strong support to that development. Commissioned by the Ministry of Economic Affairs and Climate Policy, TNO researched the benefits of a shared approach by the North Sea countries, and how conversion into hydrogen at sea can be used to better unlock the potential of energy from the North Sea.
TNO's Business Director Gas Technology, Rene Peters, and Eva de Leede, Head of the Ministry's offshore wind energy unit, elaborate on the report and specify what leading role our country can play in this.
Offshore hydrogen production NSEC countries
Curious about the results of the research on offshore hydrogen production in cooperation with the North Sea countries?
Shared future vision
'Collaboration and knowledge sharing between all North Sea countries is crucial', explains TNO expert Rene Peters, one of the authors of the report Offshore Hydrogen for Unlocking the Full Energy Potential of the North Sea (pdf). 'To fully make use of the North Sea as a source of clean energy through the production of hydrogen, we must formulate a shared future vision, mutually share knowledge, and align legislation. This will generate the trust the business community needs to invest in this. A shared hydrogen market with a good infrastructure between the countries is required to facilitate the substantial growth of offshore wind. And this will accelerate the process of achieving the climate goals.'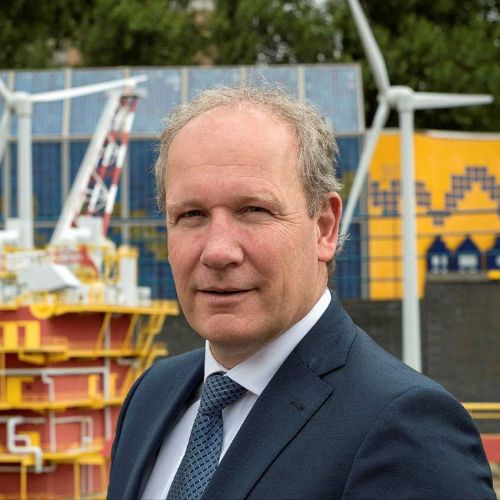 To fully make use of the North Sea as a source of clean energy through the production of hydrogen, we must formulate a shared future vision, mutually share knowledge, and align legislation.'
Collaboration essential
'The Netherlands is preparing for an energy system on the North Sea in which both electrons and molecules will be produced. Together with other NSEC countries, we want to ensure this system is well designed and connected. Collaboration is essential for this. We have already been working together in the area of electricity and will be adding hydrogen to this agenda', explains Eva de Leede of the Ministry of Economic Affairs and Climate Policy.
Far-reaching ambitions
The NSEC is made up of Belgium, Denmark, Germany, France, Ireland, Luxemburg, the Netherlands, Norway, Sweden, and the European Commission. In December 2022, an agreement (MoU) was signed with the United Kingdom as a necessary partner for the further development of the production, transport, and storage of hydrogen on the North Sea. The ambitions are far-reaching. The NSEC countries have the objective of producing at least 76 GW of offshore wind energy in 2030; 193 GW in 2040; and 260 GW in 2050. In this way, the North Sea would cover almost 90 percent of the European Commission's target of 300 GW in 2050 for the whole of the European Union. Part of that produced energy can be converted into hydrogen, which is necessary to maintain the stability of the countries' electricity networks during peak moments. Hydrogen is easier to transport and is a clean fuel that can be used at any time by industry, the transport sector, or the built environment, or converted back to electricity.
The Netherlands' role
'This already shows us that collaboration is essential. If countries try to achieve this on their own, we will lose a lot of time and money. But we should in fact be accelerating. We used our report to make this clear to the other NSEC countries. Now that the Netherlands is the chair for 2023, we can give this an extra push. Our country is perfectly positioned to play an important role in the development of offshore hydrogen. With PosHYdon, we have the world's first offshore hydrogen production pilot. We also have decades of experience with offshore energy production and gas transport at sea and possess large industrial clusters that consider hydrogen a realistic greening option. All this gives us an excellent starting position', explains Rene Peters.
Eva de Leede, Head of unit offshore wind energy of the Ministry of Economic Affairs and Climate Policy: 'One of the pillars during the Netherlands' year as NSEC chair will be the long-term future of the North Sea energy system. The NSEC countries will have to unite forces and work together closely for an optimal system.'
Clever infrastructure reuse
Now that the report has been presented to the other NSEC member states, it's up to the national governments of those countries to flesh out the ambitions. For successful interconnections between the countries, good agreements are required. These will need to be supported by laws and regulations currently not designed for this. A joint approach is also required for the construction of new infrastructure and clever reuse of existing infrastructure and its security, but also to optimise offshore hydrogen production, while considering functions such as shipping, fishing, and ecology. Commissioned by the Ministry of Economic Affairs and Climate Policy, TNO and DNV researched the technical potential of reusing mining locations and infrastructure. Supported by the Ministry, TNO has, since the end of 2022, been working with TKI Wind op Zee in the offshore hydrogen knowledge platform HEROW (Hydrogen Empowering Revolutionary Offshore Wind), which is aimed at developing and sharing knowledge and the capacity to produce hydrogen at sea using sustainable energy.
Significant steps needed
'Significant steps are needed to achieve the ambitions. Technologically, we face the challenge of scaling up hydrogen production from a scale of megawatts to gigawatts. We're working on this with the business community. With a shared innovation programme, we'll be able to learn from each other at a European level, exchange knowledge and experiences, and mutually align subsidy programmes for demonstration projects. All this will accelerate the development of offshore hydrogen production considerably.'
Contact us
Rene Peters

Functie:

Business Director Gas Technology
Get inspired
4 resultaten, getoond 1 t/m 4
Methane pyrolysis
We have developed a technology to produce hydrogen cleanly: methane pyrolysis. This is how we make hydrogen without CO2 emissions.
Storage and transport of hydrogen
Hydrogen storage is essential to reduce carbon emissions. We're developing technologies and carrying out tests on hydrogen storage and transport.


15 things you need to know about hydrogen
Hydrogen is hot. But what are the risks and consequences? What does green hydrogen mean? Find out 15 things you need to know about hydrogen.


Towards clean hydrogen production
Producing hydrogen without carbon emissions is called green hydrogen. It is made from water via electrolysis with electricity from sun and wind.