TNO & Aircision signed a contract to explore FSO-driven 5G
TNO signed a consortium agreement with Aircision B.V. to advance Free Space Optics (FSO) connectivity technology. To harness the power of 5G and broadband connectivity, more robust FSO links are needed for increased data rates and wider reach. TNO and Aircision will combine their expertise to explore this breakthrough technology. If successful, it will enable 5G and broadband networks to be more accessible, with higher bandwidth and robust connectivity.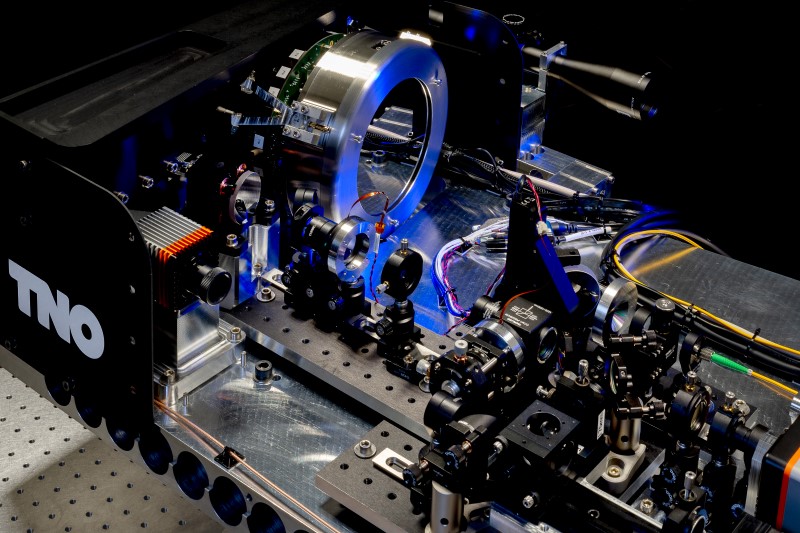 The demand for connectivity grows every day. We will exchange more data than ever before, and even those in the most remote regions want to stay connected. But none of it will be possible without robust Free Space Optics (FSO) links. TNO and Aircision aim to explore entirely new ways to enable that robustness.
Traditional FSO communication is based on lasers that produce an optical beam with so-called 'Gaussian profiles', which are easily disturbed by atmospheric conditions and distance. This could hamper the implementation of FSO links with high data rates and link availability.
Exploring the possibilities
TNO and Aircision will study the performance of a newly developed, structured beam with different physical parameters, in the hope of uncovering performance never before possible. The technology could offer disruptive advantages over Gaussian beams.
The BackCAT (Backhaul Communication Active Terminal) project will combine TNO's high throughput FSO technology with Aircision's structured beam forming. It aims to show that a new generation of communication terminals can enable future 5G networks that are more accessible, with higher bandwidth and more robust connectivity. The project will test and demonstrate a 10 Gigabit-per-second FSO link over the distance of 2.5 km between the Optical Communication Lab in the TNO Tower and the Luchtwachttoren in Scheveningen.
Reaching beyond the limits
The work aims to ignite developments that will allow FSO links with unprecedented performance to become a critical part of the 5G infrastructure. These links would serve as a backhaul for the 5G network, allow connectivity with remote and potentially strategic locations, and support the standard, terrestrial 5G network. This would ensure sufficient data throughput where there are currently limitations.
Improving the efficiency of infrastructure and networks would allow higher coverage (especially important in rural and remote areas) and provide higher capacity. Therefore, a long-term ambition is to increase access to information globally, which will help to reduce inequalities between developed and developing economies.
Partnering for power
Aircision B.V. is a Dutch startup, a spin-off from the European Organization for Nuclear Research (CERN), and a venture built by HighTechXL in Eindhoven. Its aim is to provide reliable, high-speed optical wireless communication systems that connect cell towers within the telecommunications backhaul.
TNO Space & Scientific Instrumentation has had a successful track record in optical instruments for more than 50 years, and will contribute this expertise to the project. In particular, TNO has developed significant insight into FSO systems hardware for ground, air and space terminals.
TNO and Aircision aim to create a revolutionary improvement to 5G communications. If successful, the project will enable unprecedented accessibility and data rates, anywhere on the globe.
This project is co-funded by Holland High Tech, with a PPP Grant for Research and Innovation in Top Sector HTSM.
Contact us
Ewa Kadziolka

Functie:

Business Developer