Europe is grappling with major issues, a key one being migration and asylum seekers. The causes are complex situations, such as political instability, conflicts, climate change, and economic inequality in the regions surrounding Europe. A large flow of migrants and refugees are entering Europe by various routes, such as the Mediterranean Sea, the Balkan route, and the Eastern European route. The major challenges related to asylum mainly involve – in the Netherlands – the provision of reception services, housing, care, and integration  to refugees and other new arrivals at a time when the issue is causing polarisation.
European collaboration needed
The numbers of migrants and refugees fluctuate, but migration and asylum remain major issues in Europe. A joint policy in this area is being developed, with a more balanced distribution of refugees and better collaboration between EU Member States in managing migration flows.
According to scientists, climate change is likely to cause even more migration, with floods and droughts making areas uninhabitable, at least temporarily. Migration is therefore an issue that will require a great deal of attention in the coming years.
Work is being done to strengthen Europe's external borders and prevent people smuggling, while at the same time there is a focus on protecting the rights of refugees and providing a safe future for those unable to return to their home countries.
Migration and national security
The migration of people is a complex and multidimensional issue that affects several policy areas, including national security. The debate in the Netherlands is currently causing polarisation, affecting not only social cohesion in society but also trust in the government and its policies. Irregular or illegal migrants regularly prompt negative headlines, as do those who make money from this group of people: the smugglers, traffickers, employers, and hirers.
In addition, in recent years, radicalisation and terrorism have caused any possible involvement of persons with a migration background to be put under the spotlight, increasing the focus on migration and national security.
It is important to have sound and effective policies for a safe and secure society. And we must be mindful of refugees' rights, their safety, and integration into society. An equitable approach, striking the right balance between security and protecting the rights of people forced to flee their home countries, may contribute to an inclusive, safe, and secure society for all.
Best practices
Through various research programmes, TNO is involved in the societal issue of asylum and migration. In collaboration with the Immigration and Naturalisation Service (Immigratie- en Naturalisatiedienst, IND), we are conducting an analysis covering the entire immigration chain, using our system dynamics method, MARVEL. We look for problem areas and effects of policies on the chain, and help make it clear to all those in the chain that every movement has an effect in other places to a greater or lesser extent. We also do this for the IND itself, contributing to improving its operations and output. In addition, we try to gain insight into behaviour and nuisance for the Central Agency for the Reception of Asylum Seekers (Centraal Orgaan opvang asielzoekers, COA). This work is based on two scientific disciplines: behavioural science and machine learning.
What can we do?
Migration is a complex issue that has major implications for society, for example for security and the economy. Expertise and knowledge are needed for us to find innovative and sustainable solutions. TNO conducts research on the economic and societal effects of asylum and migration, and the possible policy measures that can respond to them.
For example, we have in-house expertise that helps develop better border surveillance technologies against human trafficking, as well as solutions that improve the safety and efficiency of asylum processes. The development of language and cultural training is another important aspect.
Research can help provide a better understanding of the issue, leading to a more factual and constructive debate. This can reduce polarisation and stigmatisation, enabling a more inclusive society to emerge, in which asylum and migration are integrated in a sustainable way.
Want to know more about migration and TNO?
Please contact Giselle Schellekens
Get inspired
12 resultaten, getoond 1 t/m 5
National security in the Netherlands: 5 themes in focus
TNO is an expert in security research and brings together technology and innovation to ensure a safe and secure Netherlands.
Handbook to help with detection
Everyone can live a contribution to detection. But how can police and citizen (organisations) work together to ensure our safety and justice? The new TNO handbook 'First Aid for Investigation - Handbook for Citizen Detectives' offers help.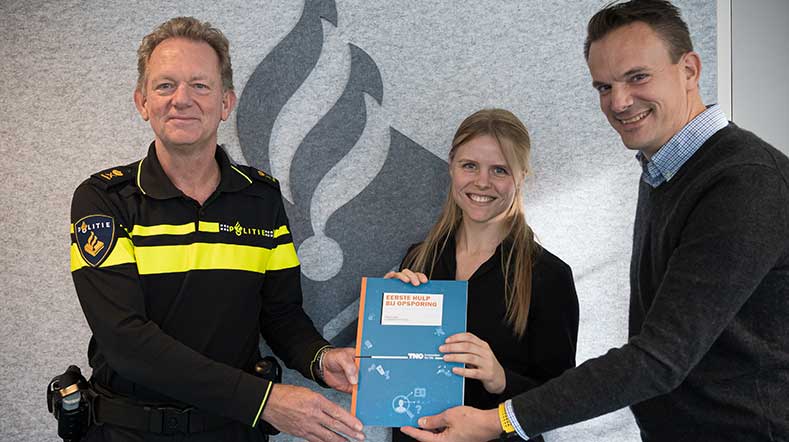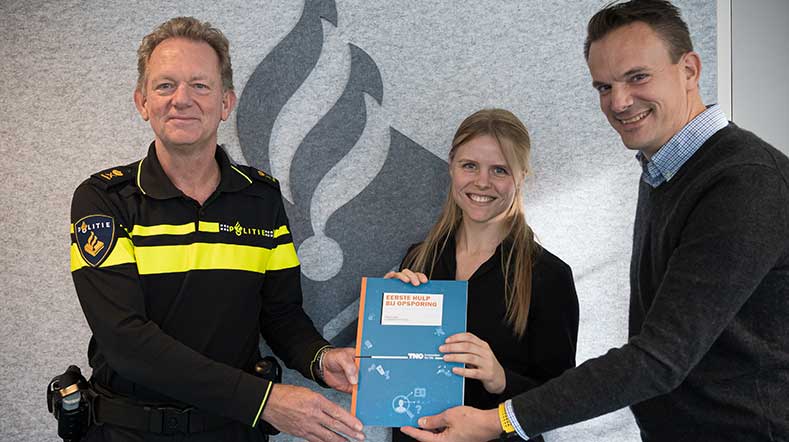 Networked organisations
We innovate for networked organisations, helping them implement innovations in various domains, like urban safety, security of vital infrastructure, crisis management, intelligence and national safety.
Law and investigation
TNO translates the knowledge of scientists into concrete tools and methods for professionals in the criminal justice chain. This contributes to a safe Netherlands.
Smart security and surveillance
At TNO, we contribute to international security research into counterterrorism and a safe Netherlands. Discover how we do this.