Microplastics and the unknown risks
Microplastics are minuscule plastic particles. They are in the air we breathe, the water we drink, and the food we eat. But the effects and risks of microplastics on people and the environment are unknown. Our research contributes to new insights and innovative solutions.
How are microplastics formed?
Microplastics are all around us, from the high peaks of the Himalayas to the depths of the Atlantic Ocean. Since its invention in the 1950s, we have been using more and more plastic. Plastic has unique properties. It's cheap, long lasting, and has many applications. But it is a persistent material that slowly breaks down into ever smaller plastic particles: microplastics.
What are microplastics?
We define microplastics as small, man-made polymer-containing materials with dimensions (length/width/height) smaller than 5 millimetres. The term microplastics also includes nanoplastics, with dimensions smaller than 100 nanometres. Microplastics consist of a complex cocktail. There are wide variations in polymer type, size, and shape. Microplastics also carry additives, impurities, microbiota, and various contaminants.
Primary and secondary microplastics
We distinguish between primary and secondary microplastics. Primary microplastics are added deliberately by humans. Secondary microplastics are formed as a result of the degradation of plastic objects.
Distinction in plastics
Primary microplastics originate mainly from pre-production pellets, scrub particles in cosmetics, grains from artificial turf fields, and abrasive cleaning agents. Degradation of plastic into secondary microplastics occurs during use of a plastic product, and when plastic is left lying around as waste. Under the influence of certain factors, ever-smaller plastic particles are formed. Examples include:
These plastic particles then come into contact with humans through: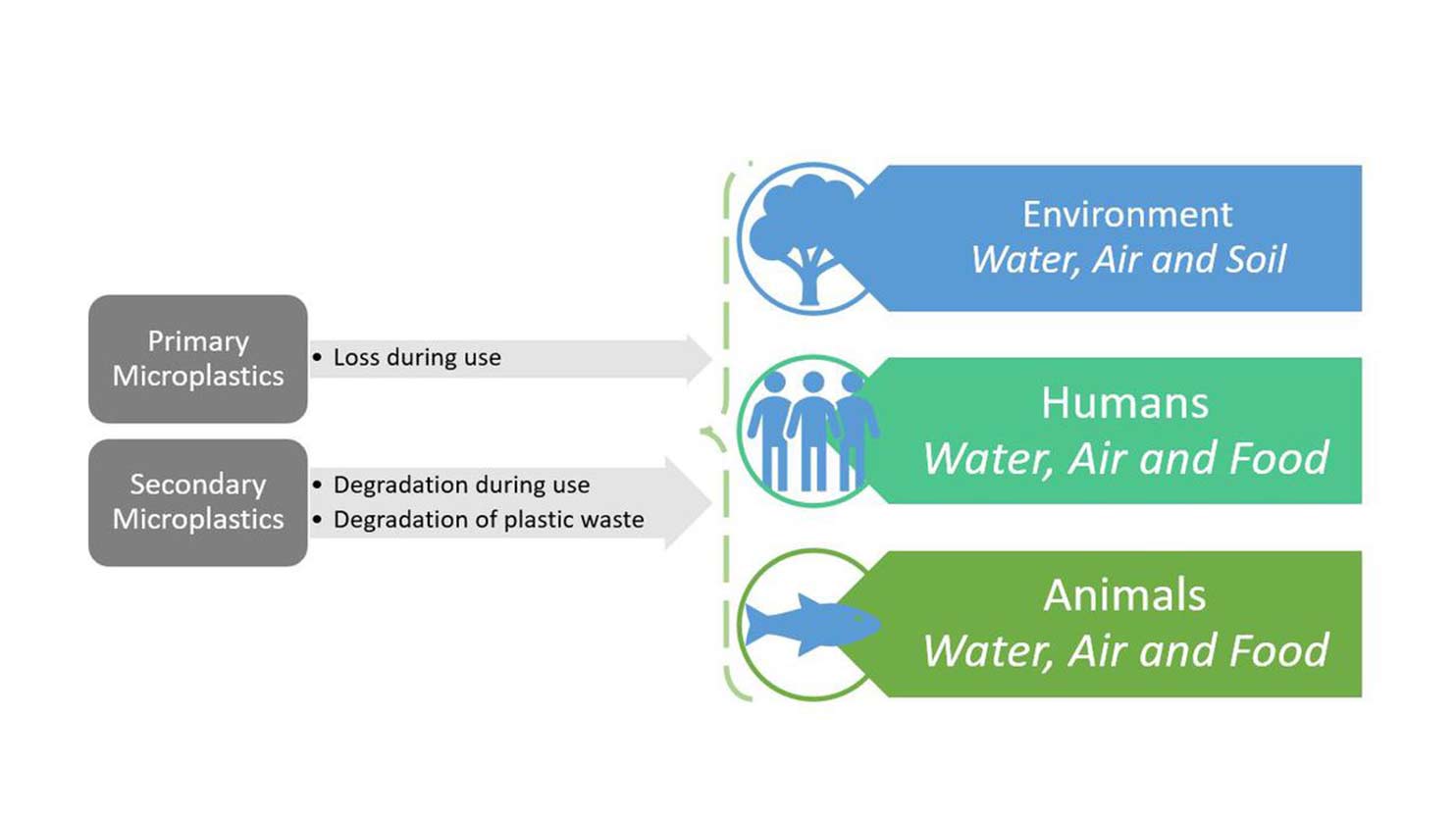 Microplastics in cosmetics
Possibly thousands of personal care products sold by companies all over the world contain tiny grains of plastic. The cosmetics industry calls these microplastics microbeads. But we also find microplastics in other products, including fleece jumpers or a plate of mussels.
Microplastics in the air
There is still relatively little known about the concentration of microplastics in the air and the effect on the environment and our health. Our knowledge of the distribution of particulate matter is very useful in our research, because microplastics exhibit the same behaviour. With that knowledge, we can reuse existing tools. For example, a measurement campaign focussing on exposure to microplastics in the air indoors and outside, in which we measure concentration differences in various locations.
Microplastics and their effect on humans
Together with universities and the National Institute for Public Health and the Environment (RIVM), we are studying the effect of microplastics and nanoplastics on humans. Is there really a problem? Or does plastic leave the body without any problems and are policy instruments unnecessary? To answer these questions, we are researching biological absorption and its effects. What are the main sources? And what are the health effects of exposure to microplastics for humans, for example in the lungs and intestines?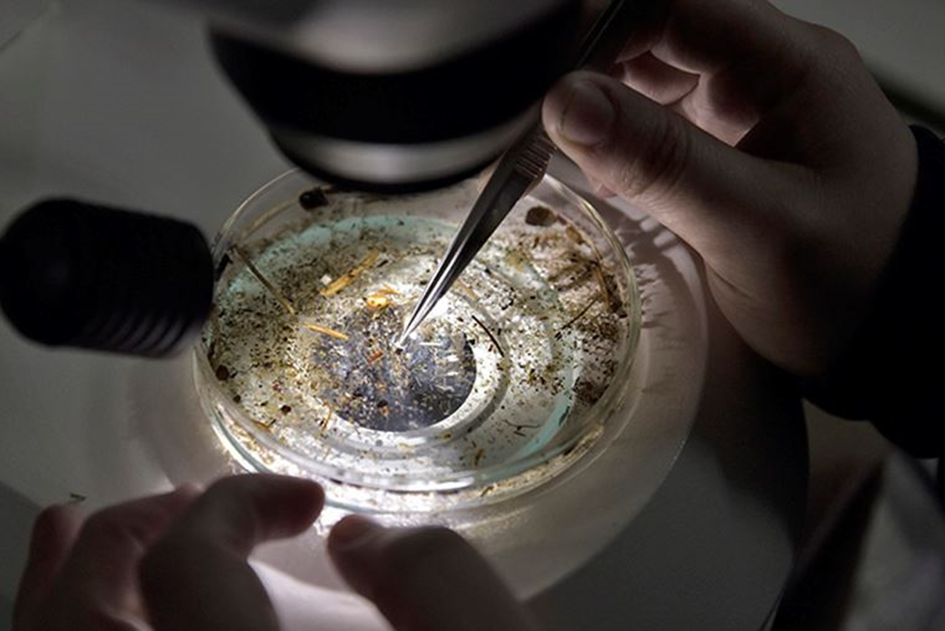 Importance of microplastics research
At present, little is known about the origins, emission, exposure, and health effects of microplastics. Our research creates insights that support policy makers in developing laws and regulations. Material studies teach us how plastics degrade and give us insight into their mechanical and chemical properties over time. We use this knowledge to make risk assessments for plastics, but also to design new plastics that reduce plastic degradation. We collaborate with the industry for this purpose. In addition, knowledge about the origin of microplastics gives us a more complete picture of:
the sources of microplastics and their emissions;

the subsequent concentration in the environment;

the main routes of human exposure.
Microplastics Research Centre
Within the Microplastics Research Centre, we are looking for solutions and mitigation strategies for microplastics. Here, we connect government, business, and society, and we provide objective input regarding social concerns and solutions. Within the research centre, the focus is on producing relevant and reliable knowledge, with the ultimate goal of:
gaining insight into the entire pollution chain, from source to effect;

offering solution strategies that minimise the risks of microplastics, preferably at the source.
Microplastics research topics
Within this research programme, the focus is on four different topics:
Sources & Environment,

Measurement & Detection,

Material Design & Mitigation,

Health Effects.
With these topics we strive for:
development and optimisation of measurement methods

improved modelling

improved decision support systems for environment, air quality, and process safety
This programme is part of various initiatives in the Netherlands and Europe, such as the ZonMw's Microplastics & Health initiatives, and projects funded by the European Commission (Leon-T).
Research and knowledge partners
In the Microplastic Research Centre, we work closely with various research partners, such as Utrecht University, University Medical Center Utrecht, and University Medical Center Groningen. We also collaborate with knowledge partners such as the National Institute for Public Health and the Environment, scientific networks such as TI Coast, and industrial partners. We work on confidential and often highly complex projects with stakeholders throughout the entire value chain. We research materials or products in which microplastics could pose a problem. In this way, we are working on a more sustainable future.
Get inspired
10 resultaten, getoond 1 t/m 5
Plastic waste in Indonesia gets value in 2 new P4G projects
TNO is working in a P4G's "Plastics in Circles" partnership. In two new projects we are working together on reducing plastic waste in Indonesia.
Polymer solutions
How can we make plastics more sustainable? By extending their service life. We are researching the degradation of polymers and creating innovative solutions.


Systemic impact assessment of plastics value chains
TNO develops methodologies and tools for systemic impact assessment. With this we help to redesign the value chains for plastics of the future.


The PRISM model
To investigate the possibilities for circular and low-carbon economy plastics, TNO is working on a Plastic Recycling Impact Scenario Model: PRISM.
Recycled plastic begins with a good design
TNO is developing short, medium and long-term plans for plastic products that can be properly sorted and recycled.