Solar cells on barns and industrial buildings
In cooperation with
Energiedak, Solarge, Taylor, Expice, Kameleon Solar, VDL Werkt, Maan Group, Yparex, WeKa Daksystemen
Replacing the roof of a barn or industrial building provides the ideal opportunity to switch to solar energy, for example, when replacing asbestos roofs, of which there are still tens of millions of square meters in the Netherlands. Today, you can install solar cells in any shape or size. This makes installing seperate solar panels a thing of the past.
In any shape and size
The fact that solar cells are now made in every shape and size is due to flexible photovoltaic (pv) semi-finished products, which can be integrated into the roofing. During manufacturing, the solar cells are incorporated into a foil, also known as roll-to-roll laminate. This allows it to be produced at high speed. This makes the solar modules flexible and light, and they can be made in any size.
Regular solar foil less practical
The installation of solar cell foil on roofing currently has its limitations. Because it has a fixed size, the roof area can never be optimally covered. This is due to the current production method of vacuum laminates.
Covering roofs with roll-to-roll lamination
We have developed a method to replace this process with roll-to-roll lamination. At lower temperatures, solar modules can be produced much faster in unlimited lengths and incorporated into existing building products, allowing you to cover large roofs of industrial buildings or agricultural barns in one go.
Companies involved
This method is called Rollaflex, and we developed it together with the industry. We've also tested, validated, and demonstrated the flexible semi-finished products. This involves roofing of various materials including the necessary electronics. The intention is for Dutch companies to integrate the semi-finished laminates into their products. Partners in developing this method are:
The Maan Group is working on the development of machines that will soon manufacture the roll-to-roll laminates.

Yparex plays an important role in making the connecting layer (encapsulant) between solar foils suitable for roll-to-roll lamination.

As a roofing company, WeKa Daksystemen wants to serve customers with lightweight roofs with solar cells, regardless of material, size or shape.
Replacing asbestos roofs
This invention makes it possible to replace asbestos roofs with solar roofs on a large scale. One current limitation is the labour-intensive and therefore costly installation of standard solar panels, which also do not allow you to use the total surface area. And then there is the heavy weight of regular solar panels, which often limits placement on the roof.
Lightweight and easy to install
Our solution is to manufacture large, lightweight prefabricated roof sections that contain solar cells and are easy to install. This is an ideal solution not only for farm outbuildings, but also for large industrial buildings such as distribution centres.
Collaboration partners
The lightweight flexible roof elements for barns have been developed in collaboration with companies such as Energiedak, Solarge, Taylor, Expice, Kameleon Solar, and VDL Werkt. We are currently demonstrating the product on a realistic scale at a farm in Hoevelaken (see image). There we are also testing solar thermal PV panels, which are made in the same way. As a result, the same surface produces even more energy.
Contact us
Peter Toonssen

Functie:

Business developer
Get inspired
6 resultaten, getoond 1 t/m 5
Brabant at the forefront of new solar energy developments with strategic investment
The signing of an agreement between the Province of North Brabant, the Brabant Development Company, and TNO, partner in Solliance, heralds a new phase for the application of solar energy.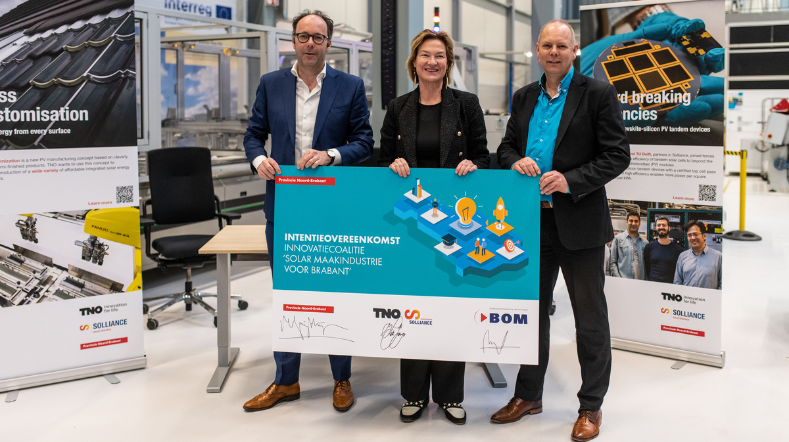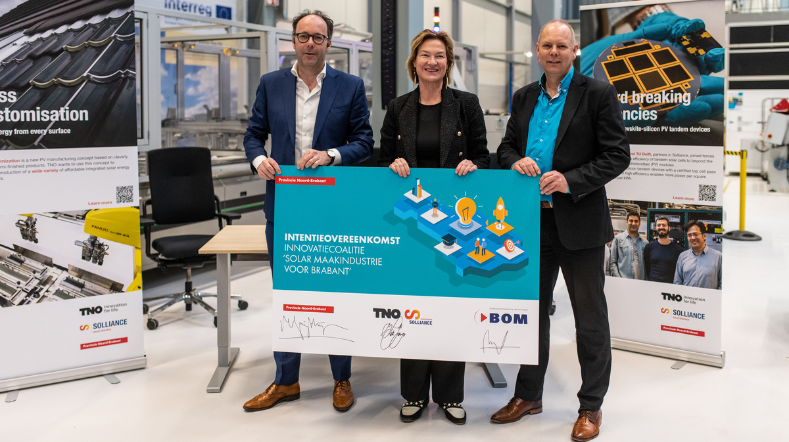 Solar energy
The Solar energy expertise group develops technology for solar panels, including bifacial solar modules and silicon solar cell technology.
Silicon solar panels and circular design
We're developing technology for better silicon solar panels and circular design. Our technology is in use worldwide.


Thin-film solar panels and circular design
We develop advanced module technologies for packaging, interconnection, and sustainability of thin-film CIGS and Perovskite PV.


Affordable, tailor-made solar energy on a large scale
Solar panels can be made in all shapes and sizes. Thanks to the mass customisation method, this can be done affordably and on a large scale.