Unique test installation for CO2 capture and conversion to green chemicals
While the world is fully engaged in electrolysis to produce hydrogen by splitting water, TNO is also using this technology to convert CO2. CO2 electrolysis is a promising electrochemical technique for converting this greenhouse gas into high-quality sustainable chemicals.
Pilot installation for sustainable industry in 2030
We have built a pilot installation where researchers and industry can work together to take CO2 electrolysis to a higher level with us. TNO welcomes industry, large business communities, SMEs and research institutions to experiment and test with us in this open innovation environment to accelerate a sustainable industry.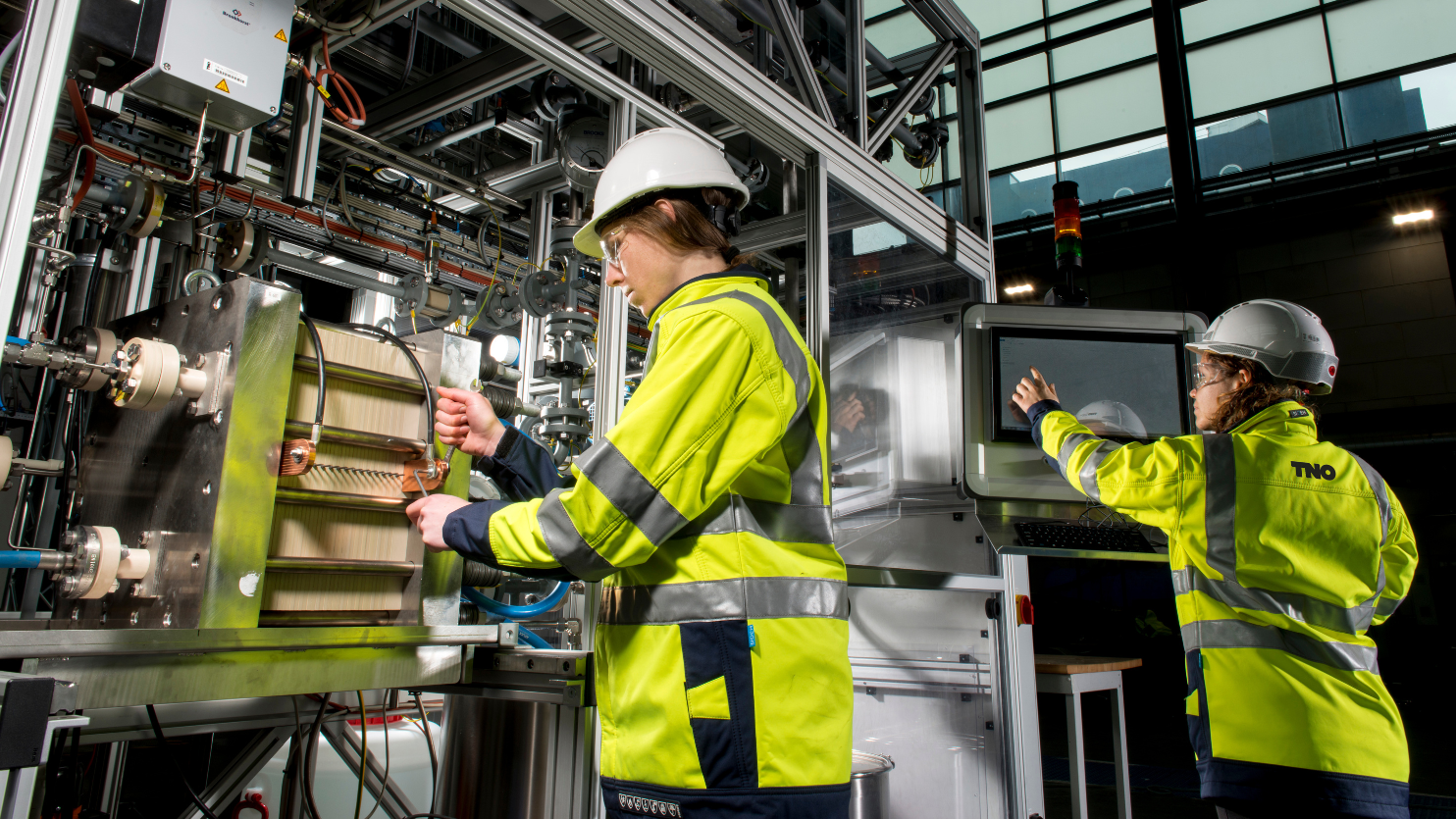 A lower carbon footprint
The route that TNO is currently pursuing is that of converting CO2 via electrolysis into formic acid, which can be further converted into useful products through fermentation, for example. The idea is to capture CO2 from industry and convert it on site. In this way, companies can valorize CO2 waste streams and thus also reduce greenhouse gas emissions. Almost all products we currently use contain carbon. With CO2 electrolysis you extract that carbon from CO2 residual flows instead of from petroleum or natural gas. Where hydrogen is important for the energy transition, this development can give a major boost to the materials transition.
Linking electrolysis to fermentation
It has been known for some time that CO2 can be captured in the industry or from the air and converted into useful products. TNO has traditionally been active in this field. Although CO2 electrolysis to formic acid can run on the basis of green electricity, it has so far proved difficult to turn this into a positive business case. Converting CO2 to make plastics or fuels still requires a relatively large amount of energy. But first making formic acid efficiently and linking it to fermentation processes to produce high-quality chemicals drastically reduces the amount of CO2 emissions released during production and is also efficient in its simplicity.
Webinar: CO2 reduction and green carbon in the industry from residual flows
TNO experts present three unique technologies that convert carbon en CO2 into sustainable products.
Open innovation environment
"We want to demonstrate with the industry that the technology is operational and profitable for them," says researcher Elena Perez Gallent of TNO. "We welcome parties from large businesses, SMEs and research institutions to use our installation and experiment and test with us in this open innovation environment. Think of reactor builders, suppliers of components and materials, and end users. Many companies are interested in the technology, but do not yet see a revenue model. We must work together to make this market-ready."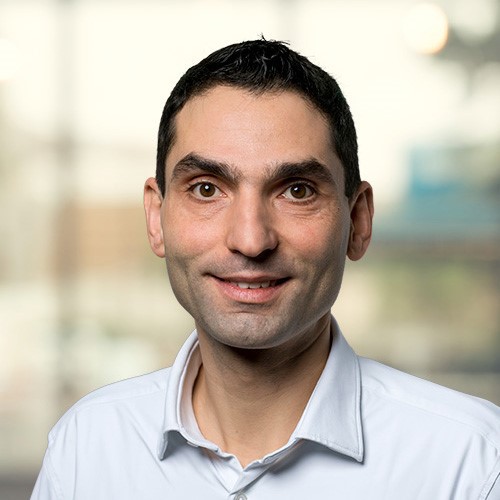 "If we want to have all products fossil free by 2050, recycling is useful but not enough. You need new raw materials, which you can make through CO2 electrolysis."
Perfecting technology
TNO colleague Matti van Schooneveld: "We are talking about the CO2-free and profitable production of materials and products for, for example, the food and plastic industry. If we want to have all products fossil free by 2050, recycling is useful but not enough. You need new raw materials, which you can make through CO2 electrolysis. The technology is there, we just need to perfect it. We are starting with the maturity of the conversion to formic acid, but we are gradually making the technology suitable for other reactions and conversions as well. For a number of processes, the required amount of raw materials can be significantly reduced. And because we capture and convert the CO2 in the industry, you do not have to import the carbon required for materials. Profit on many fronts."
Further development and testing takes place in the VoltaChem Shared Innovation Program of TNO, government and the industry.
Realizing innovations together
The largest independent installation for CO2 electrolysis in Europe, called ZEUS, is located at the TNO research facility in Rijswijk, The Netherlands and has been made possible by contributions from Interreg2Seas, the Province of South Holland, Smartport and the Ministry of Economic Affairs and Climate. Although this will initially focus on the conversion to formic acid, other reactions are also possible, such as to carbon monoxide (CO) and other products. The unique thing is that many different conversion routes can be done on one installation. The intention is to have it available within a few years as a mobile installation for use at companies that still emit CO2.
Contact us
Matti van Schooneveld

Functie:

Senior Business Developer Power-2-Chemicals

Elena Perez Gallent

Functie:

Research Scientist
Get inspired
6 resultaten, getoond 1 t/m 5
SEWGS: revolutionary CO2-reduction technology
In order to make existing industrial production processes cleaner, TNO has developed a technology that very efficiently captures CO2 while simultaneously producing hydrogen.
SEWGS
To make industry more sustainable, we've developed a revolutionary technology that captures CO2 very efficiently while producing blue hydrogen.


Capturing carbon emissions from industry
CO2 emissions from industry are huge. These can be reduced through carbon capture, carbon storage, and reusing CO2 in practical ways.


Multi-partner ALIGN-CCUS project
The multi-partner ALIGN-CCUS project, funded by the ERA-NET ACT, researches quick, cost-effective large-scale carbon capture, usage and storage.
Award-winning excellence: CO2 capture applied
How do you capture CO2 before it reaches the atmosphere? Chemical engineer Juliana Monteiro, winner of the TNO Young Excellent Researcher Award 2020, answers.