Webinar: CO2 reduction and green carbon in the industry from residual flows
This is the time to reduce CO2 emissions and create new opportunities for a sustainable, circular industry. Discover the latest developments and solutions during this webinar. TNO experts present three innovative technologies that convert carbon and CO2 into sustainable products such as plastics, fuels and food.
Time

:

15:00 (CET)

Location

:

Costs

:

Free of charge
Green carbon and sustainable use of CO2 in the energy transition
The Netherlands and Europe have major climate ambitions. This also has consequences for the sustainability of the industry. The industry must emit more than 20 megatons of CO2 per year less, so that emissions are reduced by 60% compared to 1990, which is 5 to 5.9 megatons more than agreed in the Climate Agreement.
Making value chains sustainable also offers new economic opportunities for the industry and service sectors. Companies can take a leading position and continue to distinguish themselves by making the necessary energy and material transition earlier than others. Also the government wants to help realize fundamentally new sustainable technologies.
Three innovative technologies highlighted:
In this webinar, TNO introduces three technologies that make the industry more sustainable with Green Carbon from residual flows and by converting industrial CO2 into new everyday products that we will need in the future, such as: plastics, fuels and food.
Webinar programme
Carbon capture and sustainability in industry
Introduction: three TNO technologies that reduces CO2 and convert carbon into sustainable products.
Soledad van Eijk, Senior Business Developer Industrial Carbon Capture at TNO.
ZEUS technology
The ZEUS technology for converting captured CO2 into green chemicals via electrochemistry. Examples of products that can be made are formic acid, carbon monoxide for syngas, but also ethanol and ethylene
Matti van Schooneveld, Senior Business Developer Sustainable Chemical Industry
EMBER-technologie
The Green Carbon EMBER technology contributes to closing industrial cycles and a circular carbon economy by efficiently converting carbon into the renewable fuel and chemical building blocks; converting light hydrocarbon by-products to H2, syngas and carbon black.
Jan Willem Könemann, Senior Business Developer Synthetic Fuels and Feedstock
Plasma technology
Using plasma technology, carbon residual flows such as CO2 and biogas can be efficiently converted into syngas. The syngas can then be used as a starting product for conversion to methanol, applicable for polymer production, bio-fuel production or protein production.
Hans Linden, Project Manager Plasma Chemistry
Reflection of the Nova Institute on these technologies
Interesting for:
Industry

Chemical industry

Suppliers

Government and policymakers
Sign up for free
The webinar will take place on Wednesday 21 June 2023 - 15:00 CET

The language of the webinar is English.

After registration, the webinar can be watched on demand afterwards.
Get inspired
10 resultaten, getoond 1 - 5
Unique test installation for CO2 capture and conversion to green chemicals
While the world is fully engaged in electrolysis to produce hydrogen by splitting water, TNO is also using this technology to convert CO2. CO2 electrolysis is a promising electrochemical technique for converting this greenhouse gas into high-quality sustainable chemicals.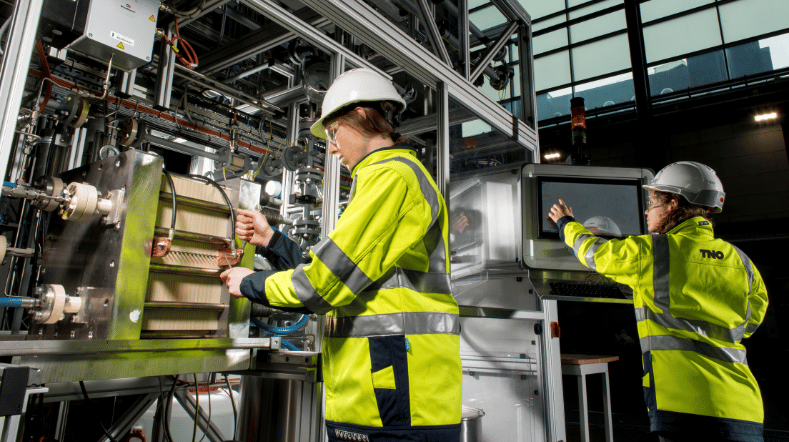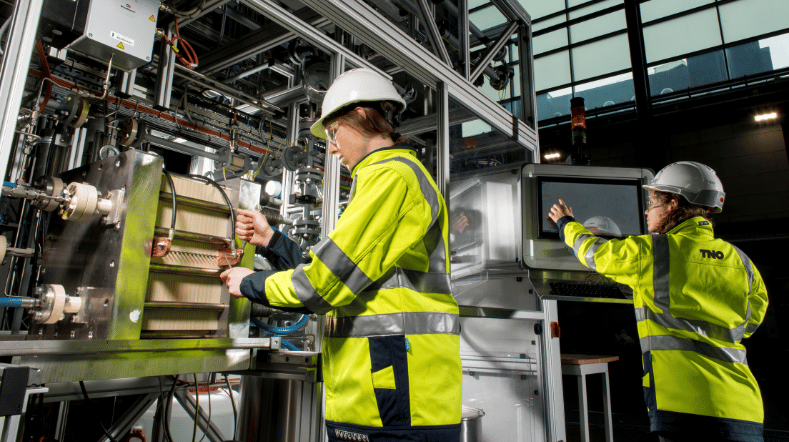 SEWGS: revolutionary CO2-reduction technology
In order to make existing industrial production processes cleaner, TNO has developed a technology that very efficiently captures CO2 while simultaneously producing hydrogen.
SEWGS
To make industry more sustainable, we've developed a revolutionary technology that captures CO2 very efficiently while producing blue hydrogen.


Industrial transformation
We support government and industry in decisions to ensure the industrial energy transition remains clean, affordable and feasible.
Multi-partner ALIGN-CCUS project
The multi-partner ALIGN-CCUS project, funded by the ERA-NET ACT, researches quick, cost-effective large-scale carbon capture, usage and storage.