Hydrogen developments in full swing in the energy and materials transition
Green hydrogen is a key component in the transition to a sustainable energy supply. It is made through water electrolysis, a process in which renewable electricity is used to split water into hydrogen and oxygen. The hydrogen can be used as a feedstock for chemistry, as a fuel, and for renewable energy storage. What can we say about the future of green hydrogen? What role will it play in the energy transition in the coming decades?
Such as policy, laws and regulations, accelerating and upscaling of technology and knowledge sharing from pilot projects, cooperation with other countries and import from abroad, mobility, transport and storage at sea, electrolysis technology with higher efficiency, lower costs and limitation of critical materials.
A conversation with TNO hydrogen experts Marcel Weeda and Lennart van der Burg provides some answers.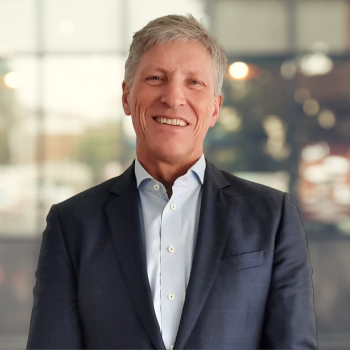 ''One thing is certain: it's an extremely useful tool in the energy transition but we must be careful not to see it as an end in itself.''
Not an end in itself
''An incredible amount is said and written about hydrogen, but how big a role hydrogen will play in the future depends on many factors and circumstances. We at TNO have been conducting research on the technologies and applications of this gas for many years. We know the pros and cons. One thing is certain: it's an extremely useful tool in the energy transition but we must be careful not to see it as an end in itself,'' says Marcel.
Accelerating development
Hydrogen has been produced and used for a long time, especially in the chemical industry for the production of ammonia and methanol, and for oil refining. Production is now mainly based on natural gas and produces CO2 emissions. Switching to sustainable sources is necessary but unfortunately complex and time-consuming, and TNO is investigating how to accelerate that development.
''In addition to replacing fossil hydrogen with green hydrogen in current applications, it's important that the use of green hydrogen as a replacement for fossil fuels be encouraged through legislation and regulations for those applications where direct electrification isn't possible,'' Marcel explains.
''We need to use existing technologies for production on a much larger scale. We must accelerate the development of new technologies for electrolysis to which TNO is fully committed. That's essential in order to reduce costs as well as the use of critical raw materials. In this area, we collaborate closely with industry and advise the government on the most effective policies.''
Collaboration with foreign countries on green hydrogen imports
Lennart adds: ''TNO is collaborating closely with the Ministry of Economic Affairs and Climate Policy on developing green hydrogen supply chains for importing hydrogen. In addition, we're a key adviser to the European Commission on hydrogen storage.
Meanwhile, collaboration agreements have been signed in Spain in the presence of King Willem-Alexander, Minister of Economic Affairs and Climate Policy Rob Jetten, and TNO expert Rene Peters. Spain will become a major supplier of green hydrogen to north-western Europe and our country will act as a hub for transporting it on to Germany, among other countries.''
TNO's CEO Tjark Tjin-A-Tsoi travelled with a delegation led by Dutch Prime Minister Mark Rutte on visits to Namibia, South Africa, and Morocco. This trip was also concerned with collaboration in the field of green hydrogen. Namibia, for instance, has potential as an export country for hydrogen and ammonia because it has ample space for solar and wind energy, and a deep-water port. TNO is engaged in collaboration there and shares knowledge about hydrogen with research institutes and companies.
Using hydrogen for mobility
Opinions differ on the role of hydrogen in road, water, and air transport. TNO has done a lot of research in recent years on the possibilities of using hydrogen for light and heavy road transport.
For passenger cars, electric driving seems set to win out in the end, but for long-distance freight and other heavy traffic, hydrogen does have potential. The same applies to shipping. In aviation, the obstacles seem to outweigh the opportunities for now, and it is more likely that fuel will be in the form of synthetic paraffin: green hydrogen with biogenic CO2.
Green hydrogen for storage of renewable energy
Electrification, the switch by industries from fossil fuels and raw materials to electricity, is generally preferable to hydrogen. But because the energy supply from solar and wind is erratic, hydrogen is a necessary option in order eventually to have a variable supply of renewables in the energy system.
''Storage is therefore necessary to provide energy security and avoid peaks and troughs in the grid. Moreover, hydrogen is a solution where electrification isn't possible and an important substitute for fossil feedstocks in the chemical industry. With regard to storage, we've now established that this is possible on land in empty salt caverns. That will be sufficient until 2030, but in the years to 2050, we cannot avoid storing hydrogen offshore in empty gas fields under the North Sea.''
''We have investigated the feasibility of this method with Energie Beheer Nederland. Technically, it appears to be feasible and the pipelines for transportation are in place. However, more research is needed before we can use this option from 2030,'' says Marcel.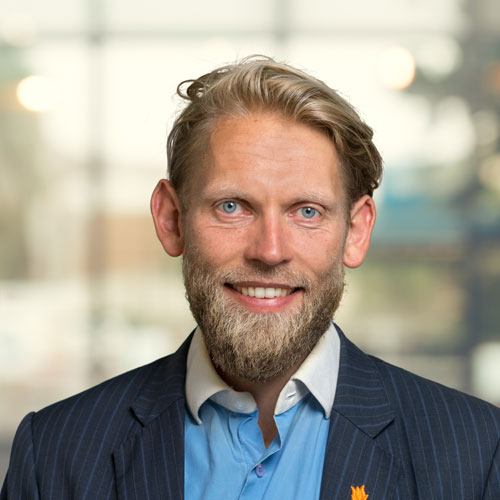 ''The Netherlands is strongly committed to producing hydrogen offshore,' explains Lennart. 'At present, hydrogen is not yet produced offshore on a large scale anywhere in the world."
Green hydrogen production at sea
''The Netherlands is strongly committed to producing hydrogen offshore,' explains Lennart. 'At present, hydrogen is not yet produced offshore on a large scale anywhere in the world. This development is only at an early stage. TNO is working with partners on a first pilot project, 'PosHYdon', where a 1MW electrolyser will be constructed on an existing oil and gas platform. This pilot project will be operational by 2024.
Meanwhile, the Dutch government has announced plans for a 100MW and a 500MW offshore electrolyser. On the Dutch part of the North Sea alone, we have the potential for 70 gigawatts of offshore wind. In order for us to harness this and integrate it into our energy system, some of the electricity supply will have to be converted to hydrogen.''
Government policy
''There are increasing numbers of regulations and directives coming from Brussels that affect the future use of hydrogen, such as Fit for 55 and the Renewable Energy Directive. This directive contains a mandatory target for green hydrogen deployment in industry and transport. Furthermore, the IPCEI Hydrogen instrument (Important Projects of Common European Interest) offers the opportunity to boost important projects extensively with public money.
What's important, though, is to have a stronger focus on knowledge development and knowledge sharing, so that we learn as much as possible from the first pilot and demonstration projects. This is badly needed to accelerate development but also to learn how to ensure optimum safety.
All this will give direction to policy and also to business activities and investments for the longer term. Consider, for example, the infrastructure needed to supply hydrogen to industry and transport. Here, too, regulation is aimed not so much at giving impetus to hydrogen per se but as a means of reducing greenhouse gas emissions by at least 55% between now and 2030.''
Hydrogen's indirect greenhouse gas effect
One area of concern for the coming period will be accurately identifying leaks that may occur during production and transport, and how to prevent them.
''While hydrogen in itself is clean because it does not emit any greenhouse gas during combustion, it's now well established that it extends the lifetime of the potent greenhouse gas methane in the atmosphere. This is why hydrogen has been called an "indirect greenhouse gas". We need to investigate how much of the gas escapes, from production to end use, in which places, and how to counteract it.''
''Much is still unknown here, but if we don't pay enough attention to the problem, some of the climate gains from green hydrogen could be eliminated. Especially as the gas is increasingly being transported across the world's oceans in substantial quantities through large pipelines between countries and ships. The more hydrogen is transported, transhipped, and converted, the more likely it is that gas will be lost along the supply chain through leakage.''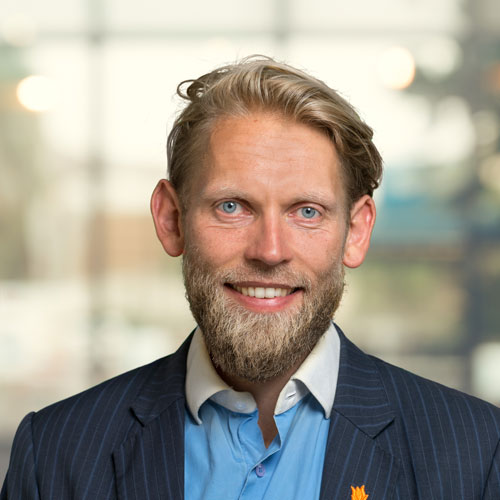 ''We're also working with Dutch high-tech companies on a new generation of electrolysis with circular design, greater efficiency, and lower costs.''
Scarce materials and cost reduction
Green hydrogen is an important element in the energy transition. However, there are concerns regarding the materials transition, limiting the use of critical raw materials, and the circular economy.
''This is why we're doing extensive research on optimising electrolysis technology. For instance, we've succeeded in developing PEM electrolysis cells that require 200 times less of the scarce material iridium than conventional cells.
We're also working with Dutch high-tech companies on a new generation of electrolysis with circular design, greater efficiency, and lower costs. This is how we develop solutions to counter the scarcity of raw materials. By doing this work here, we also increase the opportunities for the Dutch manufacturing industry and the chances of keeping high-tech electrolysis technology and electrolyser production in Europe.''
Get inspired
14 resultaten, getoond 1 t/m 5
The Netherlands: a global hub for hydrogen import, transport and storage
The first hydrogen chain from abroad to the Netherlands is a fact. Spain will become a major supplier of green hydrogen to north-western Europe and our country will play a hub role in further exporting.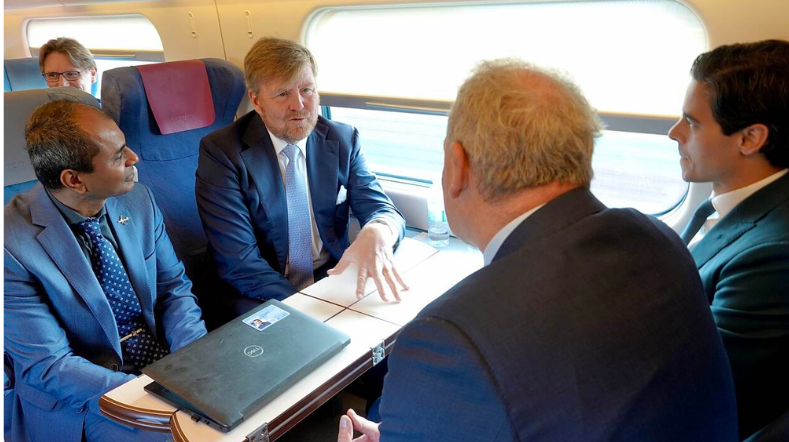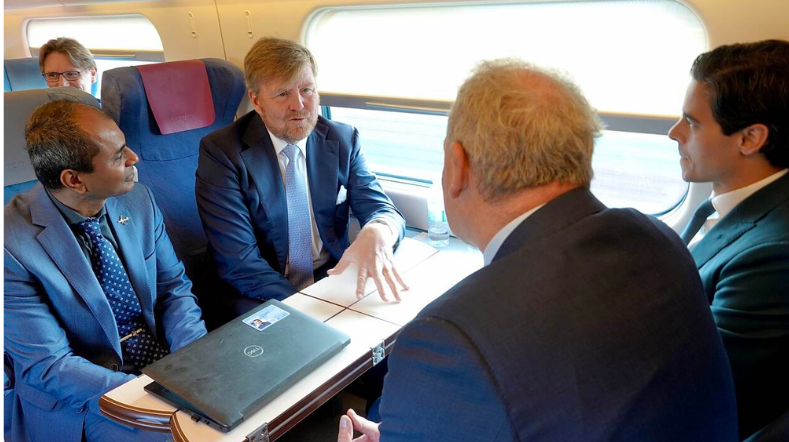 Time setters: 200 times less iridium needed for green hydrogen production
In this episode of Time setters, we speak to time setter Lennart van der Burg, Cluster Manager for Green Hydrogen, about the breakthrough development in electrolysers and how we can produce green hydrogen on a larger scale.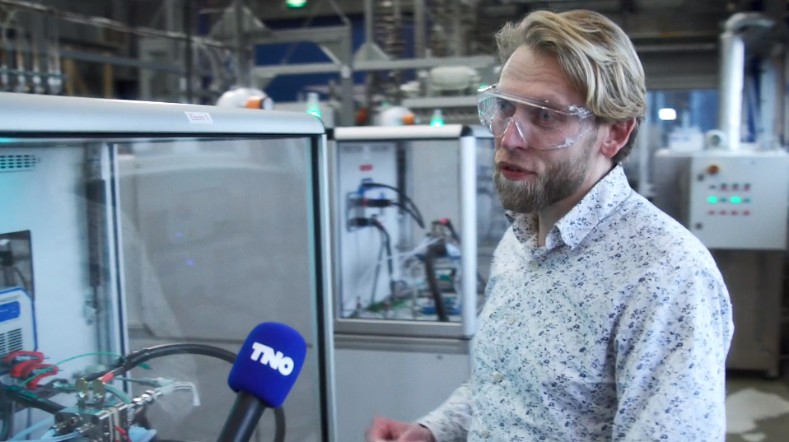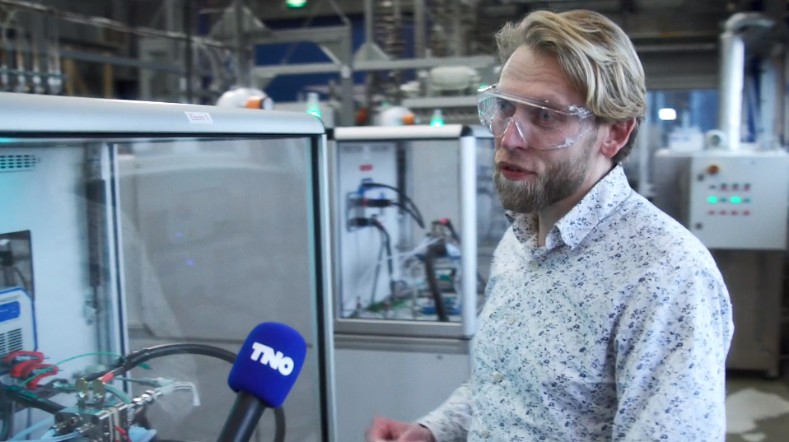 The Netherlands takes the lead in development of third-generation electrolyser
In the 'Third-generation electrolyzers' project, a consortium led by TNO is developing a completely new type of electrolyser. This new design will offer higher efficiency, lower costs and a circular design, with the aim of facilitating large-scale production of green hydrogen.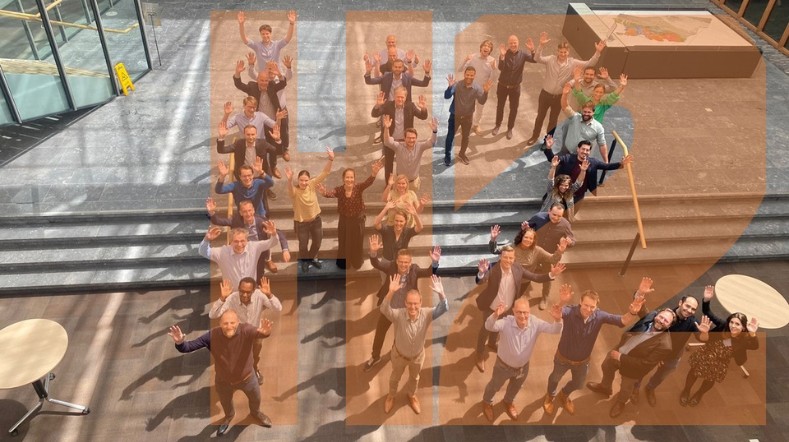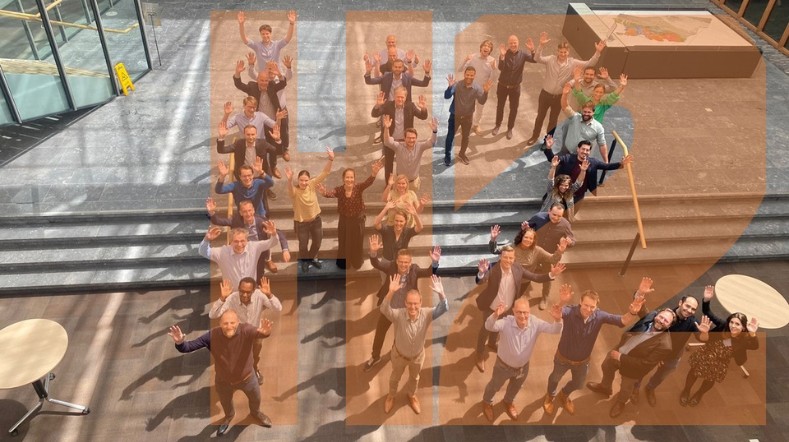 Combining offshore wind and floating solar to reduce costs of green hydrogen
The recently granted innovative research project SENSE-HUB, led by TNO, addresses the integration of various energy system modules for the Dutch North Sea. The synergies between offshore wind, offshore solar and hydrogen production at sea will be considered.
North Sea countries unite forces to accelerate offshore hydrogen production
Commissioned by the Ministry of Economic Affairs and Climate Policy, TNO researched the benefits of a shared approach by the North Sea countries, and how conversion into hydrogen at sea can be used to better unlock the potential of energy from the North Sea.