Sustainably producing plastics from CO2: a reality from 2030
Plastics have unique properties that make them versatile and also relatively inexpensive. It is therefore not surprising that demand for this material continues to grow. But plastics also present us with difficult challenges. For example, plastic production releases a lot of CO2. It is therefore important to develop new sustainable methods to produce this multipurpose material. In addition to its commitment to recycling and biobased plastics, TNO therefore plans to commission a demonstration plant by 2030 to demonstrate that plastics can be sustainably produced from CO2.
Electrochemical industry offers new opportunities
The worldwide use of plastics is expected to rise from 350 million to more than 1 billion tonnes between now and 2050, making it essential to intervene.
For this reason, TNO is working closely with the chemical industry and the Dutch government on recycling and bio-based plastics, as well as the electrification of production processes. The move to electrification led to the creation of VoltaChem, a 100% subsidiary of TNO, in 2014.
An innovation programme has been launched there to help the chemical industry become fully sustainable by 2050 by using renewable energy. In addition to the electrification of heat use in factories, ever more studies are being conducted on production using electrochemistry. These examine how to use electricity directly to produce chemicals needed to make plastics.
"Making plastics without releasing CO2, but actually requiring CO2: that's exactly what the world needs to close the carbon loop in a circular economy."
Need for renewable electricity and CO2
What do we need to achieve for this more sustainable method of producing plastics directly with electricity? For a start, chemical reactors that operate directly on renewable energy.
We also need carbon sources that are sustainable and circular, such as waste and biomass. The waste gases produced during combustion of these sources contain CO2, which can be a raw material for products such as plastics.
By using electrochemical technology, possibly combined with traditional processes, it is possible to convert this CO2 directly into sustainable chemical building blocks.
And that may eventually even work with CO2 taken from the air, making plastics manufacturing even more sustainable below the line. Because making plastics in a way that does not release CO2, but instead actually requires the gas, is exactly what the world needs to close the carbon chain in a future carbon-neutral and circular economy.
Making the production process more efficient
So much for the theory. We are working hard in Petten to put all this into practice. 'This process still throws up quite a few challenges,' says Jurriaan Boon, process engineer at TNO.
'The chemical reactors operate on renewable energy. And although we do all we can to use it as sparingly as possible, it still takes a lot of energy and raw materials to get to the chemical building blocks we need.
But if we combine the separation of CO2 with converting it into the necessary chemical building blocks, it can be done a lot more efficiently. And in this way, we avoid too great a loss of scarce renewable energy and raw materials, which would make the price of products too high.'
Demonstration plant
TNO wants to ensure that the innovative technology to produce plastics from CO2 is made market-ready as soon as possible. 'It needs to be fully operational on a global scale between 2040 and 2050, and that means we need to accelerate,' emphasises Martijn de Graaff, cluster manager of industrial transformation at TNO and programme director at VoltaChem.
'A first step is therefore to commission an initial demonstration plant by 2030. Normally, such a process takes twice as long, but thanks to our close collaboration with the companies in the VoltaChem business community and with academic partners such as Delft University of Technology and Maastricht University, this is being made a reality more rapidly.
As TNO, we are of course putting our knowledge and facilities to work to achieve full carbon circularity with this innovative technology as quickly as possible.'
Holistic approach
Circularity is in any case a key focus area at TNO. Producing plastic in the most sustainable way possible is of course already a great help. But that does not solve the waste problem, which requires intensive collaboration along the supply chain.
For this reason, TNO is working with various parties: from renewable energy producers and waste processors to the chemical industry. From universities to brand owners that use plastics as a raw material for their products. And from technology developers to end users.
'We look at the entire process in a holistic way,' says Elena Pérez Gallent, who is involved at TNO in researching the direct conversion of CO2 using green electricity.
'That means we are exploring different sustainability paths. In electrochemical plastic production, we also consider what is the most economically and ecologically feasible route to actually making it a circular product. We test the most promising routes directly in the laboratory and develop them further with our partners, worldwide.'
"Our demonstration factory motivates companies to invest in renewable production technologies, so that the production of plastics is completely renewable by 2050"
Proving it is a profitable investment
The commissioning of the demonstration plant in 2030 will be an important milestone. But TNO and the other parties involved in the VoltaChem programme are all too aware that this is just the beginning.
'By 2050, plastic production will have to be completely sustainable,' emphasises Jurriaan. 'This means that, in addition to developing recycling technologies and biobased plastics, by the end of this decade we must already demonstrate that it is possible to produce plastics from waste gases, water, and air using green energy.
And our demonstration plant will help us tremendously to that end. It will motivate companies to invest in applying such sustainable production technologies. And we can put theory into practice there, thus proving that it is profitable to invest in this kind of technology.'
Make your mark on the energy transition
TNO is always on the lookout for time setters, individuals who dare to push boundaries and dream of a future where plastic production is completely sustainable.
We are seeking bright minds and versatile individuals who can apply science and harness innovative technological advancements to make the world more sustainable. This is the moment to employ your talent and ambition at TNO.
Also interested in working towards a sustainable world?
Now is the time to utilize your talent and collaborate on TNO's ambitions for a sustainable world of tomorrow.
Contact us
Martijn is in charge of programme management and business development for the VoltaChem Shared Innovation Programme on Power-2-X, and for cluster management at TNO's  programme on industrial transformation. "Transformation of our society, and more specifically the industry, towards CO2 neutrality will take a tremendous collaborative effort of public and private stakeholders, nationally and internationally. It is my aim to connect people across disciplines and organisations, employing the latest innovation, technology and business insights, in order to help them accelerate towards a carbon-neutral society."

Jurriaan Boon

Functie:

Senior scientist process technology
Get inspired
8 resultaten, getoond 1 t/m 5
Time setters: From nuisance seaweed on the beaches to useful raw materials
In this episode, we introduce you to Luisa Flechas. Luisa will show you how we at TNO use seaweed as a feedstock to produce chemicals and materials.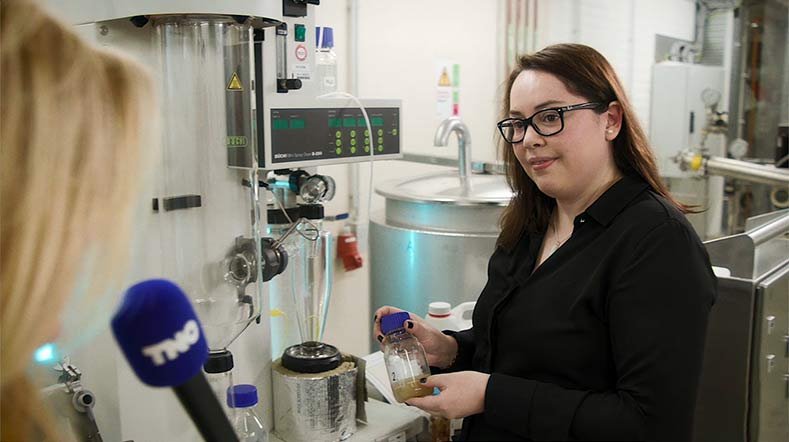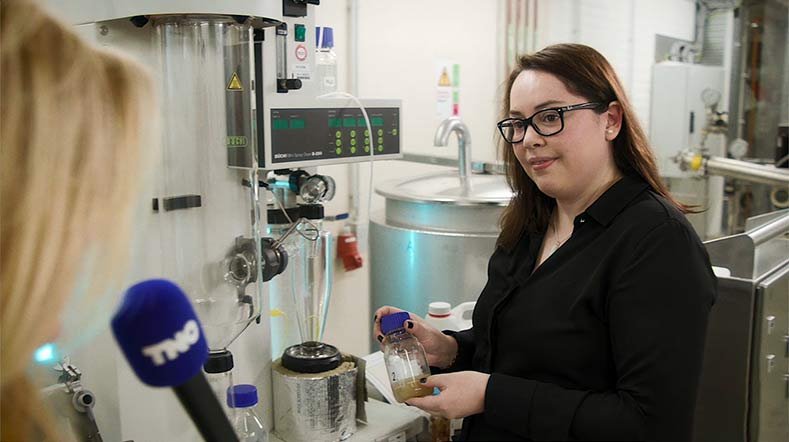 Brightlands Materials Center for new sustainable materials
At the Brightlands Materials Centre research centre, we work on new, sustainable technologies for plastics, such as additive manufacturing. Find out more.


Research programme energy storage and conversion
The research line Photons-to-chemicals is focused on the conversion of carbon dioxide to C1-chemicals and fuels using sunlight as the energy source.


Together towards a sustainable chemical industry
We are committed to a sustainable chemical industry, converting raw materials using renewable energy. Do you want to contribute? Read more.


VoltaChem for electrification in the chemical industry
The chemical industry has a large carbon footprint. With electrification, we are working towards a sustainable and CO2-neutral  chemical industry. Find out how.