BIO-CAPPP develops sustainable products with premium properties
In cooperation with
VITO, Biorizon, CENTEXBEL, Avans University of Applied Sciences/MNEXT, Kamp C, Green Chemistry Campus
In June 2023, six partners from Flanders and the Netherlands started the BIO-CAPPP project. Over the next 3 years, together with companies, experts and students, they will develop sustainable chemical building blocks and apply them in products for the construction and textile sectors, among others. The application of these bio-aromatics not only makes the products more sustainable, but also provides premium properties. In this way, BIO-CAPPP contributes to the transition to a circular economy.
Breaking fossil dependency aromatics
Manufacturers of products such as plastics, paints, adhesives, insulation foam and textiles use aromatics to impart their products with high-quality properties, such as scratch resistance, UV resistance, adhesive strength or gloss.
As much as 40% of all chemicals are aromatic in nature; this amounts to 122 million tons annually, worth €120 billion with an annual growth rate of 5%. So far, these aromatics are made from fossil raw materials and this has a negative impact on our environment.
Sustainable alternatives to aromatics
It is also possible to make aromatics from renewable sources: from lignin, the substance that gives strength to trees and is released as a by-product from the paper industry; or from non-edible residual sugars from the agricultural sector. But also, by recovering aromatics from plastics.
Over the past 10 years, VITO and TNO, as initiators of Shared Research Center Biorizon, have successfully scaled up the technological development of bio-aromatics in collaboration with the European industry.
From renewable aromatics to commercial production
The BIO-CAPPP project will develop renewable aromatics and apply them in actual products, together with companies, experts and students.
Together, the project partners will enable commercial production of bio-aromatics and stimulate the market for sustainable products with premium properties.
In addition, the partners anchor the developed knowledge and skills in educational programs so that the workers of the future can put the sustainable innovations into practice at companies.
BIO-CAPPP project partners
In the BIO-CAPPP project, partners from Flanders and the Netherlands are working intensively together.
Project leader VITO from Flanders and TNO from the Netherlands have been collaborating ever since 2013 on the technological development of bio-aromatics from sugars, lignin and unrefined waste streams under the flag of Shared Research Center Biorizon.
The Flemish CENTEXBEL and Avans University of Applied Sciences / MNEXT from the Netherlands will work with VITO to develop innovative applications based on the lignin- and sugar-based building blocks, with a specific focus on the construction and textile sectors.
Kamp C from Flanders will inform, inspire and support end users, the building sector and local authorities in the use of the sustainable innovations.
The Green Chemistry Campus will be the project's central meeting place where entrepreneurs, governments and knowledge institutions will work together to scale up the bio-based and circular innovations and where citizens can experience the transition in the experience center.
Interreg Flanders-Netherlands
The BIO-CAPPP project has a total budget of €4.3 million and is co-funded by Interreg Flanders-Netherlands, the cross-border cooperation program with financial support from the European Regional Development Fund, the Province of Antwerp and the Dutch Ministry of Economic Affairs and Climate Policy.
Collaborate on innovations based on premium bio-aromatics?
In the Biorizon Application Center, companies can collaborate with knowledge workers and students on favorable terms (innovation vouchers) to apply bio-aromatics in products for the construction and textile sector, among others. The bio-aromatics not only make these products more sustainable, but also more functional with premium properties.
Want to know more about the BIO-CAPPP project and the Biorizon Application Centre's capabilities to test bio-aromatics in actual products? Please contact Paul Könst.
Curious about the latest developments in bio-aromatics?
Join the 10th Biorizon event on bio-aromatics in Rotterdam on 29 - 30 November.
Contact us
Paul is passionate about technology development that facilitates the creation of new value chains in the pursuit of a sustainable industry, and thereby a sustainable society. One of Paul's main responsibilities as programme manager is setting out the research and business strategy of the industrial sugar-based pathways towards furanic and bio-aromatics building blocks (Sugar Horizon) within Shared Research Centre Biorizon. Paul has an extensive background in bioprocess engineering and obtained his PhD degree at Wageningen University, the Netherlands, on the topic of thermo- and biochemical conversion of residual biomass into bulk chemicals.
Get inspired
9 resultaten, getoond 1 t/m 5
Time setters: From nuisance seaweed on the beaches to useful raw materials
In this episode, we introduce you to Luisa Flechas. Luisa will show you how we at TNO use seaweed as a feedstock to produce chemicals and materials.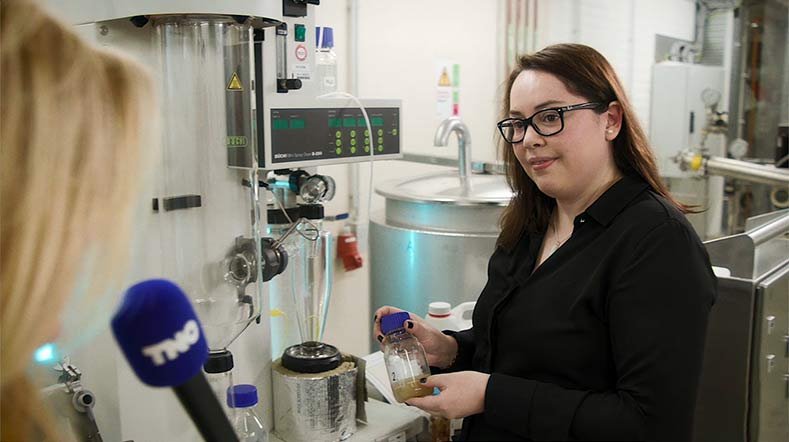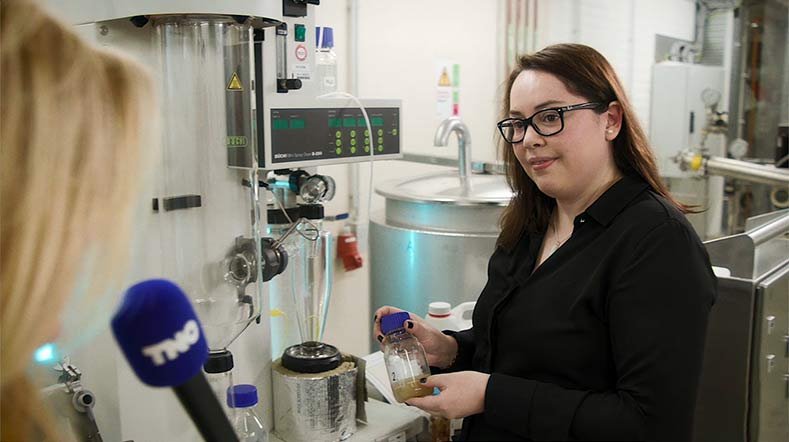 Sustainably producing plastics from CO2: a reality from 2030
Our ambition for 2030: producing plastics circularly without CO2 emissions. We will make this possible. How? Read more.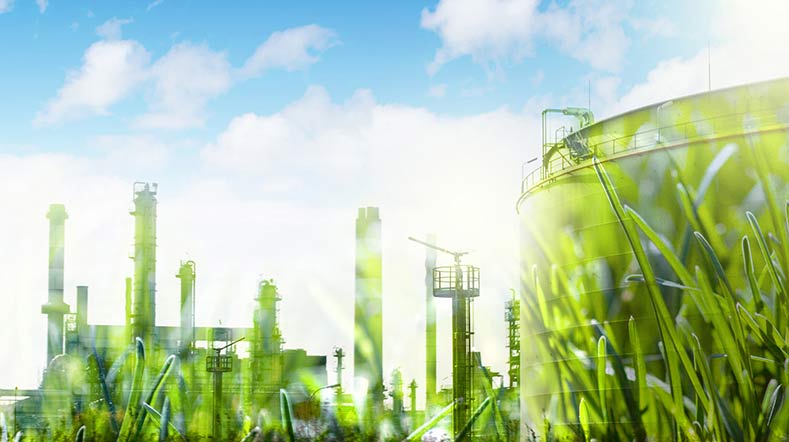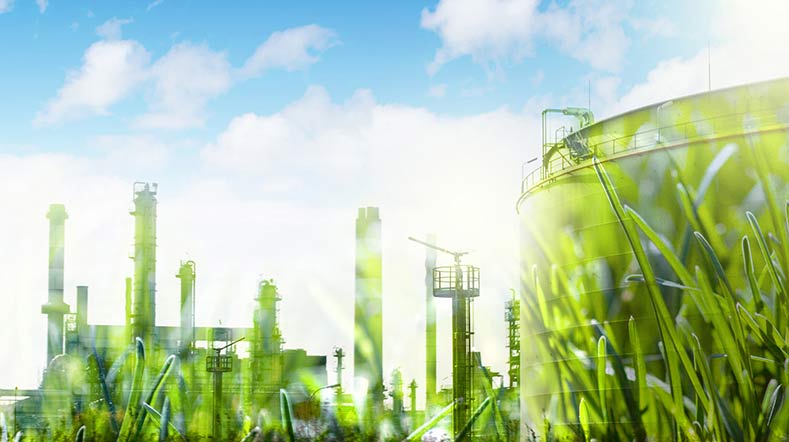 Brightlands Materials Center for new sustainable materials
At the Brightlands Materials Centre research centre, we work on new, sustainable technologies for plastics, such as additive manufacturing. Find out more.


Research programme energy storage and conversion
The research line Photons-to-chemicals is focused on the conversion of carbon dioxide to C1-chemicals and fuels using sunlight as the energy source.


Together towards a sustainable chemical industry
We are committed to a sustainable chemical industry, converting raw materials using renewable energy. Do you want to contribute? Read more.