PillarWaveTM: ultrasound patch on skin replaces hospital visit
An echogram, to visualise in detail the condition of an organ such as the heart or the blood circulation, is a procedure usually performed by an expert sonographer in a hospital or diagnostic centre. TNO has developed a technology in which a flexible patch on the skin uses ultrasound to take images of the organ to be examined over an extended period of time. This means the patient can be monitored at home, eliminating the need to go to hospital for many examinations.
Super-sharp image
The technology, called PillarWaveTM, has now been patented and we're in talks with medical device manufacturers to commercialise it. Specific structures that emit and receive sound waves are printed on very thin plastic film. Because it's possible to print a great number of these structures over a large area, we can obtain a super-sharp image of the organ to be examined.
Flexible and cheap
Current ultrasound equipment is rigid and difficult to incorporate into patches, while sensors are small and difficult to scale to large areas.  PillarWaveTM technology enables us to make patches or other ultrasound sensors that are ultra-thin and flexible, have a large sensor surface and therefore a large field of view, and are much cheaper to manufacture in large numbers. Instead of silicon, which is expensive when used for large areas, our technology uses cheap plastic as a base material.
Images over a longer period
There are innumerable applications, which will make it easier to monitor patients' health at home. Whereas measuring blood pressure or heart rate often produces a snapshot, wearing a patch provides images over a longer period of time. This results in a much better diagnosis and may even prevent unnecessary surgery. Many examinations can be performed at the GP's surgery or at home instead of at the hospital, such as ultrasound monitoring of critical pregnancies. This makes such examinations not only more pleasant, but also better and cheaper.
Interested?
We're keen to engage with market players who want join us in developing the PillarWaveTM technology further into promising devices. Interested? If so, please get in touch via the information below.
Contact us
Eddy Zwier

Functie:

Tech Transfer & Venture Manager

Eddy is responsible for the commercialization of technology through business venturing, creating spin-off / deep-tech startup companies at TNO. Feel free to contact him if you are an early stage investor or entrepreneur with interest in TNO's portfolio of spin-offs.
Get inspired
7 resultaten, getoond 1 t/m 5
UK MasterChef winner Tim Anderson experiments with 3D printed pasta
The winner of MasterChef UK series 7, Tim Anderson, experiments with 3D printed pasta from BluRhapsody, a collaboration between Italian pasta makers Barilla and TNO. The results were satisfactory. Kjeld van Bommel, senior consultant 3D Food and Pharma Printing at TNO, explains how the triple collaboration took shape.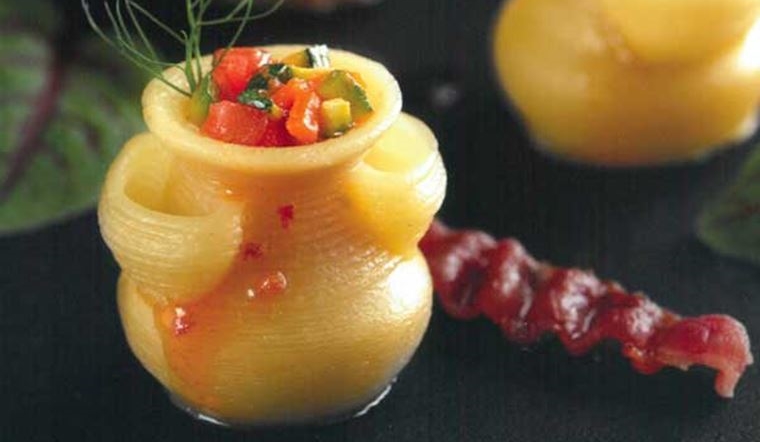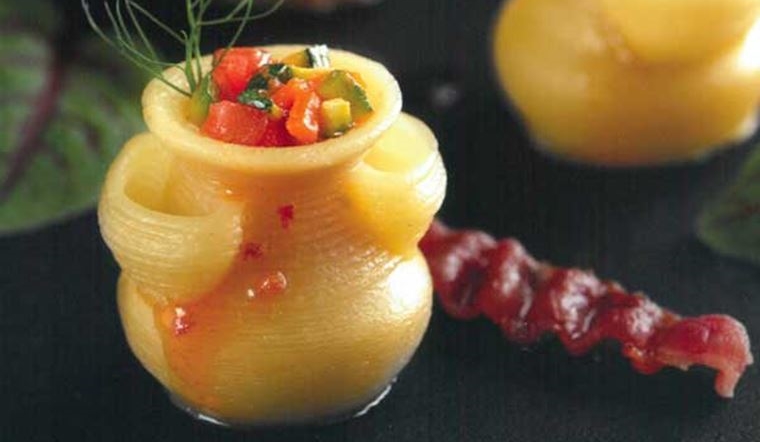 Food pharma printing
In new Additive Manufacturing laboratories, we're engaged in development and experiments to improve 3D printing of food and pharmaceuticals.
The future of 3D-printed food made possible
Together with DFPI, we're taking the lead in research to establish whether 3D-printed foodstuffs are the food of the future.


3D printing for flexible production of personalised medicine
Tailor-made solutions in drug development are often costly and difficult. One solution is 3D printing of personalised medicines.


Our expertise in flexible and free-form products
With our expertise and network, we develop flexible and free-form products that advance the industry and overall human health.